SanDisk Ixpand Wireless Charger Sync Review: Fast Charging and Auto Backup
At the risk of dating myself, I can still remember being at the Consumer Electronics Show when the first commercially produced camera phones rolled out over 20 years ago. Since then, my mission as a responsible user—and self-conscious tech journalist—has been to avoid the embarrassment and annoyance of 1) my phone's battery dying and 2) unintentionally losing photos I've taken on the phone.
Naturally, when I learned that the SanDisk Ixpand Wireless Charger Sync helps avert both of those potential crises, I was jazzed to have Western Digital send me one to try out. And I found that it performs both of its main functions well, just as advertised.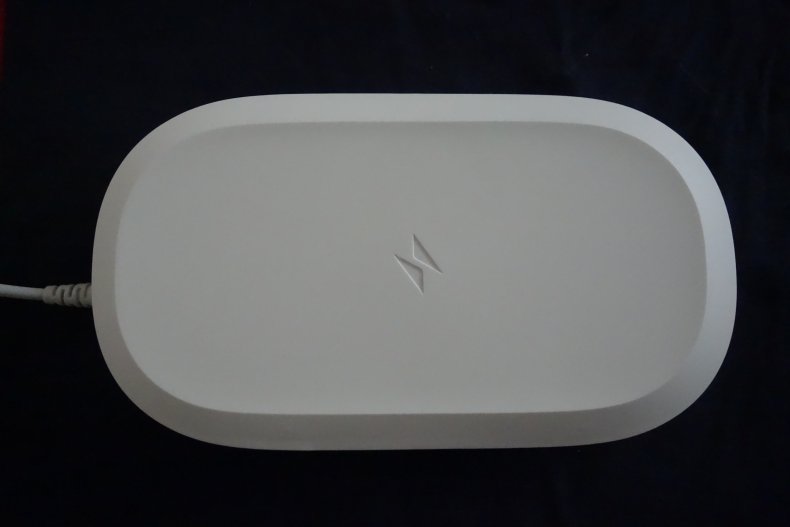 It's Really Easy to Set Up
I literally just plugged in the device, downloaded the app (via the convenient QR code printed on both the seemingly unnecessary instruction card and the back of the device itself), and it walked me through the rest of the setup process, which didn't take too long.
The Ixpand is ready to charge any Qi-enabled phone right out of the box (once the device is plugged in). The app and setup are only necessary for the backup and synchronization features.
On the topic of charging, one thing I really like is that this device isn't as persnickety as other wireless chargers I've used when it comes to placement. As long as the center of my phone was fairly close to the device's own, the phone would still charge, even if it was slightly askew or at an angle. And I can verify that it did in fact charge through each of the two typically thin phone cases I tested.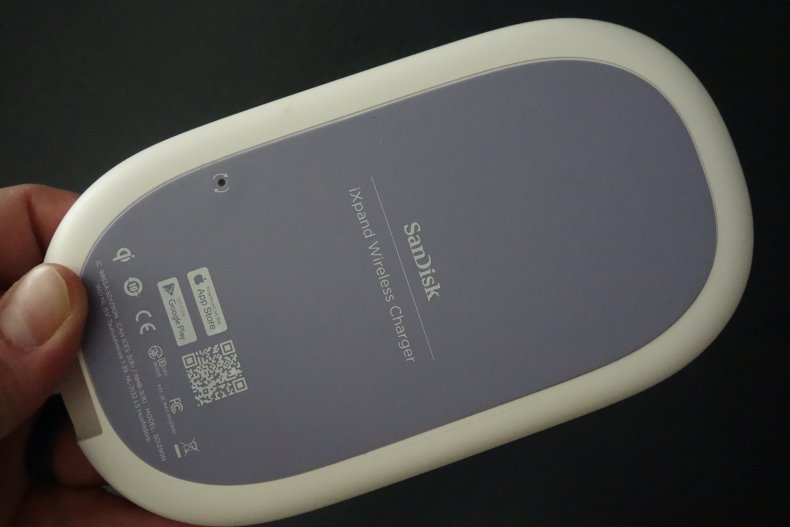 Freeing Up Phone Space
Since the internal capacity of my phone is a "mere" 32GB, as a content creator I frequently find myself bumping into the storage danger zone. Fortunately, this charger-drive comes to the rescue in 64GB, 128GB and 256GB capacities. After backing up a few thousand photos and several dozen videos—which the in-app tutorial said might take a few sessions, but the app accomplished in just two overnights—I tapped on the Free Up Phone Space feature right off the main menu. I deleted the biggest videos hogging space on my phone and was quickly a few gigabytes the richer.
If I'd made a mistake, I could have tapped the photo icon on the main screen and then Select and Restore to get back some or all of the photos or videos I'd nixed. Although my focus was mostly on media, the device also backed up my phone's contacts. In this world of online social networks, I'm less worried about losing contact info. But it's still nice to know. And I can always turn off that synchronization if I want to.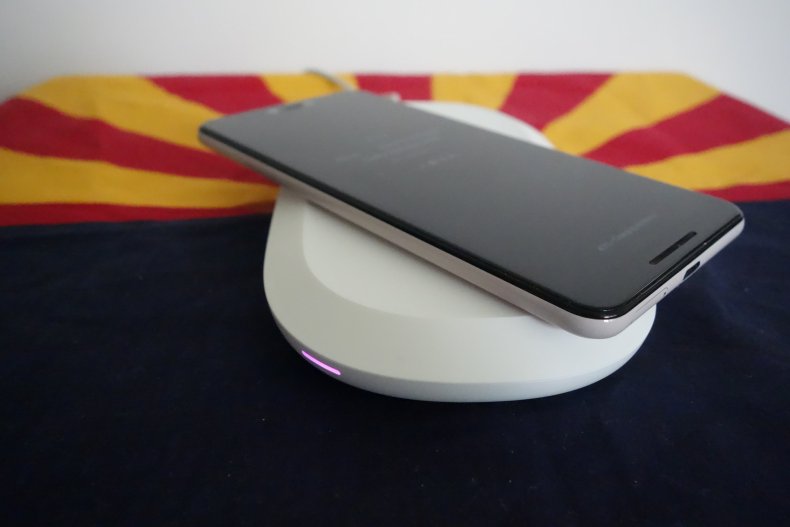 The Best Features
I like how this device can back up multiple phones separately. In my testing, I only backed up my own phone. After that, I connected the Ixpand to my laptop via a Micro USB cord (not included) and it showed up as an external drive. I quickly found that a subfolder had already been created with the name of my phone and subfolders leading to my backed-up files. And I imagine if others had been backing up on this charger-drive, it would create folders for those phones, as well.
This is a standalone drive. In other words, you don't necessarily need to connect it to a computer, since you can manage files through the app on your phone. It's just another way to view what you've backed up.
Continuous Backup is easily my favorite feature of all. Once my phone was initially backed up, I set it to automatically back up everything every time I put the phone on the charger. And best of all, the app doesn't even need to be on in the background for that to happen, which is great for both ease of use and peace of mind.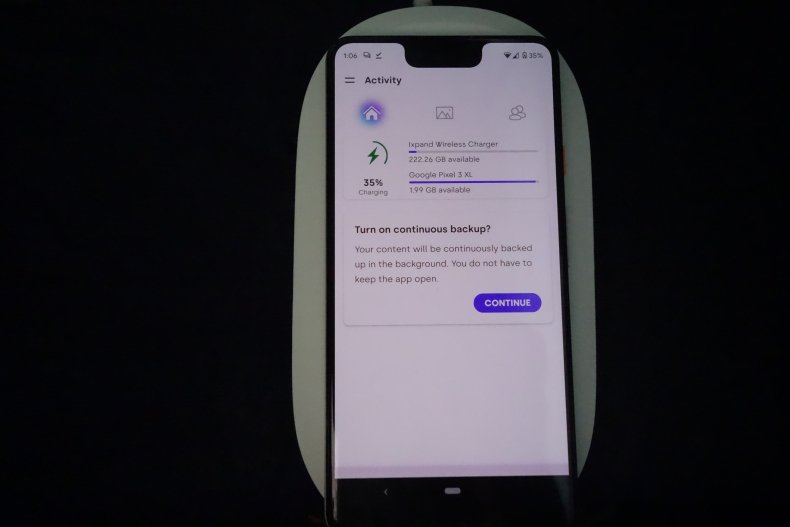 What I Wish It Did
The biggest thing I look for in combo devices like this is whether it performs each function at least as well as dedicated devices that do those things singularly. And I'm happy to say yes, this device does. So from a hardware perspective, I was pleased. But there's some room for improvement with the app.
In addition to the time it took for the app to find the device—which improved some the more I used it and knew which radios (Bluetooth, Wi-Fi, location) needed to be on—I wish the Free Up Phone Space feature were a little more granular. I was able to select whether I wanted to potentially free up photos or videos—which I could only sort by size or date. I wish I could dive into a more advanced search specifying that I want to free up anything before and/or after a particular date, or above and/or below a specified size range.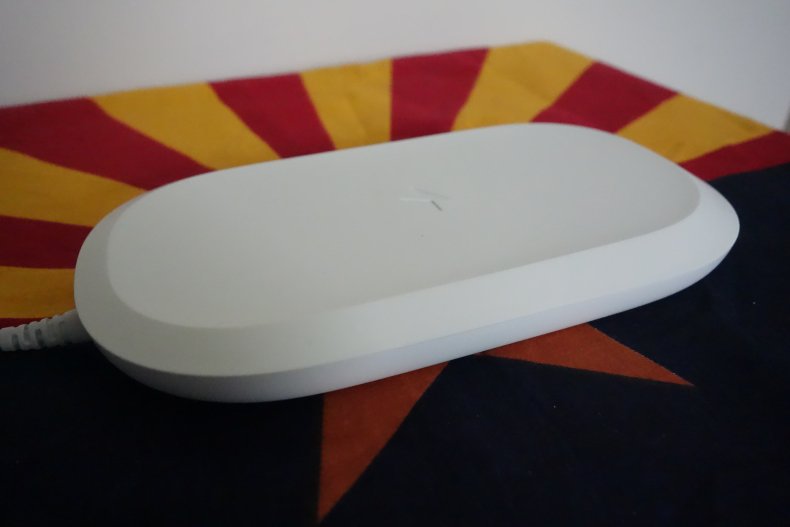 Should You Get One?
The above little quibble doesn't take away from how much I like and recommend this device overall. It's just something to work on for the next iteration of the app. In fact, because it charges and backs up so well, I'd even consider it worth packing as an essential for my next trip. After all, traveling is when we all need more power and space the most.
Buy at Western Digital.
Newsweek may earn a commission from links on this page, but we only recommend products we back. We participate in various affiliate marketing programs, which means we may get paid commissions on editorially chosen products purchased through our links to retailer sites.