'Sandman Universe' Comics Coming From Neil Gaiman and DC Comics in August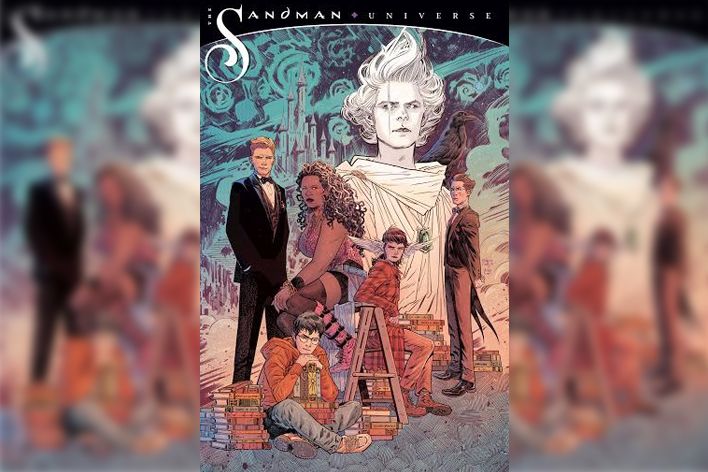 DC Comics and Vertigo are celebrating the 30th anniversary of Neil Gaiman's seminal Sandman series by announcing a line of four books that will delve deeper into the universe of The Dreaming. Gaiman is set to oversee the four titles while new creative teams will explore the characters and world of Sandman.
Entertainment Weekly has the exclusive covers for the four books and the upcoming one-shot, The Sandman Universe, which will explore what happens when Dream, the main protagonist of the series, goes missing. With Dream's absence, readers can expect chaos to reign supreme.
"The story carries on. But it's a huge sandbox with so many wonderful toys that nobody's getting to play with right now," Gaiman told EW. "I started feeling guilty. I liked the idea of getting the toys played with again, reminding people how much fun this is, and also getting the opportunity to work with some fantastic writers. Down the line, there will be fantastic artists as well."
The Sandman Universe one-shot will release in August and bring readers up to speed on what's going on in Dream's realm before the four new books debut. The one-shot will be plotted by Gaiman but written by Nalo Hopkinson, Kat Howard, Si Spurrier and Dan Watters with Bilquis Everly on art and Jae Lee doing the cover.
Hopkinson will write House of Whispers and explore how Erzulie, the voodoo deity, ended up in the Dreaming. Howard will write Books of Magic, which is a follow-up to Gaiman's 1990 miniseries of the same name. Books of Magic will explore Timothy Hunter's magical education as he struggles with good and evil.
Spurrier will helm The Dreaming, which will follow Lucien and Matthew as they travel the world of Sandman without Dream. Watters will write Lucifer as the titular character is blind and destitute, trapped in a quiet town where no one can leave. DC has yet to reveal the artists for the four Sandman books.
What do you think of the Sandman universe being revisited? Which of the new books are you most looking forward to? Let us know in the comments section below.
'Sandman Universe' Comics Coming From Neil Gaiman and DC Comics in August | Gaming