Sandra Bernhard has opened up about her falling out with Madonna, while also giving her own assessment of the pop superstar's approach to friendships.
The former Roseanne star was close with the singer in the 1980s and very early '90s, before their friendship ended in 1992 with little to no public explanation.
During an appearance on the Hot Takes & Deep Divas podcast, Bernhard did not share specific reasons for the rift between the Michigan-born performers, but the 66-year-old actress gave some insight into her relationship with the now 63-year-old singer.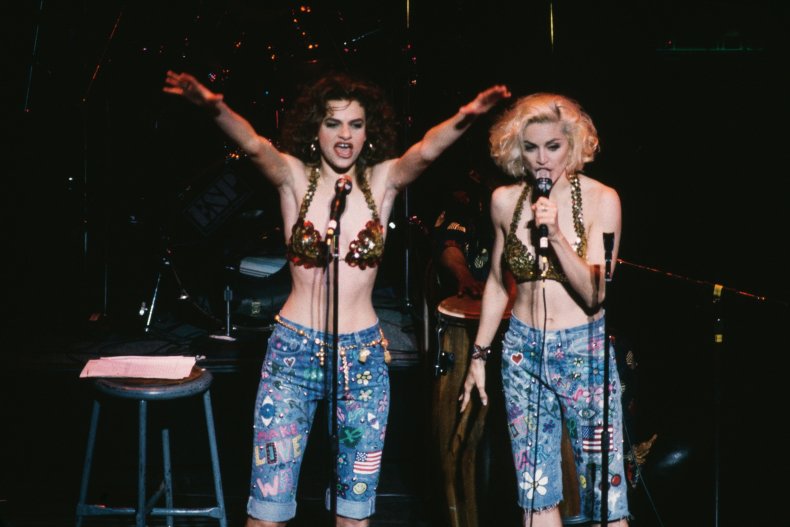 "I didn't really like that level of visibility and having to work it constantly," she said.
"We all as performers work it to a certain degree, but I'm a very improvisational person, on stage and in my life, and I don't like being tied down in having to be a certain way for my image.
"What I tried to impart in our friendship is, 'I'm really your friend, I'm not just somebody that's passing through.'"
"And I guess for a while we had a real friendship, but it's hard for somebody like her," Bernhard continued. "She doesn't really want somebody around who reflects too much of who she is. Therefore, her relationships just don't last."
In an October interview with The Hollywood Reporter, the Pose actress responded when asked about her friendship with Madonna: "I mean, it's sort of hard to talk about it 30 years later. But I can tell you that when we were friends 30 years ago, it was a completely different time. And she was a much different person.
"I mean, I don't know how she is now. She might be exactly the same. I don't know. But nobody's the same because we have children. Life changes you. But at that time, it was the right time for our friendship.
"We just had a lot of fun at that time, and that's all I can kind of say about it because it doesn't exist in its present state. So I don't know, there's not much to reflect on it at this point, other than it was a good time. Good time was had by all."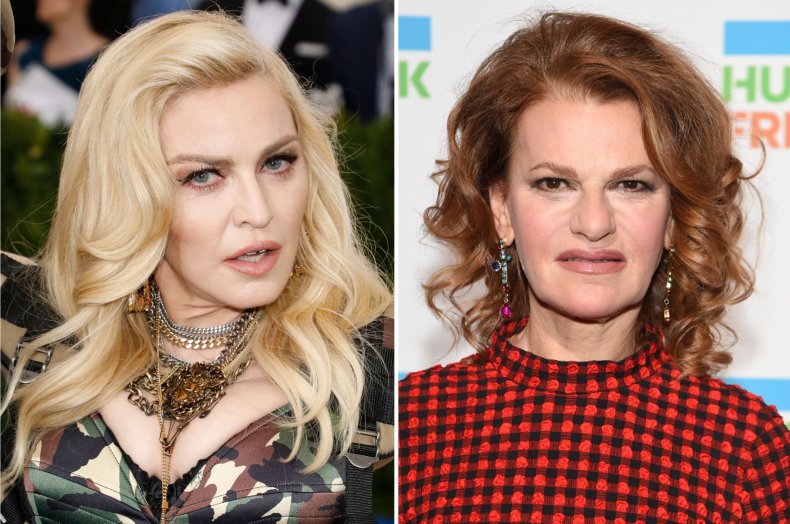 The pair generated headlines in 1988 when they appeared together on Late Night with David Letterman and played up to rumors of being in a romantic relationship.
Looking back on that interview, during which they sported matching jean shorts and white T-shirts, Bernhard recalled: "I went out first. And they knew she was going to come out. And then we'd kind of planned to dress alike.
"I mean, we planned it a little bit. And then, of course, it just went off on its own spontaneous fashion. And yeah, it just became kind of a legendary appearance for both of us."
In June 2019, Bernhard, who appeared in Madonna's 1991 documentary film Truth or Dare, said in an interview with Us Weekly that the pair had moved on from the drama that remains to keep them estranged.
"I've seen her over the years," Bernhard said at the time. "We're cool with each other, you know. But people move on and you have your life. I have a daughter [Cicely], my girlfriend [Sara Switzer]. I have my career, my life. And, you know, things do change."