Sandra Garza, Partner of Brian Sicknick, Calls 'Partisan' Excuse for Nixing 1/6 Commission 'Baloney'
Sandra Garza, the partner of deceased US Capitol Police Officer Brian Sicknick, along with his mother, Gladys Sicknick, told CNN's Jake Tapper on Friday that the Senate Republicans' "partisan" excuses to block the Jan. 6 commission were "baloney."
Garza and Sicknick spoke to over a dozen Republican senators on Thursday, urging them to back the bill calling for a bipartisan commission to investigate the Jan. 6 Capitol riot. After only six Republicans voted with Democrats on Friday, leaving the bill four votes shy of passing, Garza and Sicknick appeared on Tapper's CNN show to voice their disappointment in Senate Republicans.
Garza told Tapper that several Republican senators said they were against the bill because it was "very partisan."
"Well you know, that's baloney," she told Tapper.
"Senator Collins put an amendment in there to make it very bipartisan," she said, referring to Sen. Susan Collins of Maine, one of six Senate Republicans who voted for the bill. Her amendment would have allowed both parties to choose the commission staff members.
Garza told Tapper she thought Republicans were just looking for an excuse.
"I think what you're seeing is elitism at its finest," she said. "They're very protected....So they live in this magical thought process that nothing is ever going to happen to me, that happens to other people. I think they need to get out of that thought process. Because like I said yesterday, FBI Director Wray said at the hearings on January 6, domestic terrorism is a real threat."
Garza spoke about a tense Thursday meeting with Wisconsin Republican Sen. Ron Johnson, who has repeatedly downplayed the seriousness of the riot.
"I said to him that he got lucky. He got lucky. It could have been very different that day," Garza told Tapper. "Those who want to run with this narrative that, 'Well it was tourists that day, and I didn't feel threatened'—they got lucky. That's the truth of it."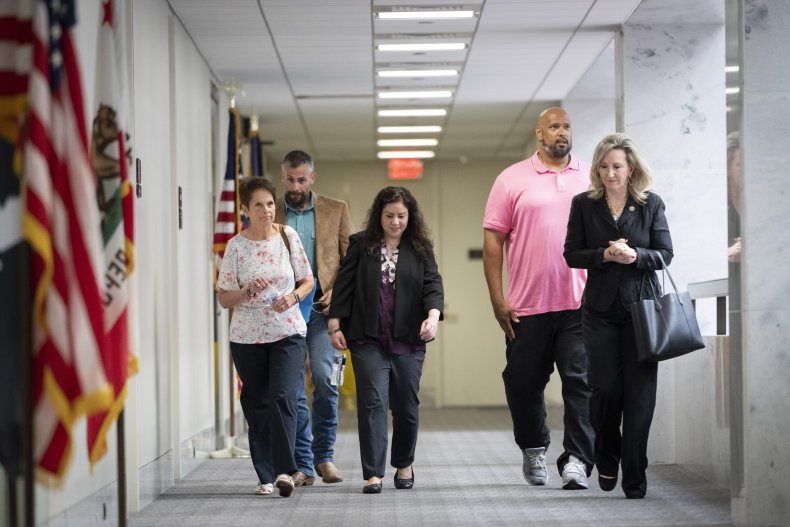 Gladys Sicknick spoke about her son's legacy, saying "I can't believe that I have a child that's going to be in the history books, for all the wrong reasons. Because he was he was such a good person. And he was so good at his job."
She also expressed disbelief that people could be downplaying the seriousness of the riot in the face of all the video evidence.
"All these other people that are saying that it was no big deal...They went home that night to have dinner with their families. And then did they watch television and see what happened and they didn't feel anything?... It's amazing to me."
Officer Brian Sicknick passed away only one day after defending the capitol, where he suffered physical attacks, including being hit with chemical spray. His cause of death—two strokes—has been ruled as "natural," though strokes, experts say, can be caused by stressful events.
Newsweek reached out to Senate Minority Leader Mitch McConnell for comment.