Fox News Host Caught on Hot Mic Reacting to Guest Denying Joe Biden Is President-Elect: 'What Is Happening?'
Fox News host Sandra Smith was caught responding incredulously to a guest casting doubt on the legitimacy of Joe Biden being declared the president-elect. While the guest spoke of uncertainties about the results, Smith's confused and frustrated reaction was picked up on video with a hot mic.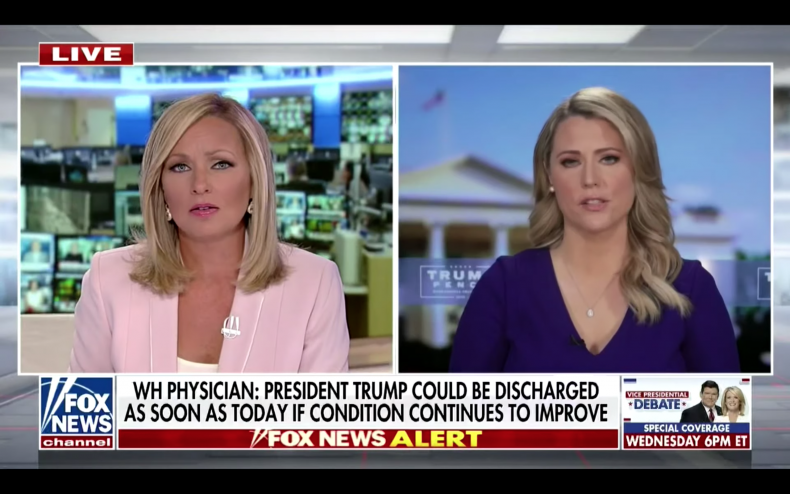 The guest was Cleta Mitchell, a Washington DC-based lawyer, who was arguing on behalf of President Donald Trump's continued legal fights against the election results. Mitchell was also objecting to Fox News and other media outlets calling Joe Biden the winner.
"Remember, just because CNN or even Fox News says who's president doesn't make them president," Mitchell said to Smith's co-host Trace Gallagher.
"What?!" Smith said at this point, looking up in disbelief, appearing to be unaware of that she was being picked up on a hot mic. While Mitchell continued speaking, Smith then interjected in an angrier tone, "What is happening? Like Trace...We've called it."
Mitchell was either unable to hear Smith or chose to ignore her as she continued speaking. She said, "So I think everybody wants to know this was done properly and legally and that we can trust the results. And I think we have to look at every one of these concerns."
"Yeah," Gallagher replied, "I think that's a very good point there."
Gallagher then turns the conversation over to fellow guest Steve Mulroy, a University of Memphis law professor clip. The unaired clip was shared on Twitter by Internet video journalist Timothy Burke and quickly went viral. The broadcast from which the clip came was taken from a special Saturday afternoon election coverage broadcast called Democracy 2020.
Here is the moment captured by Burke and shared on his Twitter account:
Smith first joined Fox Business Network as a reporter in October 2007. She was a frequent guest on Fox Business Happy Hour and has made frequent appearances on Hannity. In April 2014, she co-hosted Outnumbered on the Fox News Channel before taking the co-anchor position on America's Newsroom in 2017.
Some Twitter users commented on the clip by supporting Smith.
Trump's more hardline supporters called the moment another instance of Smith and even her employer Fox News of being biased against the president.
This commenter pointed out that Smith's response to the moment is similar to how many Americans are feeling about those who won't accept the results of the election.
Correction: November 11: This story has been updated from an earlier version which stated the video clip came from an America's Newsroom broadcast, a show anchored by Sandra Smith and Trace Gallagher. The actual broadcast was an election special called Democracy 2020, which featured Smith and Gallagher as anchors.