Bhutan, the highest country in the world, is carefully managing relationships with giant neighbors India and China even as the carbon-negative kingdom tries to cope with the challenges of climate change resulting from emissions elsewhere, Prime Minister Lotay Tshering told Newsweek in an exclusive interview.
Friendly with India, with which it does well over 80 percent of its trade, Bhutan is locked in border negotiations with China, which claims a swathe of the country of about 775,000 people. Although Bhutan has no formal ties with the United States, the U.S. State Department says they have warm, informal relations.
Mountainous Bhutan has been described as the first carbon-negative country in the world, but its fast-melting glaciers are filling lakes that threaten flooding which could be catastrophic for Bhutan's people and its agriculture.
Despite its challenges, Bhutan has long been committed to prioritizing what it calls Gross National Happiness (GNH) over Gross Domestic Product (GDP). It is the home of the world's youngest monarch, 43-year-old Jigme Khesar Namgyel Wangchuck, and is run by Tshering, a 53-year-old practicing kidney doctor.
Tshering spoke to Danish Manzoor Bhat, Editorial Director, Asia of Newsweek. The text has been lightly edited.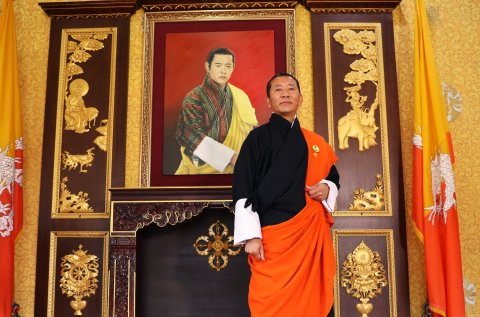 Q: Prime Minister, if I ask you to define the relationship that Bhutan shares with three countries; India, the United States of America and China, how would you respond?
Prime Minister Tshering: I don't think one country can do without being dependent on others, forget being neighbors. Now you've given me three countries, the United States of America, India, and China. We are physically between India and China. So, we have a lot of advantages to take from our two neighbors and these two neighbors are the most populated in the world. Two neighbors whose economies are growing at an unprecedented pace. So, we take lot of pride and excitement in it.
The United States of America is also "the" economy right now and leader in the world global power, and we have lot of goodwill with all Americans and the government of America and the leadership there. So, I think it's a win-win situation. For us, it will be very difficult to pick one from the three. And for that matter, genuinely, it is wrong to pick one from all good neighbors or good countries in the world. So, they are all good for us.
Prime Minister, Bhutan is landlocked. You've got India on one side and China on the other. Yet your country has been able to stay out of trouble. How do you achieve it?
See, it all depends. How tall you are, depends on how short your neighbors and friends are. How short you are, depends on how tall your friends are. I think how peaceful we are, and the kind of society we have is not something that we alone built up. It's our neighbors who helped us build it. It's our neighbors who help us stay the way we are, and it is our neighbors' goodwill that has resulted in where we are today. I think being landlocked can be disadvantageous and at the same time, advantageous. So, I'm happy to share with you that we are on the side of advantages. It's a huge advantage for us and knowing the fact that we are packed between two most fastest growing economies in the world. We are positioned in the most advantageous way.
We see your amicable relations with India, but China is now claiming almost 10% of Bhutan's territory. Where do you see that going in the future?
We have very good relations with India historically and geographically. And I was very happy to have Indian Prime Minister Modi visit us as the first country after elections, and I also reciprocated being in New Delhi as my first destination after elections. This relationship should go on forever. We do not worry whichever government comes to power in Delhi, whichever government comes to power in Thimphu, the relationship between the two countries will go on forever and that is something that we all take it for sure.
And I'm very happy to share that, with China, we have friendly relations. As boundary talks have progressed very smoothly, we had the technical level of visits from Thimphu to China a month back and the progress was very good. The next stage will be their technical team coming to Thimphu and then sorting out whatever timeline that we have agreed upon in China. And then after that is to physically demarcate the boundary between the two countries. I don't think there are any two countries in the world that are resolving the boundary demarcation in such a timely manner as Bhutan and China are. A lot of credit for this of course goes to my predecessors, His Majesties the Kings but a bigger share goes to the bigger neighbors, to their positive thinking towards us, their friendly feeling for us, and their genuine goodwill gestures. I'm grateful to all of them.
Prime Minister, the biggest conversation around Bhutan has always been climate change. As this country is intrinsically carbon negative, what is the message that you have for the world?
I mean, when you talk about climate change in Bhutan, it rightly stands out for many individuals and countries in the world who are very climate sensitive. I think I've taken note of this, that Bhutan, is being naturally carbon negative when the whole world is trying to become carbon neutral by 2050. Many countries in the world can never be carbon negative, but we are. Thanks to my predecessors and His Majesties the Kings. If you go through our constitution, it mandates us to spare at least 60-percent of the country under forest cover. I don't know how many constitutions in the world have this vision. We have been preserving our pristine environment for generations. Yes. I also admit that when the whole world was getting industrialized, we did not, and we could not. So, if we had industrialized like any other nation in the world, would we have been carbon negative today? I doubt. But thank God that we did not or could not industrialize. That's why we remained poor for a little longer. But now we have the richness that no other nation has —72% of Bhutan is under forest cover.
What will we do in future? We have already committed to the UN and all climate bodies and have pledged to keep the country as green as we have now forever. The 72% of the country under forest cover is again further protected as national parks, biological corridors, biodiversity hotspots and we have legal instruments in place to protect them forever—at certain places, even at the cost of some inhabitants. Some rural villages have ancestrally been living there and they're at a little disadvantage. We are looking for ways and means to support them or if possible, to even relocate them. So that they will also be contributing not just to Bhutan, but to the whole world.
At this time, I only wish greenhouse gases needed visas and passports to cross international boundaries. Greenhouse gases emitted elsewhere on this planet are affecting us. Being resource constrained, adaptability is very important. Our resilience has also been threatened. We are challenged with a lot of natural disasters that come in and surprise us. I think this is part and parcel of life, but we are genuine, we are determined that we will remain like this.
The biggest threat to our carbon negativity is the emission from cars. We have a National Program on introducing more electric vehicles now. Let us see how far we can go in attempting to add 60-70% electrically powered cars on our roads and replace Petrol/Diesel ones. We are also exploring hydrogen technology that is evolving very fast. I would like to focus more and invest more on that.
We are not obligated to remain carbon negative; we can do what we want to do. But we genuinely feel that this is the right way forward. Being carbon negative is our wealth.
In the whole world, a lot of money, a lot of resources are being pumped into reducing greenhouse gas emissions and reducing the level of emissions so that we bring the whole world to carbon neutrality by 2050. Many big emitters have also pledged. China and India have also pledged. That's very difficult. Pledging that we will be carbon negative forever is a little easier for us than it is for India and China to pledge becoming carbon neutral by 2060 or 2070. That is a bigger commitment.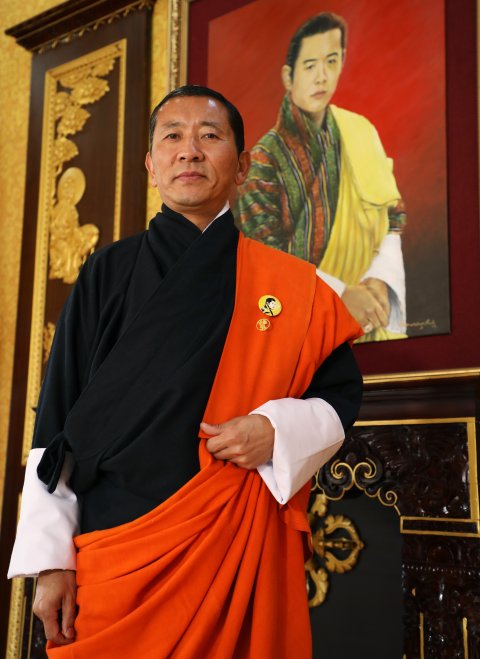 Prime Minister Lotay Tshering poses in front of a portrait of King Jigme Khesar Namgyel Wangchuck.
Newsweek
Is GNH or gross national happiness the only indicator that the world should look at when it comes to Bhutan?
The whole world knows us through the concept of gross national happiness. And we also go around being very happy, coming from a place that is a peaceful one. More than us telling the world I think it all depends on the world and what they want to learn from us. So learning is not only by teaching, but by willingness to listen. So, this is very, very subjective. And I for one, ever since I knew myself, do not have the habit of preaching anything. I only go around practicing what I believe in, and then it's up to individuals like yourself to tell the world what we have today.
What are the priorities of Bhutan as a nation for its near future?
I don't think any nation can progress or prosper without having a dependable, resilient, robust economy. In Bhutan, we have come up through a unique path, a unique tradition, unique culture, unique environment that resulted us in having carbon negative status today. A unique system which allows us to go around talking about the principles and philosophy of gross national happiness. So, since we have these few unique features that no nation on this planet has, I would like to say Bhutan's future priority is to be rich, to be technologically driven, to have resilient, robust economy but grounded to our unique features. That should make our economy totally different from others.
I have noticed while speaking to the locals that education and health care is free for all citizens. So how do you manage that?
Yes, when I said Bhutan has a lot of unique features, 'health and education' are among them. His Majesty the King, the successive monarchs, have always believed that the best social equalizers are health and education. We have a totally state funded free healthcare and education in the country. We want to give the best of education and keep it free. We want to offer the best of healthcare and give it to the citizens of the country for free because if you do not have to worry about educating your children, if you do not have to worry when you're sick, I think that is the first step number to prosperity.
Prime Minister, speaking of education; what new initiatives is your government planning to take to ensure that human resource from Bhutan is ready for the world and the technological challenges?
We have realized that technical and vocational training is something that is really required. We have also realized that as simple as definition of literacy is changing, we must have digital knowledge. We have started a major shift. We are ICT-izing (Information and Communication Technology) the whole education system, so we must change the curriculum, we have to ITC-ize the teachers, we have to digitalize the infrastructure, and we have to change the mindset of the teachers and the learners. Two years ago, 2020 onwards, we introduced coding system in all the schools. Formal school starts from age five in Bhutan. From pre-primary, a five-year-old now gets exposed to coding, he or she may not realize but it's there. His Majesty gifted 'code-monkey' system to all the schools. We managed to have ICT labs in all the remote schools.
We would like to have dependable, reliable internet connections which is a challenge for now, but we will get there. Almost all the schools are now connected with fiberoptics. We would like to digitalize the content, so the students are able to use it. Then we are also telling our teachers that they are now no more the source of information. It is already there on your phone. Teachers should now be facilitators between the information and the information seekers. I think we are going through a major revolution in the education system. And again, it will be for free.
Prime Minister, a lot of skilled youngsters, educated outside of Bhutan, do not want to come back, many are leaving. Do you see that brain-drain as a challenge?
For me, it is not a new trend. Parts of Bhutan had been suffering from brain-drain for decades. With globalization, there's a similar trend. They're going to places and countries where they have better opportunities.
Is this the challenge for us? Definitely. It will be a disaster for us if we don't change our mindset. His Majesty the King has commanded, initiated, and is now leading major transformation in the country. All public sectors, civil service, financial institutions, central bank, judiciary. Everything's getting transformed because we must meet the expectations of our educated Bhutanese youth. As a result of this transformation, the rate of brain-drain will decrease because the Bhutanese people will have opportunities in-house. I don't think there is one single Bhutanese who is going out because they don't like Bhutan. They all love Bhutan, love their motherland. They all love His Majesty the King. But since there are no opportunities as per their expectation, they are going out, leaving their loved ones behind.
Are there any specific focus sectors that you are looking to expand in or seek support in?
We are attracting investments at any level possible to invest in Bhutan on renewable energy, hydro-energy and are now focusing more on solar and wind energy also so we can have energy surplus coming from renewable sources.
We would like to focus on agriculture, riding on technology. Same with education. We intend to focus a lot on STEM (science, technology, engineering, and mathematics) subjects, STEM related education. Humanities have their own requirement, but a majority focus on humanities alone will not take Bhutan forward. On that note, we have been sharing our needs with all the countries in the world, the closest being India. We would welcome help with more STEM related subjects, trainers, experts, teachers. We are going through a digital transformation. We are almost done with having a 'National Digital ID' system for citizens and tourists. That digital ID system being the spine, has a big digital component in health. We call it electronic patient record system so that everything is digitally recorded and will help the country in resource allocation.
In education we have education management systems, learning information management systems, where the milestones will be recorded, subjects that they are inherently good at will be analyzed, so that we can channel them in the right fields.