Sandy Hook Anniversary: These Are the Gun Control Laws That Have Failed Since the Newtown Shooting
It has been five years since the Sandy Hook Elementary School shooting, and zero pieces of national gun-control legislation have passed to prevent a similar massacre. But more than 100 have failed.
What seemed at the time like the horrifying turning point in the American gun debate—a gunman in Newtown, Connecticut, slaughtering 20 children and six adult employees during the school day after killing his mother—now instead seems like the moment the United States decided no tragedy was too great to change federal gun laws. More than 200 state-level gun laws have passed since Sandy Hook, but every major attempt at federal legislation has failed, even as shootings with ever-higher body counts keep coming.
"It's heartbreaking for me that gun violence in this country has gotten worse, not better since Sandy Hook," Senator Chris Murphy (D-Conn.) told Newsweek. "We were sure we'd pass background check legislation, but I misunderstood the power of the gun lobby."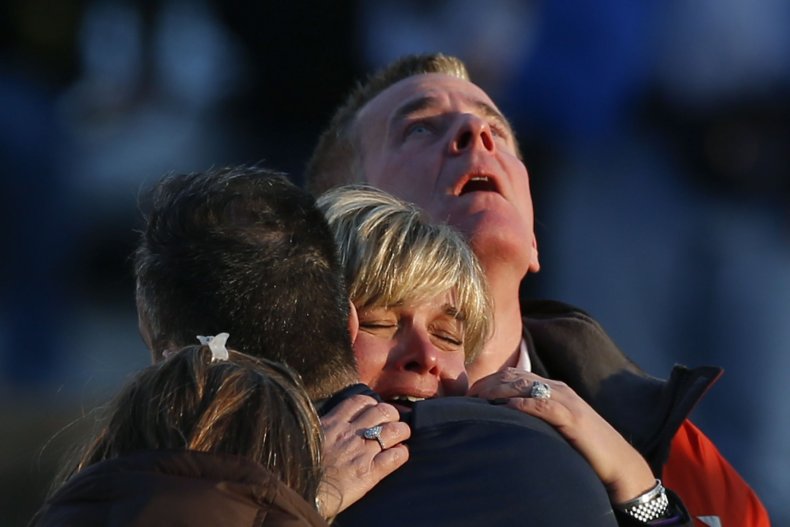 Americans broadly support stronger gun laws: 94 percent support requiring background checks for all gun buyers, and 57 percent say it's too easy to buy a gun, according to a June poll from Quinnipiac University.
But Congress still feels otherwise, with no shooting—whether it's Sandy Hook or the Las Vegas massacre in October, where 58 people were killed—becoming the one that finally spurred change. (Congress did extend a law banning plastic guns and tighten regulations on gun ownership for veterans with mental illnesses.)
These are just some of the bills from more than 100 attempts at federal reform that died in Congress since that tragic day in Newtown.
The Manchin-Toomey Bill (2013)
This bill, which gained traction soon after Sandy Hook, would have required background checks for all gun sales between private dealers, including gun shows and websites that sell guns. Right now, those checks are only mandated for federally licensed gun dealers.
A popular talking point among opponents of the bill—which ultimately led to its demise—was that it would establish a federal firearms registry and keep track of all gun owners. That was not true; it actually strengthened the existing ban on such a registry.
"The gun lobby and its allies willfully lied about the bill," President Barack Obama said of the legislation in 2013. "They claimed that it would create some sort of Big Brother gun registry, even though the bill did the opposite."
Assault Weapons Ban (2013)
One month after the Sandy Hook shooting, Senator Dianne Feinstein (D-Calif.) introduced a bill with 24 cosponsors that would be a new version of the Assault Weapons Ban of 1994, which expired in 2004.
The new bill would have banned certain kinds of semiautomatic weapons, ones that can accept detachable magazines and have at least one military feature, such as a pistol grip, telescoping or a grenade launcher, among other characteristics. The previous, expired ban used a "two-feature" rule, meaning that the rifles could have one of those military features, but not two.
But before the bill got to the Senate, the National Rifle Association fired up a powerful campaign to stop it. In the end, Democrats were part of the reason the bill flopped. Fifteen of them opposed it, along with 44 Republicans and one Independent. Many of those opposing Democrats came from conservative-leaning states, like Alaska and Louisiana, and this bill did not have the overwhelming support it needed to guarantee them re-election if they supported it.
Automatic Gunfire Prevention Act (2017)
After the Las Vegas shooting in October, Feinstein and Representative Carlos Curbelo (R-Fla.) introduced this bill to ban bump stocks, which essentially convert semi-automatic weapons into fully automatic ones. It gained bipartisan support in the wake of the deadliest shooting in modern U.S. history, with Congress members on both sides of the aisle promising change.
But the bill was stalled when the NRA voiced its opposition—after initially saying it wanted to regulate bump stocks—by clarifying that it believed the regulation should fall instead to the Bureau of Alcohol, Tobacco, Firearms and Explosives. The agency, which might not actually have any power to regulate bump stocks (as it has said in years past), announced jointly with the Department of Justice last week that it was going to start a review of bump stocks.
Terror Gap Bills (2016)
After the 2016 Pulse nightclub shooting in Orlando, Florida (the deadliest mass shooting in U.S. history at the time), several senators moved to introduce four measures to close what was termed "the terror gap" in the federal background check system. It would have added suspected terrorists, like Omar Mateen, the gunman in Florida who had been under investigation by the FBI twice, to the federal background-check system.
The Senate rejected them: These measures left both sides of the gun debate unsatisfied. Gun rights advocates found it an ineffective solution to terrorism, and even gun control advocates said it didn't do enough, because suspected terrorists could still buy their guns from gun shows or independent dealers who did not fall under the scope of the federal background check system. The NRA again campaigned to stop the measures.
Why can't these laws pass?
Donald Trump made clear during his campaign that he was going to protect Second Amendment rights, and there is little chance of a GOP-controlled Congress leading the charge on any major bills.
Shannon Watts, the founder of Moms Demand Action for Gun Sense in America, said her group and others like it have learned by now to focus on state laws since there has been no serious action on the federal level.
Gun rights advocates "really haven't had a choice," she told Newsweek. "The Congress we have now is essentially the same Congress we had the day before Sandy Hook."
But despite the endless back and forth on legislation, and the seemingly constant mass shootings and uptick in gun violence, activists and politicians say that the bigger picture is promising. Before Sandy Hook, gun reform wasn't the all-encompassing national debate it is today; it wasn't central to politicians' platforms, and it certainly wasn't seeing today's monumental shift in public opinion.
Murphy said that it's an issue "Republicans are going to lose their seats for" soon enough. "We're gaining strength," he said, "but the gun industry had a 20-year head start."