Sandy Hook Lawyer: Alex Jones Sent 'Intimate Photo' of Wife to Roger Stone
An attorney for Sandy Hook parents said conspiracy theorist Alex Jones sent an "intimate photo of his wife" to conservative political operative Roger Stone, possibly in violation of state law.
Attorney Mark Bankston, who represents Sandy Hook parents Neil Heslin and Scarlett Lewis, made the remarks Monday during an interview on The Young Turks: The Conversation. During the interview, Bankston offered new details on the recently concluded trial that secured nearly $50 million in damages against Jones for saying that the 2012 Sandy Hook Elementary School massacre was a hoax. The 6-year-old of Heslin and Lewis was among the 20 children killed in the shooting. Those new details on the trial, according to Bankston, include the level of friendliness between Jones and Stone.
Jones on Saturday reacted to the verdict on his Infowars online broadcast, mentioning how Bankston had obtained a digital copy of his phone from the conspiracy theorist's legal team. Downplaying the phone's contents, Jones described them as banal and containing pictures of his wife and kids. There was the exception of one racier photo, added Jones.
"There was a photo I sent my wife of her naked," said Jones. "Okay, they got that. So, my wife looks pretty good. The point is, there is one naked picture of my wife in there, so that's what they got! No d**k pics, no nothing."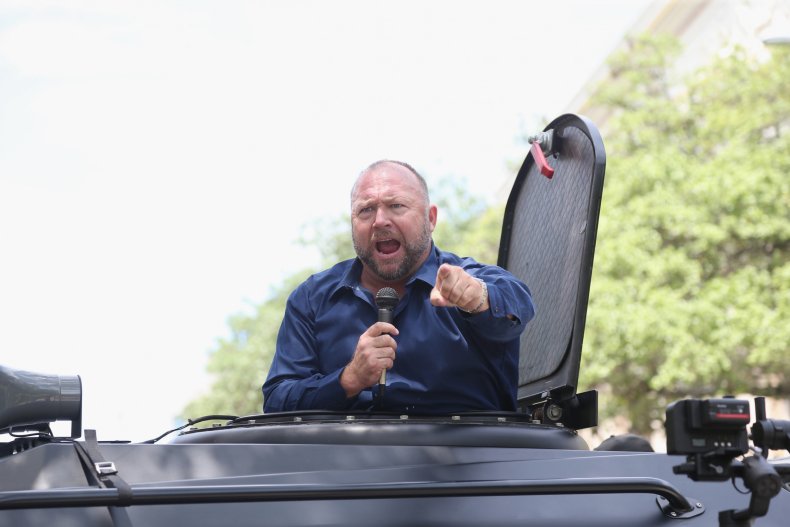 One of the more dramatic moments during the trial, which concluded Friday in Austin, Texas, included Bankston revealing that Jones' attorney had accidentally sent him a digital copy of the Infowars host's phone that included every text sent over the last two years.
Bankston, speaking to The Young Turks' Ana Kasparian, confirmed there was "an intimate photo" of Jones' wife on the phone.
"And I normally wouldn't talk about that in public," said Bankston. "But there is a public interest angle into this ... I'm a little concerned about it because that intimate photo was sent to Roger Stone. And I don't know if that was consensual."
Bankston said he wasn't sure the photo was "on the up and up," and that Jones' wife should be aware of that. He added there are "certainly laws in certain states about that."
Stone has had a friendly relationship with Jones, appearing previously as a guest on Infowars. Following the verdict Friday, Stone called Jones "a good and decent man" and called for supporters to make contributions through the Infowars store.
But Bankston added that Jones doesn't have "a deep roster of friends within" and is "shunned" by most everyone he knows.
"And there are a lot of people he wants to talk to who don't seem too interested in talking to him," he said.
Stone declined to comment to Newsweek through his lawyer Grant Smith.
Newsweek has reached out to Jones via Infowars for comment.
Update 8/9/22, 4:30 p.m. ET: This story has been updated with a response from Stone.