Sandy Hook Victims Accuse Infowars' Alex Jones of Destroying Evidence
Lawyers for victims of the Sandy Hook massacre have accused far-right conspiracy theorist Alex Jones of destroying evidence relating to a defamation lawsuit against him.
Infowars founder Jones is being sued for defamation by some of the victims after claiming that the 2012 Sandy Hook elementary school shooting, where 26 people were killed by Adam Lanza, including 20 first-graders, was a hoax staged by the government who hired actors to play the role of the bereaved parents.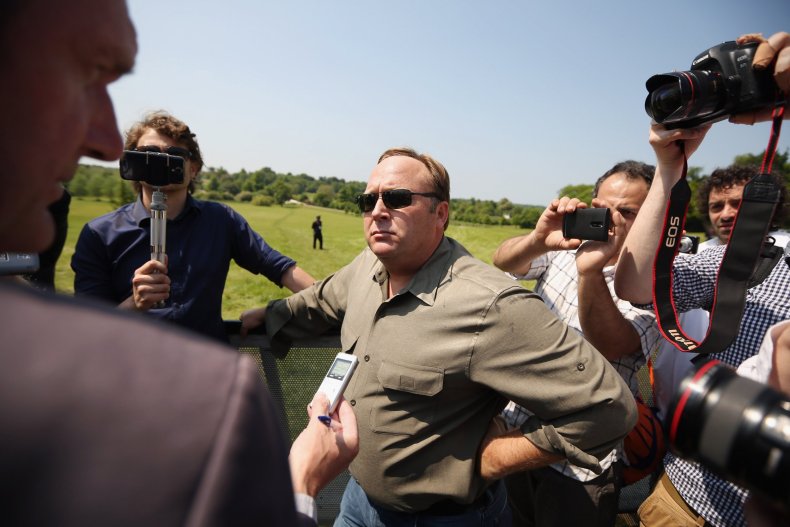 The New York Times first reported Friday that in a new legal motion filed against Jones, lawyers for Sandy Hook victims claimed that Infowars "intentionally deleted a variety of social media pages and video content relating to the Sandy Hook shooting."
The postings are being sought as evidence in the defamation case, they add.
"Relevant evidence has been lost," the lawyers said in the court filing. "As pressure mounted . . . Mr. Jones chose to destroy the evidence of his actual malice and defamatory conduct."
Infowars has not responded to a request for comment on the new lawsuit.
In a broadcast last week, the Daily Beast reported that Jones said he had ordered Infowars staffers to remove some Twitter content. CNN earlier reported that Jones had claimed in tweets that no-one was killed in the Sandy Hook massacre, that same-sex marriage would open the door to pedophilia, and branded Parkland mass shooting survivor David Hogg a "Nazi."
Jones has come under increased pressure in recent weeks, with his conspiracy-fueled content removed from Apple, Facebook and Spotify for violation of the platforms' anti-hate speech policies.
He has also been suspended from Twitter for a week for breaking the site's policies banning incitement to violence.
Parents of children killed in Sandy Hook have faced abuse and harassment from followers of Jones, who have accused them of being "crisis actors."