Santa Barbara Fire Update: Cave Fire Map Shows Evacuation Area Ahead of Potential Debris Flow
Firefighters in Santa Barbara, California, have made progress containing the Cave Fire, but a strong storm caused additional concerns about debris flow, forcing people to prepare to leave.
The Cave Fire broke out on Monday afternoon in the Los Padres National Forest, near the Painted Cove community. As of Tuesday night, it had burned through 4,330 acres, according to the Santa Barbara County Fire Department, and was 10 percent contained.
Heavy rain is helpful for firefighting efforts, but the additional moisture could cause flooding and debris flow, a phenomenon similar to a landslide. Debris flows can start after only a few minutes of intense rain and are fast-moving, posing a deadly risk to people in their path.
Areas are particularly susceptible to debris flows when heavy rain falls after a wildfire, and on Wednesday morning, hours of rain were forecast for Santa Barbara. The National Weather Service predicted rainfall rates between 0.25 and 0.50 inches per hour and issued a flood advisory that was in effect until 6:45 a.m. PST.
California is well aware of what can happen when heavy rain falls on an area ravaged by wildfires. In 2018, after the Thomas Fire burned through almost 300,000 acres of land, about a half an inch of rain fell on Montecito in 15 minutes, causing devastating mudslides. Hundreds of homes were damaged or destroyed, and 21 people were killed.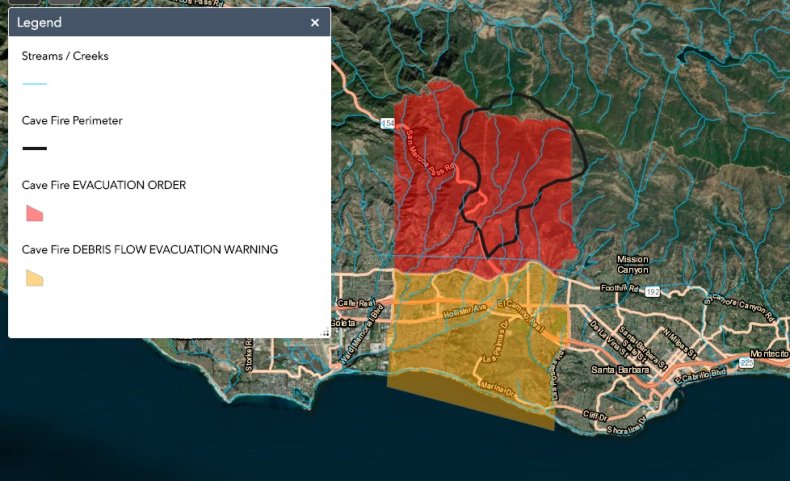 On Tuesday evening, the Santa Barbara County Sheriff's Office announced some residents were under a Debris Flow Evacuation Warning. Those affected were identified as people living in the areas between:
Patterson Avenue and Anderson Lane and Ontare Road
The 3500 and 3300 block of State Street and down through Las Positas Road
South of East Camino Cielo to the ocean
Residents were urged to prepare an evacuation kit and be ready to leave instantly if they feel uncomfortable or unsafe. Those who find themselves in the middle of a debris flow and are unable to leave are urged to get to higher ground and call 911 for help.
An evacuation order was also in place for those living in the area from Ontare Road to Patterson Avenue, north of Cathedral Oaks and the area west of Highway 154 to El Sueno, and below Cathedral Oaks to Calle Real. On Wednesday morning, the warning was lifted for the area north of Foothill Road between Ontare Road and Gibraltar Road.
While residents weren't out of harm's way, Santa Barbara County Fire Department Public Information Officer Mike Eliason tweeted that as of Tuesday evening no structures had been destroyed and no one was injured.