Santa's Ancient Bone Owned by U.S. Priest Confirmed to Be Right Age for Saint Nicholas Life
An ancient bone fragment found in France and owned by a priest in Illinois could belong to Saint Nicholas, the religious figure who inspired the myth of Santa Claus.
Archaeologists at Oxford University made the discovery after conducting radiocarbon testing on a micro-sample of bone fragment. The test results indicated the bone dates back to the fourth century A.D., the same period in which some historians believe Saint Nicholas died.
"Many relics that we study turn out to date to a period somewhat later than the historic attestation would suggest. This bone fragment, in contrast, suggests that we could possibly be looking at remains from Saint Nicholas himself," professor Tom Higham, director of the Oxford Relics Cluster at Keble College's Advanced Studies Centre, said in a statement on Oxford University's website.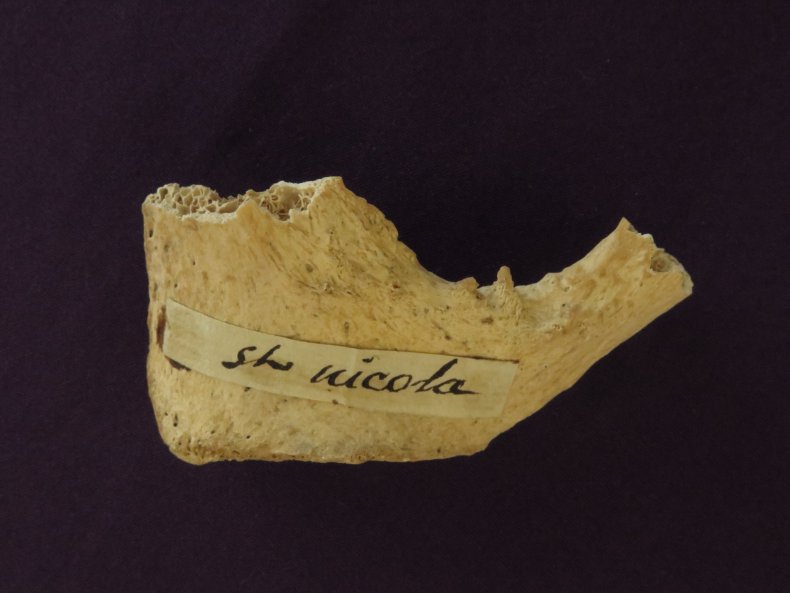 Popular stories about Saint Nicholas served as an inspiration for the legend of Father Christmas in the 16th century. In some countries, such as Germany, children receive sweets and small gifts not on December 25, but on Saint Nicholas' day, the anniversary of the saint's death, believed to have happened December 6, 343 A.D., in the town of Myra in modern day Turkey.
Saint Nicholas is also considered to be one of the most important saints of the Orthodox Church, and believers go on pilgrimages to the southern Italian town of Bari, where the saint's remains were buried in a crypt in its namesake Basilica in 1087. As many as 500 bone fragments thought to belong to the saint are kept in the church of San Nicolò in Venice.
The bone fragment analyzed comes from the left pubis of a pelvic bone owned by American priest Dennis O'Neill of Saint Martha of Bethany Church in Morton Grove, Illinois. The fragment was originally found in Lyon, France. The absence of the saint's full pelvis from the relics in Bari, which only features the left ilium, suggests the bone may belong to the same individual.
Researchers will now seek to establish if there is a DNA match between the bone and the relics in Bari and Venice. "We can do this using ancient palaeogenomics, or DNA testing. It is exciting to think that these relics, which date from such an ancient time, could in fact be genuine," Georges Kazan, co-director of the center at Keble College, said.
Further testing may not be enough to solve the mystery surrounding Saint Nicholas's remains. In October, archaeologists in Turkey uncovered a grave among the ruins of an ancient church they thought belonged to Saint Nicholas, claiming that the remains in Italy belong instead to an anonymous priest.
According to professor Higham, all that scientific research can do for now is establish whether the various bones belong to the same individual, not whether that individual is the revered saint. "Science is not able to definitely prove that it is, it can only prove that it is not, however," he said.