Santa Claus Is Coming to Town, and a Military Group Is Tracking Him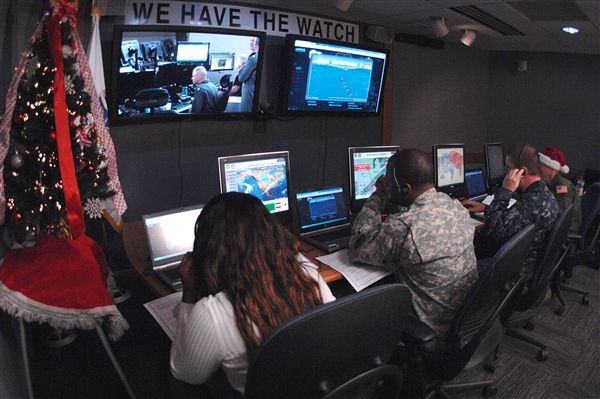 Since 1955, the North American Aerospace Defense Fund (NORAD), a military group composed of U.S. and Canadian personnel, has attempted to track Santa Claus as he delivers presents to children across the globe. Christmas Eve excluded, the organization is typically tasked with monitoring and defending North American air space from foreign bodies. So how did NORAD start chasing Old Saint Nick?
The tradition began 59 years ago when a Sears Department store in Colorado Springs, Colorado posted a Christmas ad in a local paper inviting children to call "Santa" (a local fellow posing as the yuletide giant). But Sears misprinted the phone number and accidentally gave out the contact number for the Continental Air Defense Command, NORAD's predecessor.
Former Air Force Colonel Harry Shoup, the commander on duty on December 24, 1955, thought there might be trouble (of the military kind) when the phone rang. Concerned, he picked up the phone, only to hear the voice of a little boy calling up Santa to tell him what he wanted for Christmas.
Shoup originally thought his fellow airmen were pulling a fast one on him. Once he realized the mistake, he offered to let the little boy know where Santa was on his journey, and charted an imaginary course for Santa's reindeer-led sleigh. He instructed the rest of his staff working that evening to do the same.
Since that night, the program has expanded exponentially. It's funded with little-to-no help from the public's tax dollars, according to NORAD public affairs officer Captain Jennifer Stadnyk, and functions with the help of many volunteers. "We have over 1,700 volunteers and over 60 corporate and military partners that help make NORAD Santa Tracker a success each year," she told Newsweek.
But how does NORAD track Santa? "When he decides to leave the North Pole, our satellites can detect infrared signatures [that] pick up the heat from Rudolph's red nose and then we use the satellites to track them around the world," Stadnyk said.
Some of NORAD's corporate partners, Windows and vehicle communications service OnStar among them, helped to develop the group's Santa tracking website, the site's games, and the mobile app. Other corporations have also donated phone lines for the live call center, which answers calls with live updates on Santa's location.
On Christmas Eve, volunteers work "two hour shifts starting at 6 a.m. Eastern and going through when Santa has delivered his last gift, which is usually around 1 or 2 a.m. eastern on the 25th," she said. "Children can call in at any time at 1-877-446-6723 or they can email us at NORADTracksSanta@outlook.com," where NORAD has volunteers on standby to keep interested parties clued in on Santa's whereabouts through Twitter, Facebook and Youtube and Google Plus.
The program continues to expand, and adds new features every year. Starting last year, people could hit the OnStar button in their car and an operator would tell them where Santa was. This year, owners of Windows Phones can ask their version of Siri, Cortana, where Santa is and she will tell you his last known location.
So if you've been procrastinating on setting out Santa's cookies and milk by the fireplace, or if you're just curious about Santa's yuletide journey through the skies, never fear: the NORAD has it covered.