Santa Claus Mailing Address 2020: What Is Kris Kringle's North Pole Address?
Next week, Santa Claus will make his way around the world to deliver gifts, cheer and bewilderment to children internationally. Though he's probably already packing up his sleigh, there's still more than enough time for your kids to send a letter to Santa the old-fashioned way: through the United States Postal Service (USPS).
There are a couple ways to send a letter to Santa in 2020, and we detail them below.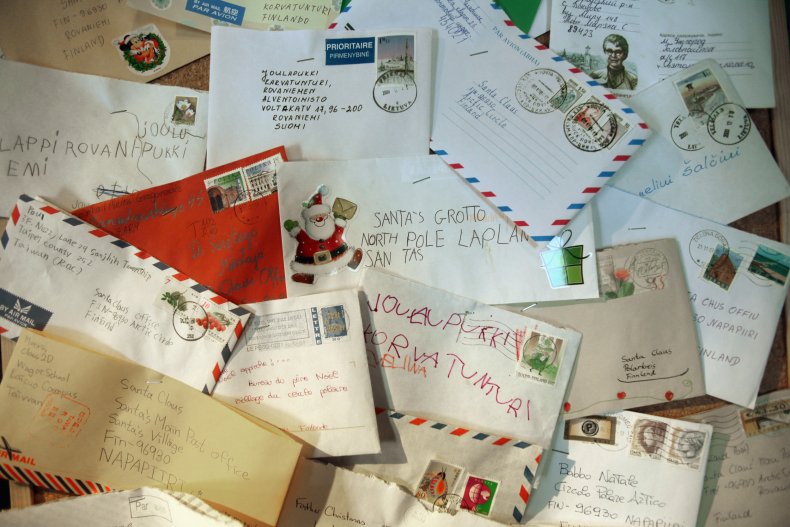 Operation Santa
Santa Claus does have an address in the North Pole and, believe it or not, your letters will make it there in time for Christmas, no matter how late you send them—and you might even receive a gift in return.
The direct mailing address for Santa reads as follows: 123 Elf Road, North Pole, 88888. The USPS has clarified that this is Santa's workshop, not his actual residence, so there's no need to worry about spamming Santa's relaxing holiday home with requests.
Spokesperson Kimberly Frum explained how the letters get to Santa in a conversation with The Washington Post. "The letters written to 123 Elf Road are processed just like any other piece of stamped, First-Class Mail," she said. "The address is an official, physical address for Santa's Workshop and all letters are delivered to this location. You could try to enter it into a GPS. Sometimes it shows up, sometimes it doesn't. But then again, the magic of the season is unpredictable."
Now, this next part is for adults only. The hardships of 2020 have made it impossible for Santa Claus to visit every household this year. So, to fill his black boots, kind Americans will substitute in for the magical man.
Some letters to Santa will be posted online through Operation Santa, so children whom Santa can't visit will still be able to get the toys on their wish list this year. When a letter from a child is posted online by the USPS, anyone can log online and claim a Christmas list. By scanning a QR code, the child's letter will be visible. This person won't be given the child's home address, though, so there's not a big safety risk by involving strangers on the Internet. As of this article's publishing time, 22,806 letters have been "adopted" in 2020 to help Santa lighten his load.
Want to adopt a letter yourself? You can click here. Just a warning, though. On Thursday morning, there were no more letters left. They're uploaded daily to the website, though, so there could be more in need of claiming sometime soon.
Digital Elves Respond
There's another way to get a response from Santa's team. If you send an email to Santa Claus in 2020, his elves will write you back. By using this link, courtesy of the Elf on the Shelf, your letter will be viewed by Santa before Christmas.