Gay Santa Advert Branded 'Creepy' by Critics Who Say It Sexualizes Christmas
A Norwegian Christmas advert has sparked a vigorous debate with some critics accusing postal service Posten Norge of sexualizing Christmas with their depiction of a homosexual Santa Claus.
The postal service released a 4 minute advert to their Youtube channel earlier this week where Santa Claus struggles to balance his Christmas duties and his boyfriend.
The video was posted to the channel on November 22 and has already amassed over 1 million views.
The video depicts the couple's first encounter and showed that the pair would spend an evening together around Christmas time before Santa returns to his present-delivering duties.
The frustration of only seeing Santa once every year leads his partner, the unamed protagonist of the video, to send a letter to the North Pole with the message "all I want for Christmas is you."
Ahead of their next meeting a Posten worker delivers the man's Christmas present with Santa remarking that this year he decided to get some help for deliveries.
The pair then share a passionate kiss and the camera pans out of the home into the sky to show multiple Posten trucks making deliveries.
A message is then displayed across the screen that reads highlighting the country's decision to decriminalise homosexuality.
It read: "In 2022, Norway marks 50 years of being able to love whoever we want. Merry Christmas and a Happy New Year from all of us to all of us."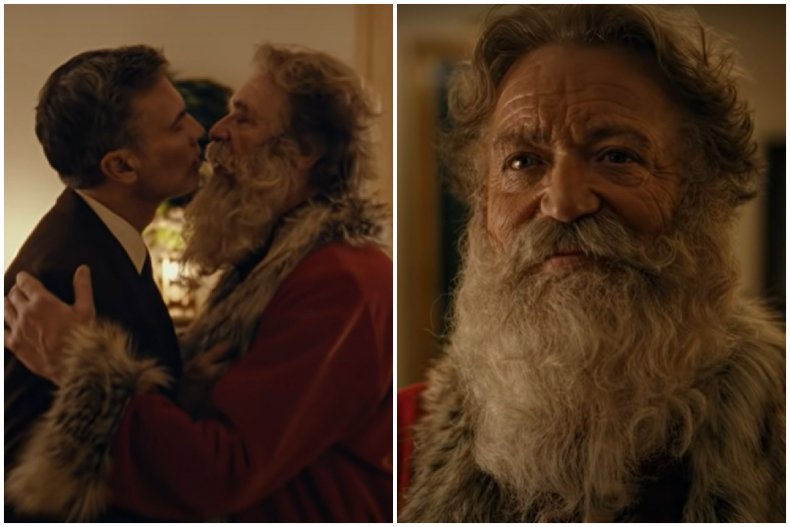 This advert has sparked an intense debate on issues surrounding homosexuality, sexuality and Christmas.
While speaking on TalkRadio with James Max, commentator Dawn Neesom claimed the postal service was sexualizing Santa Claus.
She said: "This is an advert for the Norwegian postal service celebrating 50 years of being able to love who you want. However, they have sexualized Santa.
Max interrupted Neesom to say that no one would have an issue if Santa had kissed Mrs. Claus.
He said: "No they haven't sexualized Santa, this is a nonsense and you are jumping on a tabloid bandwagon.
"If Santa came in and kissed Mrs. Claus, you wouldn't say a word."
Neesom argued it would be different because Santa would be married.
She also argued that the protagonist is cheating on his spouse and has a daughter. However the video indicates that the child in the advert is more likely his niece as he hugs a woman who calls him brother when the child is introduced.
Commentator Melanie Blake has also argued that Santa has been sexualized in the advert. After seeing TalkRadio's post about the advert she wrote on Twitter : "If Santa is gay these days then good for him but should we be seeing him getting off with anyone in Christmas adverts?!
"Seems a bit of an odd concept to me, if he was snogging a woman, it's still sexualising a figure that's mainly around for children which looks creepy to me."
Those claiming the advert sexualizing Santa have also been met with criticism as people have praised the advert as well.
Former Guardian writer Alex Andreou tweeted his thoughts on the matter alongside pictures of multiple instances the lingerie iteration of Santa Claus's outfit had been praised in British tabloid newspapers.
He wrote: "I see the I-got-nuffink-against-the-gays-but posse is losing its mind about a gay Santa in some Norwegian ad.
"The objection appears to be why are you sexualizing Santa/Christmas?
"I'm sure their favorite newspaper will be carrying opinion pieces on this moral outrage tomorrow."
Author Lucy Nichol also praised the advert and wrote on her Twitter: "Santa kisses man advert, beautiful, heart warming, sweet. Why not? Why is it only considered wrong and sexual if it represents LGBTQ people? Gay people fall in love as well as having sex just like heterosexual people."
Newsweek has contacted Posten Norge for comment.