Santa Claus Phone Number 2018: How to Call Kris Kringle on Christmas Eve
For those trying to reach Santa Claus at the last minute on Christmas Eve, a letter won't travel quickly enough.
But Kris Kringle has a phone number, and it's publicly accessible.
For any last-minute requests, or to hear a jolly laugh as Santa's sleigh traverses the world, holiday revelers can call (951) 262-3062.
"Merry Christmas," a greeting says after a series of ho ho hos. "This is Santa Claus, and you have reached my personal hotline. We have been very busy making all of those toys to deliver on Christmas morning, and I want you to know that your family loves you very much, and so do I. So be good and don't forget to always listen to your parents."
The phone number was set up by FreeConferenceCall.com in 2009 to help promote their services, according to Southern Living.
The ability to reach Kris Kringle is just one technology tool that enables families to connect with Santa.
Parents with younger children can download the "A Call From Santa Claus!" app for Android and the "Message from Santa!" app for iOS, which allow the Christmas figurehead to deliver personalized messages. "Personalized Video from Santa" also allows for customizable messages.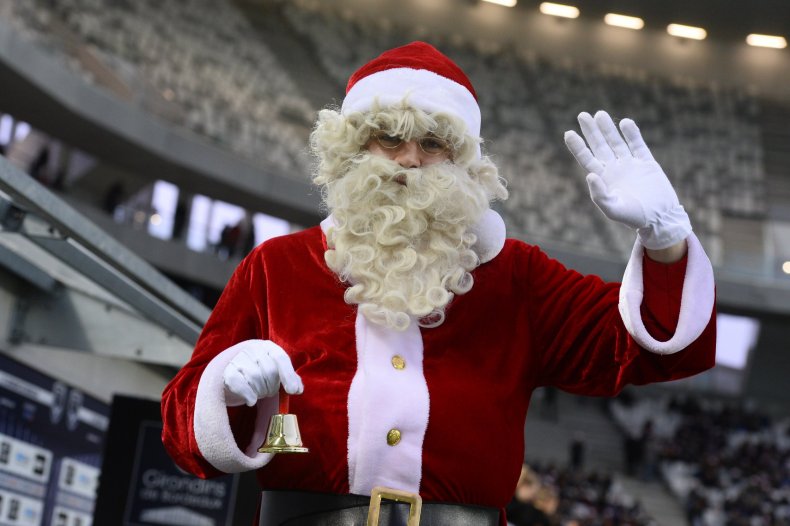 And the famed North American Aerospace Defense Command Santa Tracker monitors St. Nick's journey around the globe.
Despite the government shutdown, NORAD will continue to track Santa's progress as he delivers presents to children worldwide.
"In the event of a government shutdown, NORAD will continue with its 63-year tradition of NORAD Tracks Santa on Dec. 24. Military personnel who conduct NORAD Tracks Santa are supported by approximately 1,500 volunteers who make the program possible each and every year," NORAD tweeted on Friday.
At 12:15 ET, Santa was in Mumbai, India, heading for Ahmedabad, India. The NORAD tracker said St. Nick had delivered almost 1.9 million presents by midday.
The website offers a range of information about Santa, providing insights about whether St. Nick has pets, whether he's allergic to cats (he's not) and when to put food out for the reindeer.
NORAD started tracking Santa's journey around the world in 1955, after an ad encouraged children to call the North Pole but mistakenly put the number for the Continental Air Defense Command. Colonel Harry Shoup picked up the phone to discover a young girl inquiring about Santa. Calls continued to flood in.
Google picked up on NORAD's cue in 2004, launching its own tracker.