Santa Claus Phone Number 2021: How to Call Kris Kringle This December & Christmas Eve
Sending letters is so last millennium, and snail-mail is now deemed too old-fashioned a method to contact Santa Claus this Christmas.
Children in 2021 are now encouraged to contact the king of Christmas directly by telephone.
And despite December being traditionally understood to be the busiest time of the year for Santa Claus, Christmas fans can still listen to a personal voicemail message from old Saint Nicholas.
Santa Claus has in recent years allowed children around the world to call him, allowing them to check everything is going to plan ahead of the gift-giving bonanza on December 25.
But, because Santa's hectic workload means he is far too busy to answer the phone himself, the big man has left a helpful message for each caller to listen to.
To contact him, simply dial (951) 262-3062 to be immediately directed to Santa's "personal hotline."
When Santa's pre-recorded message answers the phone, the joyful tone of his voice is enough to make even the greatest Christmas skeptic believe in the magic of the holiday season.
Santa is heard saying: "Ho ho ho!" Merry Christmas! This is Santa Claus and you have reached my personal hotline."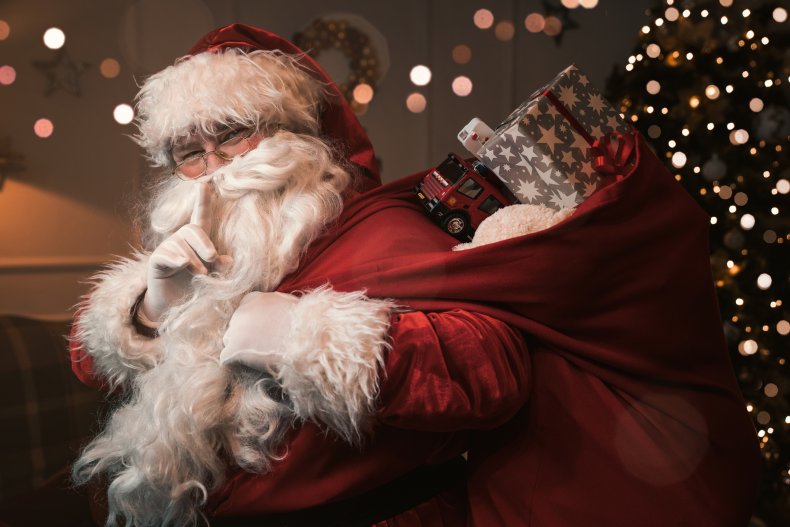 He is then heard cautioning kids to always obey their parents to make it onto his "nice" list, saying: "We have been very busy making all of those toys to deliver on Christmas morning.
"I want you to know, your family loves you very much, and so do I. So be good, and don't forget to always listen to your parents."
Santa Claus' hotline first debuted in 2009, thanks to Free Conference Call, which Newsweek has contacted for a comment.
At the time, the service's president Dave Erickson explained in a statement why arranging digital connection with Santa Claus remains relevant today.
He said: "The way that children connect with Santa is evolving and we are excited to help connect today's next generation of communicators to Santa over the phone."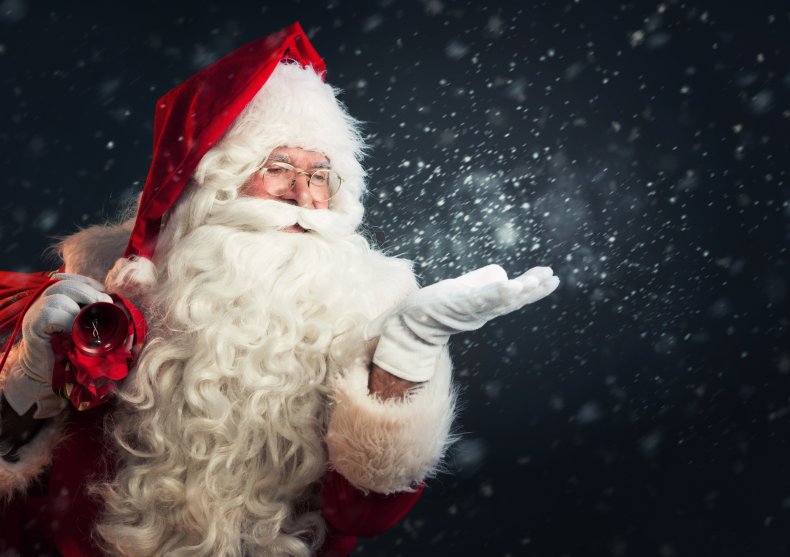 Phone calls are now not the only way of contacting Santa Claus in 2021.
Santa's Calling You is a 10-minute Zoom call you can book with Santa, Mrs. Claus or one of the Elves.
Launched in 2020, the service uses trained actors so the experience has a more real and authentic feel. It allows people to send personal details before the call allowing Santa to chat with his guests about all their wish lists and plans for family and friends.
James Bartlett, founder of Santa's Calling You, told Newsweek: "Parents can book a 10-minute Zoom call from Santa, an Elf or Mrs. Claus via our website. Prior to the call, they simply answer several questions about their child such as what's on their wish list, name of their school and any other facts they wish to share.
"This results in a truly magical call as children engage with Santa who comes on screen set against the backdrop of his North Pole HQ. As all our characters are actors, it is a really authentic experience for the whole family and they even have the option of recording the call to keep."
Video Message From Santa
And an even more cutting-edge method harnesses Artificial Intelligence (AI), allowing you to fool friends by directing Santa to send a video message to your friends.
sA.Int Nick, or Synthesia Santa, offers Santa backgrounds and script templates for inspiration and allows users to tweak the message and personalize it with friends' names and special greetings.
A spokesperson for the Canadian Armed Forces said the North American Aerospace Defense Command (NORAD) also allows Christmas fans to keep tabs on Father Christmas as he delivers presents.
They told Newsweek: "Twenty-four hours a day, 365 days a year, NORAD defends North America by tracking airplanes, missiles, space launches and anything else that flies in or around the North American continent.
"While the tradition of tracking Santa began purely by accident, NORAD continues to track Santa. We're the only organization that has the technology, the qualifications, and the people to do it."
Tricky Christmas Questions
A recent survey conducted by U.K.-based boutique gift seller Notonthehighstreet revealed parents are being asked on average five tricky Christmas questions by their curious kid, with half (51 percent) unable to answer all of them.
How does Santa know where I live? (43 percent)
Is Santa real? (42 percent)
We don't have a chimney, how will Santa get in? (40 percent)
How can Santa get all over the world in just one night? (39 percent)
Can I stay up to wait for Santa? (36 percent)
Will Santa get my letter? (30 percent)
Holly Harper, head of Inspiration at Notonthehighstreet said in a statement: "Our research reveals that it's an incredibly inquisitive time with lots of children of all ages asking parents tricky questions about Santa.
"In fact, kids between four and five years old are the most inquisitive (30 percent), with one in 10 (9 percent) children 10 and 12 years old asking lots of questions about Christmas magic."