Santa is Dead—And the Bones of Old St Nicholas Are Buried in a Bunch of Different Churches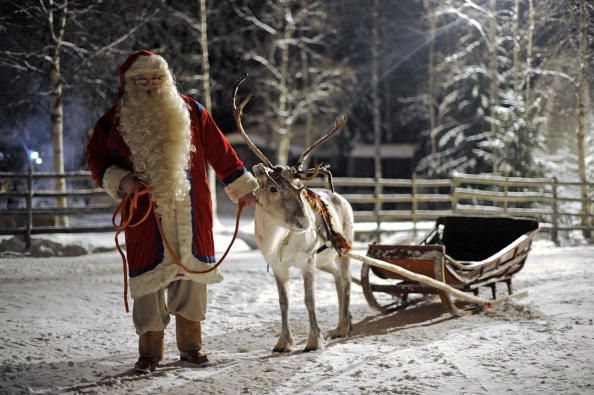 No disrespect to the classic Tim Burton movie, but if you want to treat your kids to a real nightmare before Christmas, you might simply tell them the story of the many different places Santa was buried after he died.
The extent to which Santa is real is limited pretty much only by your imagination, but St. Nick, at least, was most definitely a living, breathing person. As National Geographic reported, the Greek bishop St. Nicholas, beloved patron of children, died around 343 A.D. in what is now modern-day Turkey. The exact year is a matter of some debate, but the exact day was December 6—celebrated today as St. Nicholas Day.
In accordance with medieval Christian tradition, the remains of certain saints were divided between various churches, so old St. Nick almost definitely has a number of final resting places. National Geographic reported that the most likely sites include Bari, Italy; Venice, Italy and Demre, Turkey, the last of which was once St. Nick's home, back when it was a town called Myra.
Let's break these down a little.
Reverend Michael Witczak, a professor of liturgical studies at The Catholic University of America in Washington, D.C., told National Geographic that (some of) Father Christmas' bones could have been taken to Bari, Italy in the year 1087 A.D. It's widely believed they're still there, inside the Basilica di San Nicola.
"During the time of the Crusades, when the Byzantine Empire was slowly eroding, a group of Italians removed his body from Myra and brought it to Bari with the goal of safeguarding a number of the relics from the Turks who really didn't have any interest in Christian saints," Witczak told National Geographic.
Some of the exhumed bones also made their way to Venice. According to the St. Nicholas Center, experts have concluded that the bones in Bari and the bones in Venice could have come from the same skeleton. Venice, of course, has its own Church of St. Nick, the San Nicolò al Lido.
"It was essentially a holy robbery," Adam English, author of the book The Saint Who Would Be Santa Claus, told National Geographic. "They feared not only the locals coming after them, but also the bones and power of Nicholas. So, it seems they left some small fragments behind, which the Venetians took later."
And as the Guardian reported earlier this year, Turkish archaeologists uncovered an intact temple and burial ground at a church in Demre, which was built on the ruins of Myra.
"We have obtained very good results but the real work starts now," Cemil Karabayram, the director of surveying and monuments in Antalya, Turkey, told the Guardian. "We will reach the ground and maybe we will find the untouched body of Saint Nicholas."
Merry Christmas to us all.