Santa Claus Tracker 2019 Live: Where Is Santa Claus Right Now, When and What Time Will Santa Be at My House Tonight?
Santa Claus is preparing to leave the North Pole and is once again racing against the clock to deliver presents to kids around the world before dawn breaks on Christmas morning.
Update: 4:05 p.m. EST—Santa has made it to Luanda, Angola, and is up to more than three million gifts delivered!
Update: 12:30 p.m. EST—NORAD reported Santa was in Dushanbe, Tajikistan, and was headed for Uzbekistan. So far, he's delivered more than two billion gifts!
Update: 9:34 a.m. EST—Santa was last seen at the Great Wall of China and is headed for Irkutsk Oblast, Russia, according to NORAD.
Original story:
As Santa travels the globe, the North American Aerospace Defense Command and Google track his movements. For Santa to deliver gifts, kids must be in bed by the time his reindeer touch down on the roof, and kids can use NORAD's and Google's tracking systems to make sure they're asleep in plenty of time.
On Tuesday morning, Google launched its tracker at 5 a.m. EST, according to the search engine. NORAD followed an hour later, making its tracker live at 6 a.m. EST. Canadian Army Major Andrew Hennessy, NORAD's public affairs officer, told Newsweek that Santa generally starts at the international date line heading west, but he can be affected by weather from time to time.
Santa is responsible for picking his own route around the globe, Hennessy added. "Santa calls the shots, we just track him."
If previous years are indicative of Santa's 2019 journey, he should be in Australia around 8:30 a.m. EST and then in Russia around 1 p.m. EST. Last year, he arrived on the U.S. East Coast at around 10 p.m. EST. His first stop, according to The Atlanta Journal-Constitution, was in the eastern part of South Carolina. By 10:30 p.m., he was in Virginia and then moved north, past Washington, D.C., Pennsylvania, New Jersey, New York, Massachusetts and Maine, before heading into Canada.
Santa's final stops in the United States were cities on the West Coast, and he finished up at 3:35 EST on Christmas morning, according to the Journal-Constitution.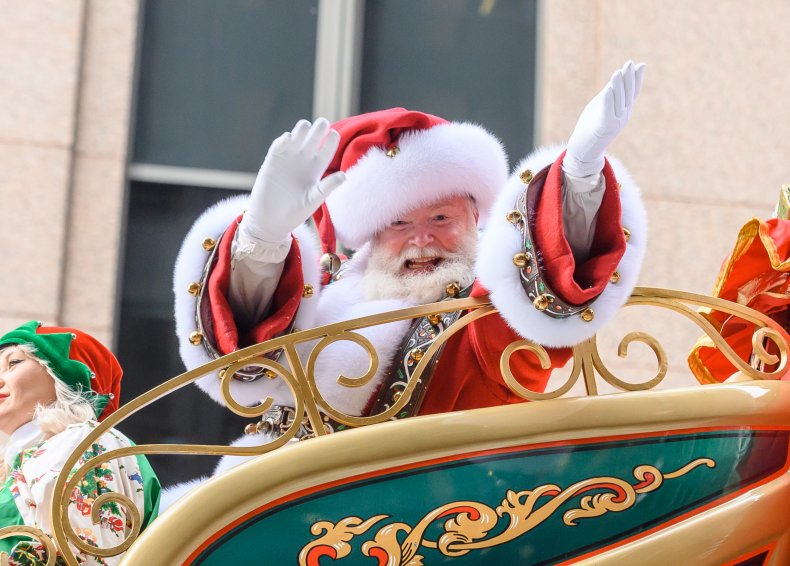 As Hennessy told Newsweek, Santa's route can vary, so kids looking for his exact location can track him on NORAD's website, social media accounts or by calling 1-877-HI-NORAD or emailing noradtrackssanta@outlook.com. Volunteers field the calls, and the most popular questions they're asked are "Where is Santa?" and "When is he coming to my house?"
"The most important reply our volunteers can give is that estimated time of when Santa will get to that specific house in that town and country, and making sure that kid is in bed," Hennessy said.
For those kids hoping to track Santa with Google, they can follow along with his journey through the Android mobile application or a dedicated website, SantaTracker.google.com. Kids will be able to see Santa's exact location, how many miles or kilometers his sleigh is from their town, and how long it'll take the Christmas crew to get there.
Awaiting Santa's arrival can be a daunting task for some young ones, so both Google and NORAD have games set up on their websites to help kids pass the time.