Santa Claus Tracker 2020 Live: Where Is St. Nick Right Now and What Time Will He Be at My House?
Santa Claus is coming to town. And thanks to NORAD, kids and adults can stay up to date on jolly old St. Nick's movements as he circumnavigates the globe.
Born out of a child's accidental call in 1958, NORAD's Santa Tracker will continue this year even as America continues to deal with the pandemic. Modifications were made to accommodate for social distancing, including cutting down on the number of people fielding calls—so it's possible callers may receive an automated message with Santa's whereabouts when they phone NORAD.
However, there are a number of other ways people can find out where Santa is at any given time. One option people have is to visit NORAD's website, from which people can monitor Santa's previous whereabouts and his next destination. The same tracking service is also available via a mobile app from Google Play and Apple's App Store.
For Santa to jump down the chimney, children must be asleep. In most countries, he arrives between 9 p.m. and midnight on Christmas Eve. While NORAD tracks Santa and ensures he has a safe arrival at each destination, it is Santa who decides his route.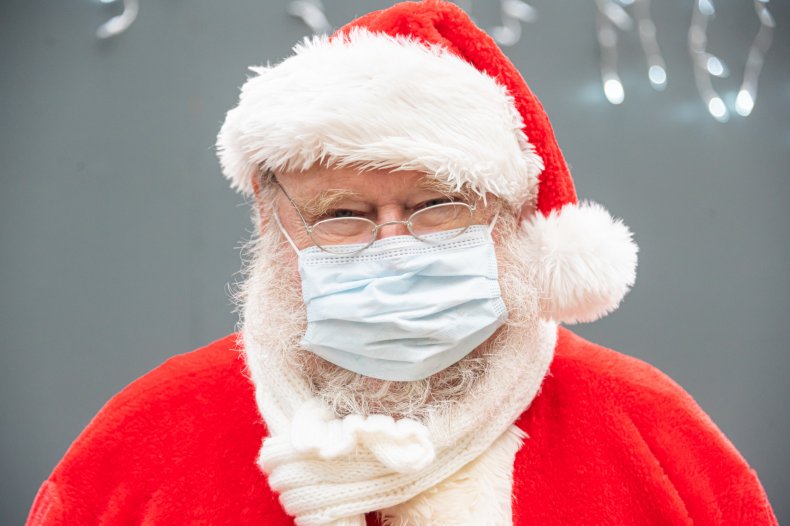 Delivering gifts around the world in one night is no easy task and requires a lot of planning to ensure St. Nick has enough time to complete the job. Historically, he starts at the International Date Line and heads west. In the past he's traveled to the South Pacific, New Zealand and Australia before delivering gifts to countries in Asia, Africa, Europe, Canada, the United States, Mexico and Central and South America.
As of 4 p.m. ET, Santa is in Gabon, a country on the west coast of Central Africa. After he's finished delivering gifts in Gabon, he'll continue working his way through the continent of Africa before moving on to his next destination. At the time, he'd already delivered 3.3 million gifts.
This year, Santa also made a special stop to the International Space Station (ISS) in honor of the 20th anniversary of crews living there. On Wednesday, the Federal Aviation Administration (FAA) cleared Santa's sleigh for launches and landings in space and a flight to the space station.
Santa had a spacesuit helmet for his journey, but Space.com noted it may have been an extra precaution because his magic makes it unnecessary for himself and his reindeer. Lucky for those on the station, famed reindeer Rudolph's nose lit up the depths of space, giving crew members a special Christmas treat.
While kids wait for nightfall and Santa's arrival, they can check out different videos of his arrival in various parts of the world on NORAD's website.