Santa Fe High School Shooting Victim's Mother Confronts Ted Cruz at Town Hall: 'Don't Disrespect My Daughter'
A mother of one of the victims of the Santa Fe High School shooting in Texas confronted Senator Ted Cruz at a rally Thursday night.
Rhonda Hart's daughter, Kimberly Vaughn, was killed during the shooting at Santa Fe High School in May. She shouted at Cruz about his lack of gun reform during his time in office during a rally at Franca's Italian Restaurant in Webster, Texas, KTRK reported.
"Don't disrespect my daughter. My daughter died," Hart shouted during the event through a crowd of his supporters. "You still have not introduced common-sense reform."
The shooting at Santa Fe High School in May killed 10 people and injured 10 others. The alleged gunman, Dimitrios Pagourtzis, was a student at the high school. Cruz offered his condolences to Hart and told the crowd the best way to keep students safe from another active shooter is to secure schools with more police officers.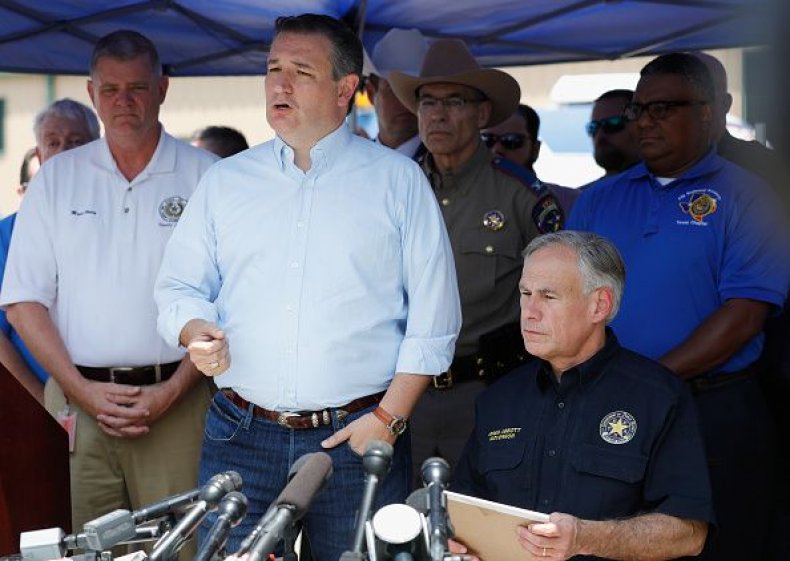 "I think the No. 1 thing that makes schools safer is to have more armed police officers on campus to keep our students safe," Cruz told the crowd.
Newsweek reached out to Hart for comment but did not hear back in time for publication. Hart told KTRK she wanted to have the chance to have her voice heard during the rally.
"I wanted to be able to call him out. His inaction regarding the children of Santa Fe. Children died under his watch and he accepts money from the NRA. There is still not any sort of common-sense reform," she told the news station.
Following the shooting, Cruz told reporters, "Texas has seen too many of these," the Houston Chronicle reported.
"The agony, the hell, that parents, that this community is going through is unimaginable," Cruz told reporters at the time. "Every one of us that's a parent that sends our sons or daughters off to school in the morning, to have this horror greet them."
Cruz and his challenger, Democratic Representative Beto O'Rourke from El Paso, Texas, will have their first debate Friday night. Cruz is currently leading O'Rourke in the polls at 48 percent to 45, according to results from Public Policy Polling.
This is not the first time parents of shooting survivors have attempted to bring up gun reform to politicians. Earlier this month, Fred Guttenberg, the father of Parkland shooting victim Jamie Guttenberg, attempted to shake Brett Kavanaugh's hand during his Supreme Court hearing. In response, Kavanaugh turned his back and walked away. Guttenberg's gesture went viral, and many slammed Kavanaugh for the handshake snub.