Santa Fe Shooting: Vote Out Politicians 'Only Offering Prayers,' Says Houston Police Chief
Houston Police Chief Art Acevedo urged the people of Texas to vote out all politicians and elected officials who are only "offering prayers" following the Santa Fe High School shooting.
Acevedo vented his frustration at the lack of gun control in the U.S. following the deaths of 10 people in Texas, the latest mass shooting to occur at a school.
Speaking to CBS News's Face the Nation, Acevedo said police and other authorities needed to look at how they could "do better" in order to prevent the next school shooting, as "there will be a next time, based on the inaction of elected officials across this country."
Acevedo said, "Let me tell you, people at the state level and the federal level in too many places in our country are not doing anything other than offering prayers.
"We need to start using the ballot box and ballot initiatives to take the matters out of the hands of people that are doing nothing that are elected, [and] into the hands of the people to see that the will of the people in this country is actually carried out."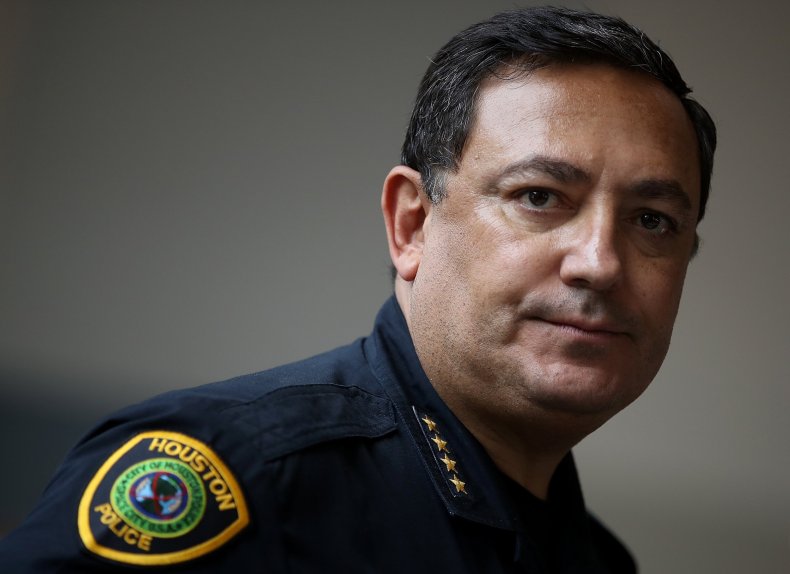 Acevedo also gave an update on John Barnes, the school police officer who was shot at after confronting the 17-year-old suspected gunman, Dimitrios Pagourtzis.
Barnes, a retired Houston police officer, was described as being in "very serious" condition after being fired at with a shotgun. He is currently stable and expected to recover fully.
Acevedo previously slammed the inaction of elected officials in a passionate Facebook post describing how he had "hit rock bottom" after dealing with another mass shooting involving children.
"I have never accepted the status-quo in anything I do and I've never accepted defeat. And I won't do it now," he wrote.
"I will continue to speak up and will stand up for what my heart and my God commands me to do, and I assure you he hasn't instructed me to believe that gun-rights are bestowed by him.
"This isn't a time for prayers, and study and inaction, it's a time for prayers, action and the asking of God's forgiveness for our inaction (especially the elected officials that ran to the cameras today, acted in a solemn manner, called for prayers, and will once again do absolutely nothing)."
The post, which Acevedo wrote the day after Pagourtzis was alleged to have killed eight students and two teachers at the school, has since been shared more than 18,000 times on Facebook.
Announcing there would be a statewide moment of silence to honor the victims of the shootings on the morning of May 21, Texas Governor Gregg Abbott described how "in the midst of such tragedy, we pray for the victims" while adding how his office was working to "ensure swift and meaningful action to protect our students."
Texas Lieutenant Governor Dan Patrick suggested that restricting the number of doors in schools could help preventing shootings.
"We have to look at the design of our schools moving forward, and retrofitting schools that are already built... There are too many entrances and too many exits to our over 8,000 campuses in Texas," Patrick said.
"There aren't enough people to put a guard at every entrance and exit," he continued. "Maybe we need to look at limiting the entrance and exits into our schools so that we can have law enforcement looking at the people coming in through one or two entrances. We're gonna have to be creative. We're gonna have to think out of the box."