Santa Paula Fire: Yet Another Fire Breaks Out In California Amid Extreme Red Flag Warning, Severe Winds
Firefighters in Southern California were battling to contain two new wildfires early Thursday fueled by the powerful Santa Ana winds. As the Easy Fire in Simi Valley decreased, a new brush fire broke out in Santa Paula.
The fire was reported at 12:12 p.m. at 899 Coronado Circle near Santa Paula Hospital, reports VC Star.
The Ventura County Fire Department launched a strong response which included bulldozers, planes, helicopters and crews that had been released from the Easy Fire.
Structures were threatened by the two-alarm fire that moved westward, officials said. Authorities reported the fire had a slow rate of spread, with potential to grow up to 10 acres.
Just before 1 p.m., forward progress was stopped with no structures damaged and no individuals injured.
In Southern California, the National Weather Service issued its first-ever "extreme red flag warning" for much of Ventura and Los Angeles counties. The warning predicts "damaging wind gusts between 50 and 70 mph," isolated gusts that could hit 80 mph and extremely low humidity.
"This all adds up to an extreme fire weather threat, meaning that conditions are as dangerous for fire growth and behavior as we have seen in recent memory," the weather service said in its warning, which lasts until 6 p.m. Thursday.
It's been nearly a month that millions of Californians have been subjected to temporary electricity shut-offs as utilities try to prevent power lines from sparking fires during high wind conditions.
Southern California Edison said Wednesday it shut off power to more than 68,000 homes and businesses.
Governor Gavin Newsom announced that PG&E will be crediting customers for the power disruption. He also harshly criticized the utility for the duration and amount of power outages, describing the blackouts as the consequence of "decades of a utility that didn't focus on you and public safety, but focused on shareholders."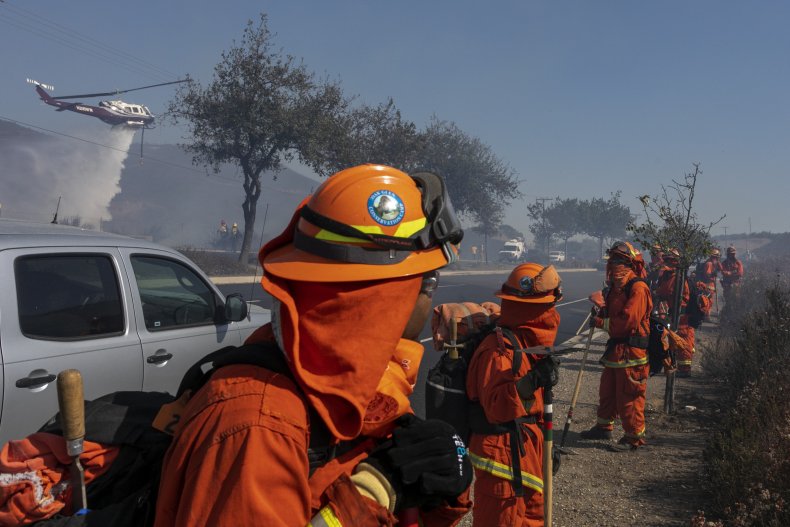 A recent study published in Earth's Future suggests that the increasing size of wildfires occurring across California in the last 50 years is attributable to climate change drying out the landscape.
"Since the early 1970s, California's annual wildfire extent increased fivefold, punctuated by extremely large and destructive wildfires in 2017 and 2018," the researchers wrote.
"This trend was mainly due to an eightfold increase in summertime forest-fire area and was very likely driven by drying of fuels promoted by human-induced warming."
California is likely to continue to experience larger and more destructive wildfires as the nation's most populated state gets hotter and drier. Fire season is now two to three months longer than it was in 1970.
The area has only had 0.05 inches of rain in the last five months.
Santa Paula Fire: Yet Another Fire Breaks Out In California Amid Extreme Red Flag Warning, Severe Winds | News