Man Dressed As Santa Rescued From Power Lines in California
A man dressed as Santa Claus has been rescued from power lines after becoming entangled in the live wires when his aircraft crashed in a California suburb.
The unidentified man was delivering candy canes to neighborhood children in the Sacramento area when he flew his hyper-light aircraft into the power lines on Sunday morning.
After dangling upside down for an hour, the exhausted Santa was finally rescued by the Sacramento Fire Department and managed to escape unscathed.
Using a crane, two fire trucks and the manpower of about a dozen fire firefighting crew, the man was returned safely to land.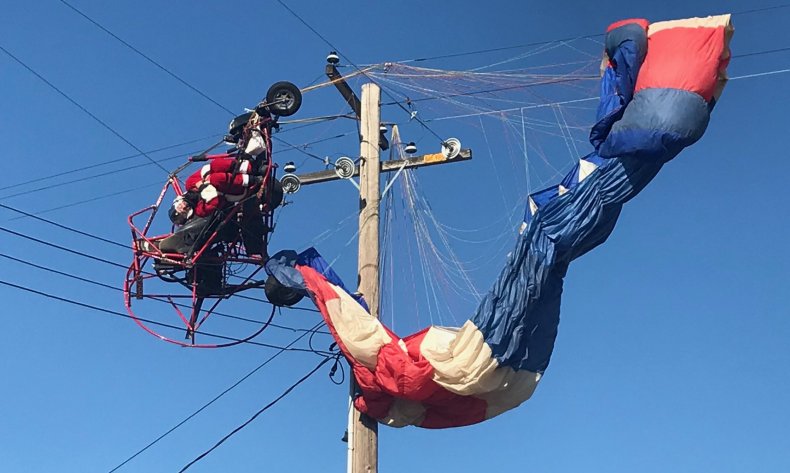 "We are happy to report Santa is uninjured and will be ready for Christmas next week, but perhaps with a new sleigh!" Metro Fire of Sacramento tweeted alongside footage of the rescue effort.
The Sacramento Fire Department also joined in with a tongue-in-cheek post, describing the incident as "the moment when your training pays off."
Sacramento Metropolitan Fire District Capt. Chris Vestal said firefighters were called to the scene near the intersection of 7th Avenue and M Street in Rio Linda shortly after 11 a.m. on Sunday.
There, they found the man dressed in a Santa suit hanging upside down in his aircraft with his parachute tangled in the lines.
"We don't know where he was coming from or where exactly he was going," Vestal told the San Francisco Chronicle. "We didn't confirm if he came from the North Pole, but that would be pretty far."
In order to rescue the adventurous Santa, the power lines needed to be shut down by Sacramento Municipal Utility District workers, causing about 200 homes in the area to lose power.
The California Highway Patrol's North Sacramento Office was also called to the scene.
"Turns out Santa was trying to get some last minute fun in before the holiday and got into a hot wire situation. Don't worry... he wasn't hurt!" the agency said.
Residents said the man is known for delivering candy from his aircraft every year.
"He flies just around so people can see and flies over people's houses," local woman Colleen Bousliman told KCRA. "This was the first time he was in his Santa suit. We didn't know this was going to happen."
"Unfortunately, he was unable to meet that goal on this day," Vestal said. "We do commend him for doing that and can appreciate the timing to try and bring the spirit, especially this year."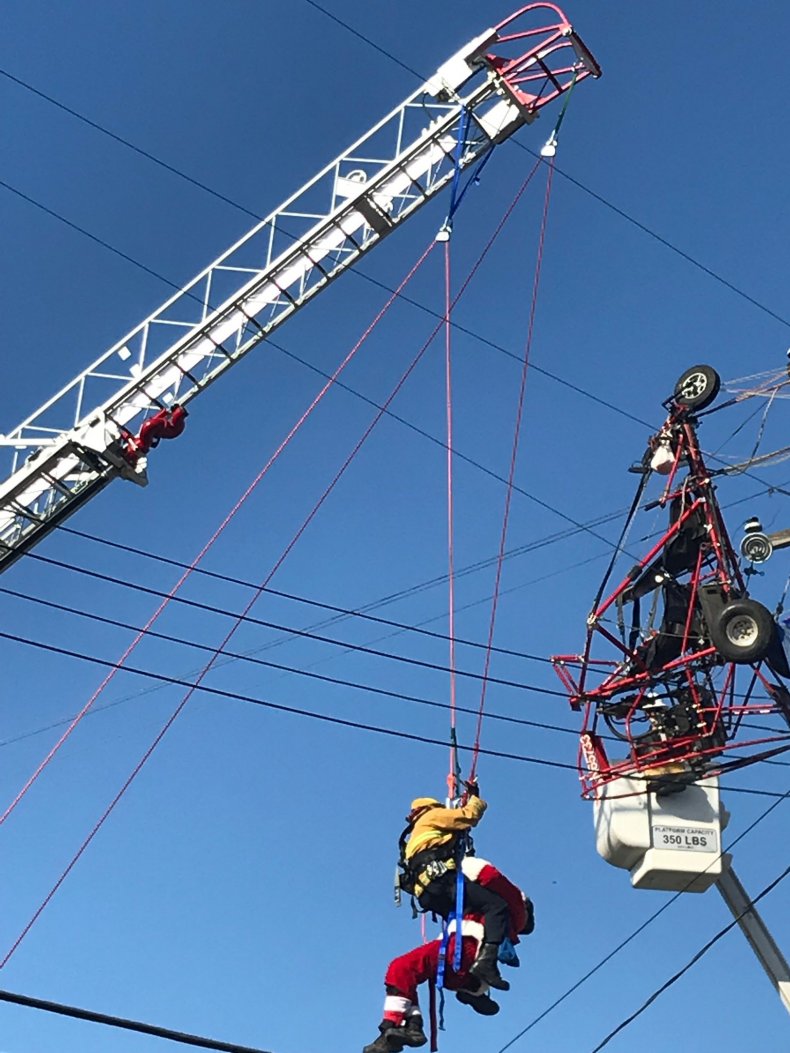 Earlier this month, another Christmas stunt went awry when an estimated 50 children were exposed to COVID-19 following a parade in Ludowici, Georgia, on December 10.
The event, held by the Long County Chamber of Commerce, included a tree lighting and an opportunity for children to visit and take pictures with Santa and Mrs. Claus.
Just two days after the parade, both Santa and Mrs. Claus tested positive for the virus.
The Clauses, however, didn't display any symptoms at the time of the event, according to a statement by Robert D. Parker, chairman of the Long County Board of Commissioners.
Long County schools asked parents to keep any child exposed to Santa and Mrs. Claus home until after the holiday break if they're showing symptoms of COVID-19.