Police Face Backlash after Posting Photo of Santa Suit Thief Drunk in his Cell: 'The Spirit of Christmas Isn't About Publicly Shaming
A California police force is facing backlash after releasing an image of an alleged burglar in a Santa suit sleeping in a police cell.
The man, who was not identified, allegedly broke into a church in the Brea area near Anaheim in the early hours of Tuesday before his arrest.
A photo of the man shows him sleeping in the suit without his shoes on and the accompanying words from Brea Police Department described him as drunk.
"Dear Santa, I'm sorry I stole your red suit," the Department wrote on Facebook and Twitter.
"I was drunk and made some poor choices. I know it's only October. And it's hot. Too hot for this suit. But I was drunk. Poor choices. Sincerely, Drunk Santa Suit Criminal."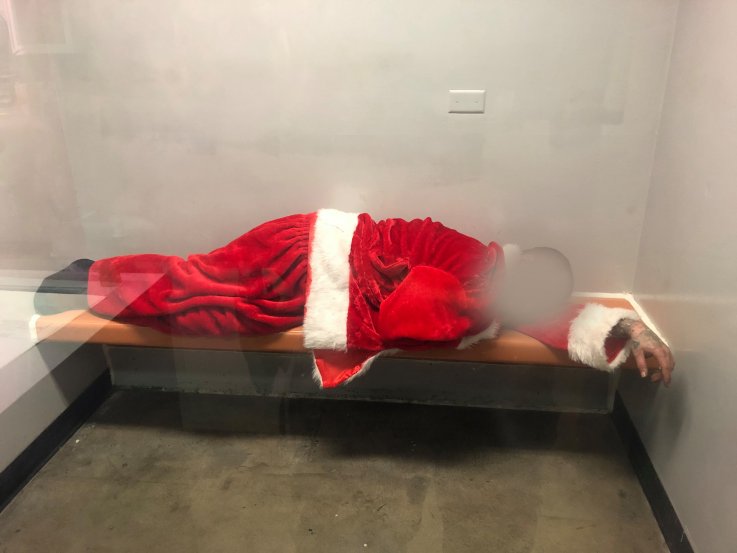 Although many were amused by the post, others were quick to criticize the force for "shaming" the man in this way.
Commenting on the picture, Liz Rodriguez said on Facebook: "The spirit of Christmas isn't about publicly shaming those who have made a poor choice in life.
"Very disappointed that those who serve and protect choose to use their platform to incite judgment upon someone else. Ironic. The 'poor choice' here was in BPD lack of poor judgment to post a photo of a man (not booking photo) at his expense, eliciting all these type of comments of publicly shaming and scrutiny.
"Honestly, I don't get the reason for the post. It isn't a public notice. It's a public shaming. The perception I get is that BPD thinks it's okay to take a photo of someone sleeping without their consent, unnecessarily post said photo of them with captions meant to belittle a person, solely for that person to be mocked.
"C'mon guys. You're better than that. It's not only unprofessional and inappropriate but it can be perceived that y'all are some type of bullies."
Jolie Nicole also questioned the force's releasing of the photo.
"I love that you post this stuff and you crack me up with your comments, but shouldn't his face be blurred out?" she said.
Others, however, defended the post.
In response to Rodriguez's post, Sylvia Trani said: "It was also his choice to steal but he didn't care, he did it anyway. He stole from a church, he publicly shamed himself!
"At his age we don't call this poor choices. We call him a CROOK!!
"If you don't want to be mocked, publicly shamed or even judged, act like an adult and be a productive member of society. He's not being bullied, he's in jail where he belongs."
In a statement, Brea Police Department confirmed to Newsweek that a man was arrested after he was found sleeping in someone else's car on Tuesday morning.
"On Tuesday, October 22, at approximately 6:49am, our department received a call from a Brea resident that an unknown male was sleeping in his parked car," a spokesperson for the force said.
"Officers woke the suspect and took him into custody without incident and found that the suspect was wearing a Santa suit. After initial questioning, it was discovered that the suspect had two active warrants for his arrest.
"The suspect admitted to leaving his personal belongings at a local church. Officers proceeded to retrieve the suspect's belongings, where they found that he had broken into a storage shed and taken property, including the Santa suit that he was wearing.
"The suspect was arrested for burglary, vandalism and stolen property."
A response to the criticism received from the public for posting the photo was not addressed in the statement.
This story has been updated to include a statement from Brea Police Department.
Police Face Backlash after Posting Photo of Santa Suit Thief Drunk in his Cell: 'The Spirit of Christmas Isn't About Publicly Shaming | U.S.