Santa Tracker 2018: When Does the NORAD, Google Santa Tracker Start
While kids of previous centuries had to go to sleep and hope to wake up to presents under the tree, children of the modern era are able to track Santa Claus as he travels the globe with the help of the North American Aerospace Defense Command (NORAD) and Google.
Leading up to the big day, NORAD set up a Santa countdown tracker on its website and gave kids a chance to explore the North Pole with an interactive Santa's Village. Kids could watch movies on NORAD and Santa, play computer games, listen to holiday songs and learn about both the defense organization and the Christmas icon.
Visitors to the website also had the opportunity to get answers to frequently asked questions about Santa and his reindeer. Among the questions most often asked were what's Santa's favorite cookie, if siblings were on the naughty list and if Santa would still deliver presents to children in the hospital if nurses were still awake.
While children had various activities on the website to keep them occupied, NORAD's big day is on Christmas Eve when kids are able to track Santa's movements around the globe.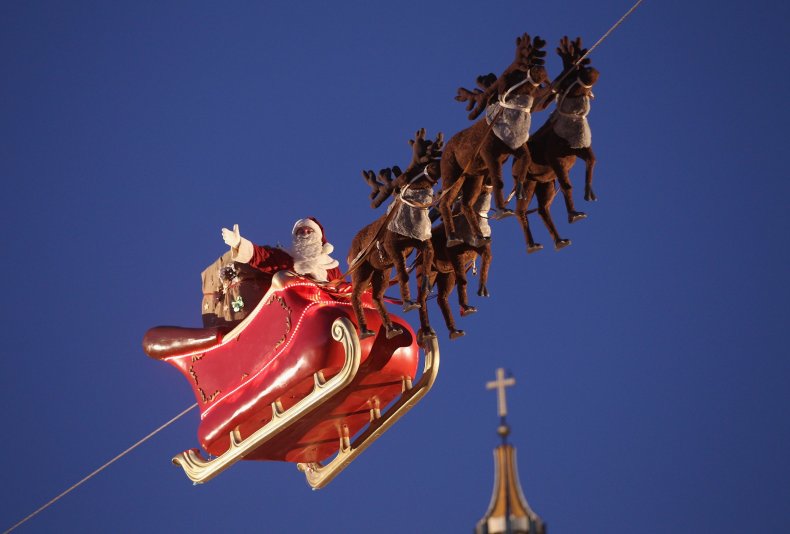 Set to go live at 12 a.m. MST on December 24, Santa usually starts at the International Date Line in the Pacific Ocean and continues west. Historically, NORAD found that Santa visited the South Pacific first, then New Zealand and Australia. After taking care of the children in those regions, he traveled north to Japan, across Asia, through Africa and then to Western Europe. Continuing west, Santa visited Canada, the United States, Mexico and Central America. His final stop on the whirlwind journey was South America.
"Keep in mind, Santa's route can be affected by weather, so it's really unpredictable," NORAD explained. "NORAD coordinates with Santa's Elf Launch Staff to confirm his launch time, but from that point on, Santa calls the shots."
NORAD began tracking Santa in 1955 after an advertisement encouraging kids to call Santa accidentally listed the number for the Continental Air Defense Command (CONAD). Colonel Harry Shoup answered the phone, which was largely reserved for communication with the Pentagon, to find a little girl on the other line asking about Santa.
He played along and as the calls flooded in, Shoup had his staff give inquiring children updates as to where Santa was when they called. Each year since its accidental beginning, NORAD has offered its tracking services to children anxiously awaiting Santa's arrival.
For those children who aren't interested in tracking the iconic Christmas figure online or with a mobile application, they can give the operations center a call and find out Santa's exact location from a NORAD staff member. The hotline opens on December 24 at 4:00 a.m. MST until midnight. There is also the option to send an email or engage in a live chat with a NORAD operator.
NORAD isn't the only organization tracking the jolly man in the red suit, either. Google also has a Santa tracker, which is scheduled to begin tracking Santa on December 24 at 5 a.m. EST. Google's Santa tracker was launched in 2004. Similarly to NORAD, Google's Santa tracker offers kids the chance to get in the festive spirit ahead of the big day with a holiday-themed computer games. One game involves an elf riding a reindeer with the goal being to collect as many presents as possible. In another game, children try to drop presents into chimneys that are being pushed through the workshop by elves.