Waiting for Santa Claus to arrive can be torturous for children on Christmas Eve, but fortunately, with the North American Aerospace Defense Command (NORAD) and Google, they can get a feel for when he should be coming down the chimney.
A program that was born out of a printing mistake in 1955, NORAD Tracks Santa is one of the Department of Defense's largest community outreach programs. In 2004, Google launched its own Santa tracker, offering children a different means to the same end.
On Christmas Eve, kids can start tracking Santa using NORAD's technology beginning at 4 a.m. MST and continue tracking him until he concludes his trip around the world around midnight at the international dateline. Although NORAD is responsible for defending Canada and the United States all day, every day of the year, Canadian Army Major Andrew Hennessey of NORAD public affairs told Newsweek the organization's most well-known mission is tracking Santa.
An honor the organization doesn't take lightly, he said it gets its cues from the big man in the red suit who decides his own route. "Santa calls the shots, we just track him," Hennessey said.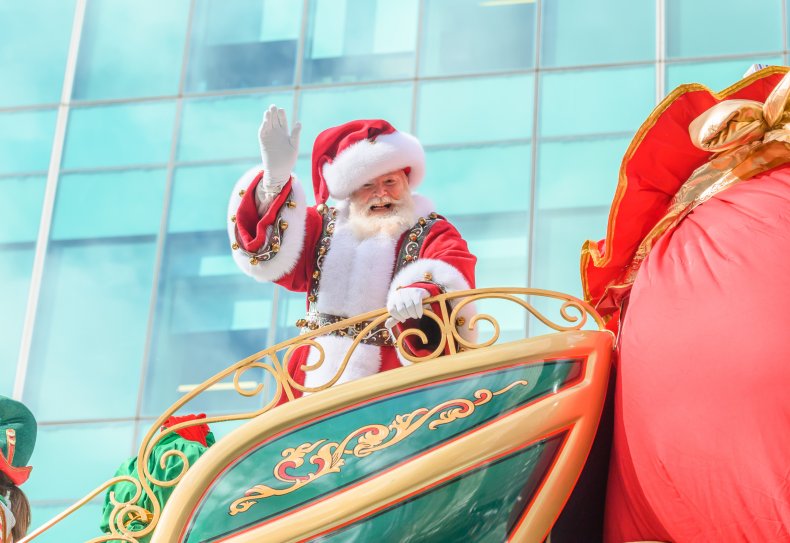 Kids have a couple of ways to track Santa's movements with NORAD. They can call the toll-free number 1-877-HI-NORAD, send an email to noradtrackssanta@outlook.com or follow along via the official NORAD Tracks Santa social media accounts.
Volunteers operate the phone lines on Christmas Eve, working in two-hour shifts. With phones that never stop ringing, Hennessey explained shifts fly by a little faster than some volunteers would have liked. While kids can ask any question imaginable, the most important information volunteers give children on the other end of the line is that they should be in bed before Santa's expected arrival.
"A lot of us grew up with this program when we were kids and we can remember listening on the radio or calling in 30, 40, years ago and being able to still be a part of it now on the other end is really enjoyable," Hennessey said.
NORAD also partnered with Amazon and OnStar to give kids another way to locate Santa throughout the day. They can track Santa by asking their Amazon Alexa or push the blue OnStar button on their vehicles.
For those particularly excited children who simply cannot stand waiting until 4 a.m. MST to figure out where Santa is, Google is the way to go. Google's Santa tracker will kick off when the clock strikes midnight on Christmas Eve. His first stop, according to Google, will be in far eastern Russia.
Kids can track Santa with their computers by going to a dedicated webpage for the tracker or through the Santa Tracker mobile application that's available for Android devices.
To help kids get in the festive spirit, both Google and NORAD have activities set up on their Santa tracking websites ahead of Christmas Eve.