Santa Claus Tracker 2018 Live: Where Is Santa Claus Right Now and When (What Time) Will Santa Be at My House Tonight?
Millions of people around the world will be watching Santa's journey on Christmas Eve, thanks to the Official NORAD Santa Tracker. With it, you can find out where is Santa Claus right now? And, you can estimate what time he will arrive in the United States tonight.
As of 1 p.m. Eastern Time on Christmas Eve, Santa Claus was in Russia and had delivered more than 2 billion gifts so far. If his schedule keeps up with previous years he should arrive near the U.S. East Coast tonight around 10 p.m. You can follow Santa's journey tonight live below.
The tracker, which is run by the North American Aerospace Defense Command (NORAD), has been tracking Santa Claus and his trip since 1955. NORAD is a binational organization that controls aerospace and monitors man-made objects in space.
NORAD Tracks Santa Program Director Preston Schlachter previously told Newsweek that the command had received a phone call more than 60 years ago from a boy due to a typo in a department store newspaper ad, telling children they could make phone calls to Santa.
"We know that Santa Claus flies West from the International Date Line and only comes when children are sleeping," Schlachter previously told Newsweek. "So he takes off right at the beginning of the day and zigzags up and down the different time zones, generally North to South and then coming back South to North."
The biggest day for NORAD is on Christmas Eve. As of Monday 8:30 a.m. EST, Santa Claus has passed through Rockhampton in Australia and is heading for Maryborough, Australia, according to the NORAD Santa Tracker. To watch Santa's journey around the world, click here.
Before Christmas Day, NORAD had set up a Santa countdown trackers on its website and gave visitors the chance to explore the North Pole with Santa's village. The website also gave visitors movies to watch and Christmas games to play.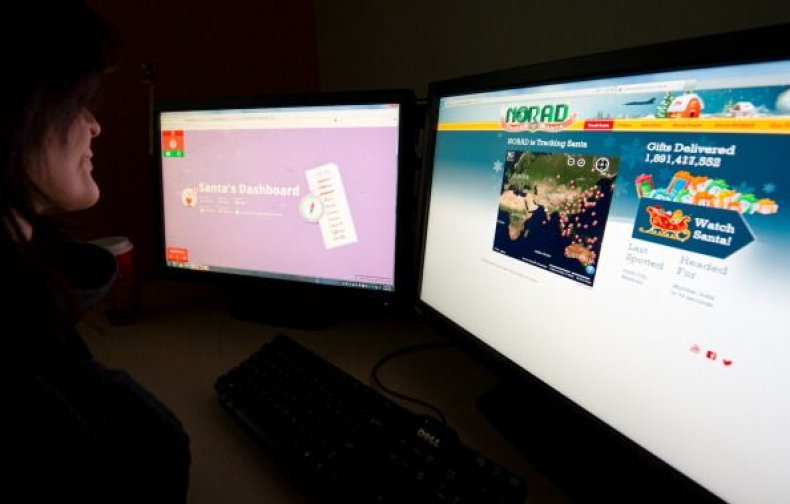 The NORAD website also answers questions about Santa, his trip and his reindeer. Some of the questions asked: What is Santa's favorite cookie, and if certain siblings were placed on Santa's naughty or nice list.
Despite the partial government shutdown, NORAD announced on Twitter that it will still track Santa's journey on Christmas Eve.
"In the event of a government shutdown, NORAD will continue with its 63-year tradition of NORAD Tracks Santa on Dec. 24. Military personnel who conduct NORAD Tracks Santa are supported by approximately 1,500 volunteers who make the program possible each and every year," NORAD tweeted on Friday.
NORAD won't be the only one tracking Santa on Christmas Eve: Google began tracking Santa and his journey at 5 a.m. EST. The company launched its Santa tracker in 2004 and also allows visitors on their website to play holiday-themed games to get everyone excited about the holiday. To follow Santa Claus's journey on Google's tracker, click here.