Donald Trump Won't Need to Improve NORAD's Santa Tracking Efforts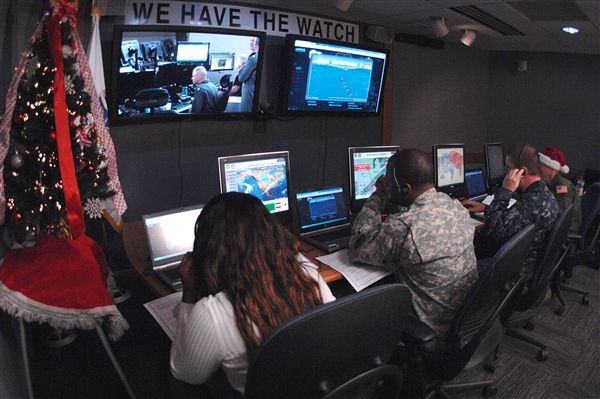 The recent election and incoming Donald Trump administration has plenty of people feeling anxious and on edge, which is all the more reason why time-honored holiday fun is a welcome distraction. There are few Christmas traditions in the U.S. that are prized and anticipated quite as much as the North American Aerospace Defense Command's (NORAD) efforts to track Santa Claus.
For the remaining 363 days of the year, the joint U.S. and Canadian agency monitors the North American territory for aerospace or maritime threats. However, on Christmas Eve and Christmas Day, the agency is tasked with keeping tabs on the whereabouts of the jolly man in the red suit, and relaying the information to millions of children (and even some adults) from around the world who call and email, requesting an estimate on when to expect a gift delivery. The practice has been in place for 61 years.
It initially began completely by accident in 1955, when Sears department store misprinted a phone number in an advertisement it placed in a Colorado Springs newspaper, urging kids to dial Santa directly. Instead the phone calls went to Colorado Springs' Continental Air Defense Command Center (CONRAD). Not wanting to crush the spirits of children, then-colonel Harry Shoup told his colleagues to play along and provide callers with Santa's exact location. NORAD replaced CONRAD in 1958, and the tradition has continued. Last year, some 1,500 volunteers took 140,000 phone calls and replied to just under 3,000 emails. Some Grinches of the world could argue it's the one thing the military really seems to get right. This year will be no exception.
Air Force Senior Master Sergeant Chuck Marsh, a NORAD spokesperson, told Newsweek Friday afternoon the agency was notified that Santa Claus is right on schedule for his annual sojourn. "We know that he's up in the North Pole finishing up last-minute items and preparing for his big trip," said Marsh. "He's just doing the typical things you do to when you're going on a road trip: Check your automobile and make sure it's ready to go and check your reindeer and make sure they're happy and ready to go." (Unfortunately, reindeer probably aren't all that happy these days, since a recent report finds the population of wild reindeer has decreased by more than 50 percent in the last 16 years, thanks to climate change.)
The journey will begin at 2:01 a.m. eastern time on December 24. According to officials, the Air Force Space Command-operated Defense Support Program (DSP) satellite uses an infrared sensor to detect heat signatures from Rudolph's nose, allowing them to track the sleigh.
Related: Tired of 'Love Actually'? Nine other Christmas movies and shows to stream this weekend
A staff of volunteers at the Peterson Air Force Base in Colorado Springs will take phone calls (1-877-Hi-NORAD) and reply to emails (noradtrackssanta@outlook.com). Most children are probably savvy enough to follow Santa on Twitter, Instagram, YouTube and Facebook, either on computer or through a phone app.
Some people may be wondering if the annual sleighbells and whistles will continue once Trump is president. While Trump earlier this week on Twitter declared an nuclear "arms race," it remains to be seen whether he still plans to make tracking Santa Claus a future priority. Most likely, the new administration won't mean the end of the program because NORAD receives plenty of support from corporate sponsors who provide resources such as building and maintaining the Santa tracking website and telecommunications.
Marsh couldn't say whether the agency has received a letter from Trump's transition team asking for information on NORAD's Santa tracking activities. (Earlier this week, the transition team sent an email to employees of the State Department requesting details of existing programs and jobs related to promoting gender equality, and earlier in December the transition team also requested names of employees and contractors in the Energy Department who work on efforts meant to combat global warming.)
Related: Nasty Women's Choir belt out satirical anti-Trump Christmas carols in New York
We do know the president-elect is a big fan of the holiday. In October, while on the campaign trail he vowed to end the War on Christmas if elected. " If I become president, we're gonna be saying Merry Christmas at every store," he told a crowd in Burlington, Iowa. "You can leave happy holidays at the corner."
Donald Trump Won't Need to Improve NORAD's Santa Tracking Efforts | U.S.