SantaCon 2018: Outrageous Photos That Will Make You Thankful You Stayed Home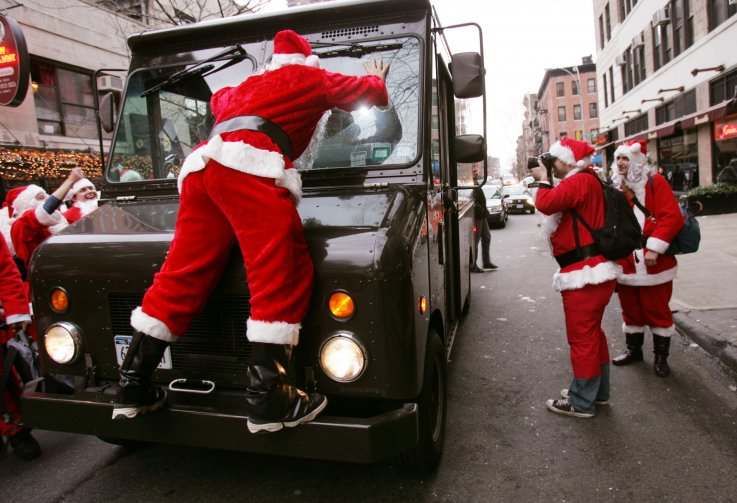 If you decide to get a casual drink with a friend at your local watering hole and find yourself surrounded by hundreds of Santas, don't worry, you're not in the Twilight Zone.
You, dear reader, have found yourself in the middle of SantaCon, the official Santa pub crawl happening in bars all across the world on Saturday. Technically it's a convention of people dressed up as Santa, but for many SantaCon is the annual holiday excuse to drink in excess.
The relatively new holiday tradition originated in San Francisco in 1994 as a form of public theater as a statement against the consumerism of Christmas. In subsequent years it spread to Portland, Los Angeles and New York City. The movement was still a form of performance art that first year in New York in 1998. The Village Voice described that first SantaCon, then called Santarchy, as when a "young San Franciscan strapped on a fake white beard, donned a $12 red suit, and led 200 Santas as they went caroling up Fifth Avenue in Manhattan." But in the years that followed, Santarchy became SantaCon, and the movement took on a life of its own.
Now organizers in cities across the world gather Santa's helpers to meet in bars, restaurants and other venues in their communities, often in the form of a pub crawl—moving from one bar to another. Even though this seems joyous, many locals and establishment owners are less than thrilled by it. There have been reports of public urination, vomiting and fights breaking out amongst Santas—try explaining that to your kids. In 2013, the NYPD asked bars to reject SantaCon for their "urinating, littering, vomiting, and vandalizing," they said in a statement.
"It draws criticism very easily from people because it's rare to see so much unbridled joy and optimism outside," an organizer, who declined to give his name because SantaCon has no figurehead, "everyone can be Santa," told The Village Voice in 2014. He later added, "We don't condone irresponsible or rude behavior. That's always an unwanted element of the event that gives SantaCon a bad rap...It's about celebrating the holiday in a creative and joyful way, to really gift the true meaning of the Holy Spirit. It's not about consumerism, it's about making new friends and donning gay apparel."
Love it or hate it, SantaCon is going to happen. Let's take a look at some of the best moments from SantaCon over the years. Word to the wise: keep the kids at home.