Santee, California Plane Crash Audio Reveals Final Moments Before It Went Down
Audio just obtained has outlined the final moments before the fatal crash of a small plane, in which the air traffic controller is heard urging the pilot to "climb immediately."
At least two people were killed and two others were hospitalized when the twin-engine Cessna C340 crashed in a neighborhood in Santee, California, near San Diego, on Monday.
The plane, which was en route to Montgomery-Gibbs Executive Airport in San Diego from Yuma, Arizona, impacted at least two houses and a UPS delivery truck, near Santana High School at about 12.15 p.m. local time.
NBC 7 reported that the pilot was Sugata Das, a cardiologist at the Yuma Regional Medical Center who frequently flew back and forth to Arizona from San Diego, where he lived. UPS confirmed that its employee was among the deceased.
KUSI News said it had obtained the final audio transmission between Das and air traffic control.
The controller refers to the tail number N7022G and altitude as he said: "Two-two golf...climb immediately, maintain 4,000."
The responses from Das are unintelligible, but with growing urgency, the controller said: "It looks like you are descending sir. Indeed to make sure you are climbing not descending. Zero two-two golf, say altitude."
He continued: "Low altitude alert. Climb immediately. Climb the airplane, maintain 5,000, expedite climb, climb the airplane please." "You appear to be descending again," he went on adding: "what is your altitude?"
Witnesses said the plane went down along the intersection of Greencastle Street and its wing clipped a UPS truck near a stop sign and the fuselage slid toward two homes and exploded.
Video from the scene shared on social media showed a number of structures and cars on fire.
Bharat Magu, chief medical officer at Yuma Regional Medical Center (YRMC) said in a statement: "We are deeply sad to hear news of a plane owned by local cardiologist Dr. Sugata Das which crashed near Santee." Describing Das as "an outstanding cardiologist and dedicated family man," the statement said he left a "lasting legacy."
UPS spokesman Steve Nagata confirmed that one of the deceased victims was one of their employees and said that it expressed "our deepest condolences to his family and friends," ABC News reported.
Santee Fire Department Deputy Fire Chief Justin Matsushita described the crash scene as "pretty brutal" and did not know if there were additional fatalities.
NBC 7 reported that two people who were taken to hospital were a husband and wife who had been pulled to safety from their charred home by neighbors.
Donnell Evans, a spokesman with the Federal Aviation Administration (FAA) told NBC 7 in a statement that it was not known how many people were on board the plane.
"The FAA and National Transportation Safety Board (NTSB) will investigate," the statement said, adding that the NTSB would be in charge of the probe.
In a statement to Newsweek, the NTSB said three of its investigators went to the crash site on Tuesday to document the scene.
It said the aircraft did not have a recorder on board and the probe would involve requesting radar data, weather information, air traffic control communication, airplane maintenance records as well as the pilot's medical records.
"NTSB investigators will look at the human, machine and environment as the outline of the investigation," it said in the statement.
A preliminary report is expected within 15 days but during an early stage of the investigation, a cause is not stated. Investigations involving fatalities "currently take between 12 and 24 months to complete," the NTSB said.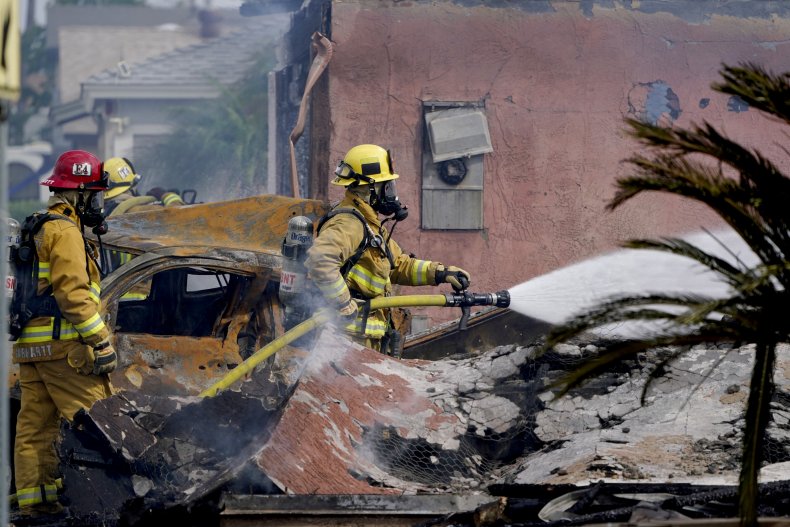 UPDATE 10/13/21 4:53 a.m. ET: This article has been updated to include a statement to Newsweek from the NTSB.