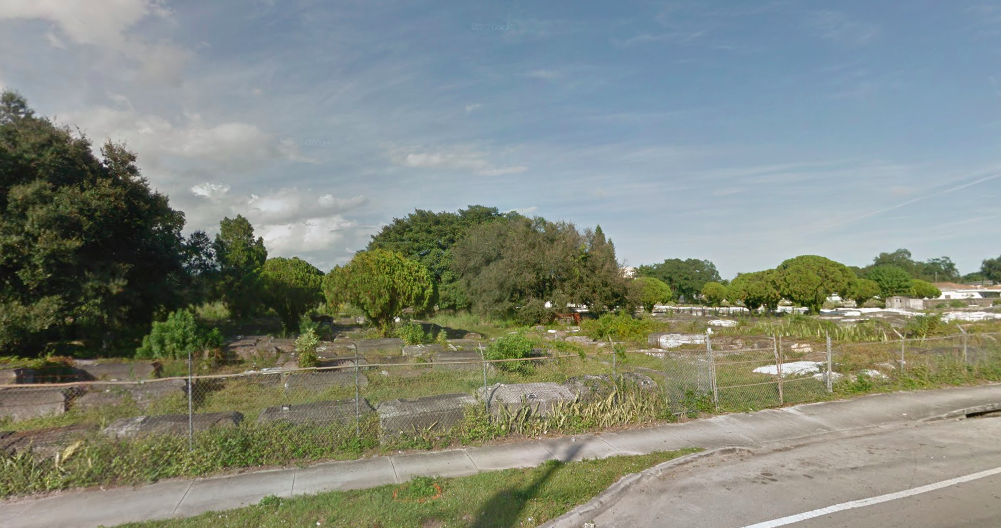 Some of Miami's historic cemeteries are being besieged by grave robbers, drug addicts and Santeria worshippers, a new report by the Miami Herald claims. Three of Miami's oldest cemeteries are experiencing an increase in vandalism and trespassing, making it hard to preserve the already neglected historic sites.
Three graves were broken into and ransacked two months ago at Lincoln Memorial Park, according to the Miami Herald. The cemetery's caretaker, Arthur Kennedy, told the newspaper that he regularly chases away homeless people, drug addicts, grave robbers and Santeria worshippers from the 10-acre Lincoln property in Brownsville, Florida.
"There's a lot of witchcraft going on, and I've been offered $1,000 for a skull," Kennedy told the newspaper. "It's inhumane how they're attacking the dead and dismantling the graves. Our history is buried in these cemeteries."
Kennedy said he has picked up dead animals—including rabbits, chickens, a monkey and a boar's head—as well as fruit, sweets, cigars and coins when worshippers leave behind offerings. "We got some serious voodoo and hocus pocus out here," he said.
It remains unclear where the offerings left at the cemeteries are coming from, though the newspaper pointed to Santeria followers. Worshippers of the Afro-Caribbean religion, however, do not use human bones in their rituals.
Mercedes Sandoval, a professor emeritus at Miami Dade College pointed to followers of Haitian vodou and an Afro-Cuban religion called Palo Mayombe as being possibly responsible. Another Afro-Cuban religion called Palo Monte also uses human remains in rituals, University of Miami religious studies professor Michelle Gonzalez Maldonado told The Daily Beast in 2015.
Maldonado said that the Palo religion is a "very nature-based religion" and that it uses human remains as a "way of connecting with the spiritual energy of the earth, and also of our ancestors."
The professor noted that practicioners of both Santeria and Palo often combine practices from each of the religions. Stephan Palmié, a University of Chicago anthropologist, also noted to The Daily Beast that people who use human remains in religious worship likely obtain them from medical supply companies.
At Miami City Cemetery, guardian and volunteer Ronnie Hurwitz said the cemetery is being used "as a laundromat" by homeless people. Hurwitz claimed that the cemetery has seen a rise of toppled headstones, religious offerings and stolen American flags lately.
"A goat's leg, a pig's head, little cups of espresso, voodoo dolls," he said. "Every Sunday the grave of Lt. Gen. N.I. Egoroff of the Russian Imperial Army is covered with sweets—only sweets."
Kennedy and Hurwitz also revealed that Evergreen Memorial Park, a predominantly black graveyard close to Lincoln, has seen the most abuse. In the past month alone, around 20 graves have been ransacked.
Evergreen has had little security or upkeep, the Miami Herald reported. The two caretakers said they occasionally walk over to patrol the abandoned cemetery.
"It's saturated with drug addicts getting high in the graveyard. People have sex right on top of the vaults. Prostitutes need a quick trick. Cemetery porn. It's crazy," Kennedy said.
Officials at Miami Police and Miami-Dade Police did not immediately respond to requests on how law enforcement is addressing the disturbances.
The two caretakers are receiving the help of the Florida Public Archaeology Network (FPAN), which has filed police reports following grave break-ins, repaired damage and provided tarps to cover exposed coffins. The organization did not immediately respond to Newsweek's request for comment.
However, FPAN's public archaeology coordinator Mallory Fenn told the Miami Herald the organization wants to help "assist with protection and maintenance and raise awareness so that people will value cemeteries as public museums."