Don't Dismiss Rick Santorum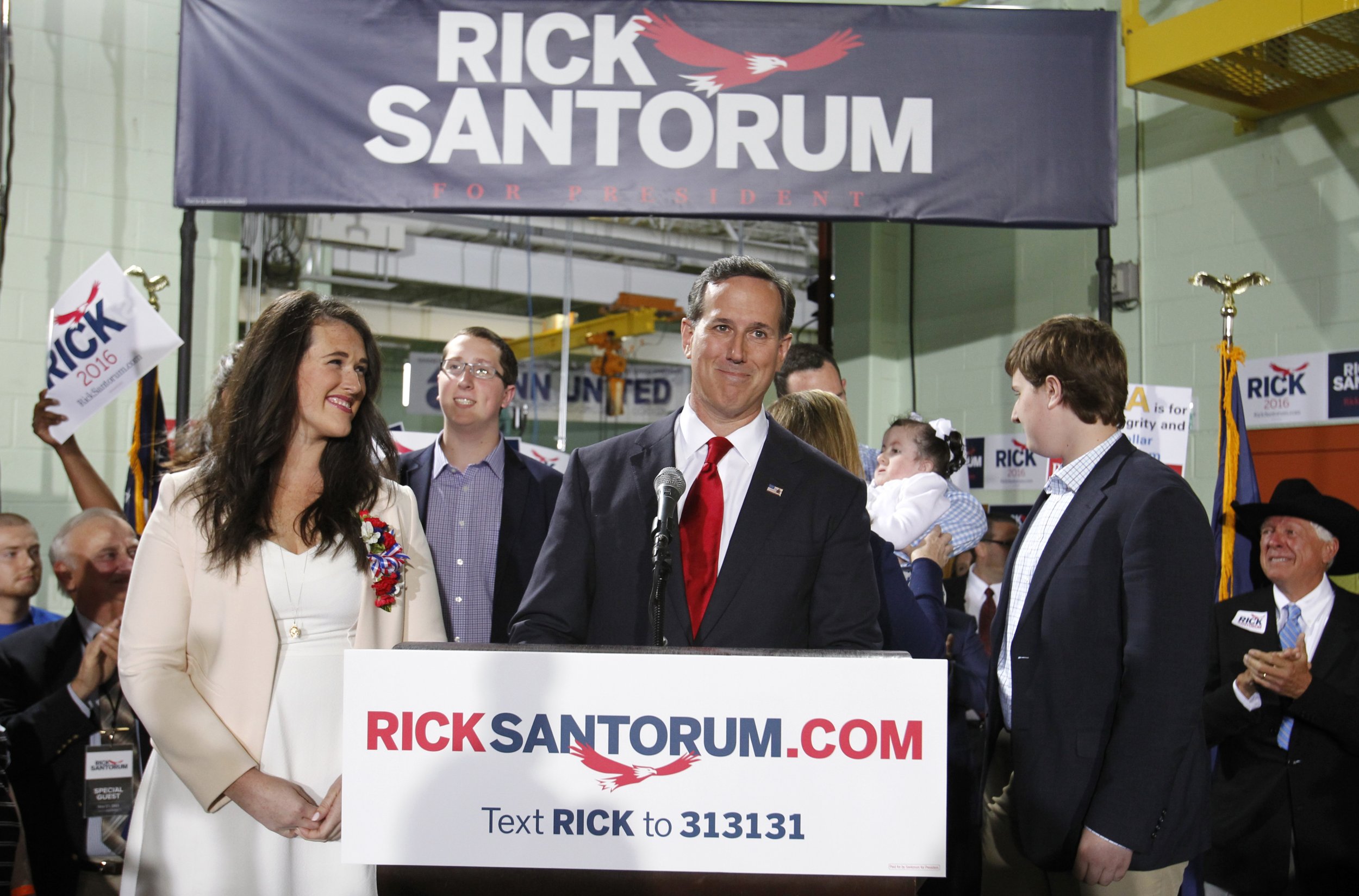 Rick Santorum is still boyish in appearance at 57, but the question, as he enters the presidential race, is whether his time has past. The answer is: Don't be so sure.
In 2012, the former U.S. Senator from Pennsylvania, made a very impressive showing. He won the Iowa Caucuses and 10 other states, earning more than 4 million votes and coming in second to Mitt Romney. He was discounted then and it would be a mistake to dismiss him now.
Yes, the obstacles are bigger this time. Mike Huckabee sat out the last race and the former Arkansas governor would surely pose a threat to Santorum in Iowa, which Huckabee won in 2008, as well as in the South. Both men ran strongly with evangelical voters.
What's more, Santorum faces a phalanx of conservative senators—Marco Rubio, Rand Paul and Ted Cruz—who will challenge him on the right. At one time, Santorum had a bit of their bad boy style in the Senate. In 1995, Santorum wanted his party to discipline Mark Hatfield, the late, longtime Republican Senator from Oregon, for voting against an amendment to balance the budget. Republicans blew off his effort to take away Hatfield's chairmanship. Democratic Senator Bob Kerrey quipped: "Santorum, is that Latin for asshole?"
But compared to the trio of Tea Party voices, Santorum is a model of Senate decorum, a veritable Daniel Webster. After 14 years in Congress he talks confidently about his subcommittee work and bills he championed including ones banning partial birth abortion and introducing welfare reform. He's not an institution burner, and while that's to his credit, it also may leave him out of touch with a primary electorate that may not be impressed with the bills he passed or his insistence that "commander in chief is not an entry level position."
Santorum's trump card this time is a decidedly working class pitch. It comes naturally to the son of an Italian immigrant who was raised in West Virginia and western Pennsylvania. At his announcement on Wednesday in blue-collar Cabot, Pennsylvania, the native son declared: "We don't need another president tied to big government or big money."
Santorum's blue-collar populism is seen in his stance on immigration. He wants less of it and notes that big business wants more "to control costs." And Hillary Clinton? "She just wants votes," Santorum said to thundering applause.
Is there enough populism in Santorum's idea chest to win? The immigration notion is a big one but others feel retro such as his plans for implementing a flat tax and cutting regulations. These ideas make GOP audiences cheer but they're not unique or new.
Still, Santorum has done well with blue-collar workers, first in the House and then when he knocked off a Democratic darling, Senator Harris Wofford, in 1994. In 2000, he won re-election easily, but was clobbered in the Democratic wave of 2006 where he was replaced by a scion of one of the Keystone State's leading political families, Bob Casey.
This time around, another factor in Santorum's success or failure may be whether his conservative social views can stand out in a Republican field that not only includes Huckabee but Cruz, Ben Carson and others who share opposition to same-sex marriage and legal abortion. Come to think of it, that's everyone in the GOP field.
In a party animated by claims of promoting family values, Santorum's secret weapon may be wife and children. They have eight kids, including one with special needs. Their account of losing their son Gabriel at 20 weeks is incredibly emotional as is the story of their daughter Isabella, 7, who has a rare genetic disorder. The story of the Senator's wife, Karen, who was romantically involved with an abortion doctor before the couple was married, and who became a leading pro-life activist has moved many Santorum supporters. In a crowded Republican field, that kind of biography can stand out.