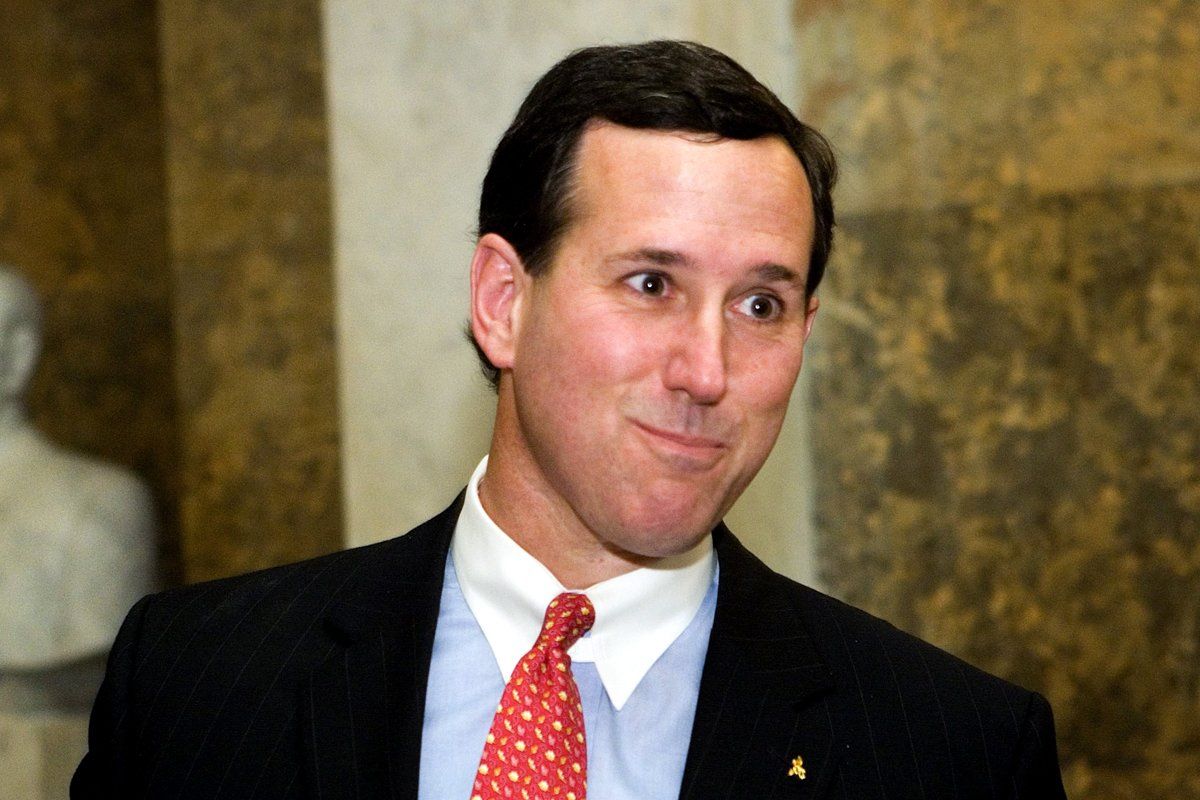 With the creation of a political action committee in Iowa, former Pennsylvania senator Rick Santorum has moved one step closer to a bid for the 2012 Republican presidential nomination.
Santorum, who famously said that sanctioning homosexuality would lead to beastiality and bigamy, will use his Iowa Keystone Political Action Committee to help family-values candidates in the state. He says he plans to spend at least $25,000 before election day (Mark Halperin has the full text of the press release). More to the point, it helps him gain a foothold in the crucial primary-season state. It's no secret that Santorum is interested in running; and he's visited Iowa five times already this year—with a sixth scheduled for next week. And prior to his huge defeat in 2006, he was the number three Republican in the Senate and a rumored GOP contender for 2008.
While Atlantic politics editor Marc Ambinder wisely reminds us that it's foolish to try to pin down Iowa conservative voters, it's also a little tough to see what Santorum's path to victory would be. Former Arkansas governor Mike Huckabee—who looks like one of the strongest Republican contenders in absurdly premature polls—seems to have a corner on the values-voter market, although Santofrum, a devout Catholic who opposes oppose same-sex marriage, is popular with conservative Christians as well.
Furthermore, Santorum lost his last race, for re-election to the Senate in 2006. Bob Casey torunced him 59 to 41 percent. And he's still unpopular in Pennsylvania. Just this Tuesday, Democratic Senate candidate Joe Sestak launched an attack on his opponent, Pat Toomey, that links him to Santorum and Sarah Palin (Hotline OnCall's Alex Roarty calls it Sestak's "trump card"). And Santorum has what's usually delicately referred to as a "Google problem," stemming from a campaign launched against him by sex columnist Dan Savage.
But in a crowded field, it's hard to know how things will shake out. Santorum joins a long list of potential candidates including Sarah Palin (who, after leaked e-mails Tuesday, looks ever more likely to mount a run), Mitt Romney, Tim Pawlenty, Haley Barbour, John Thune, Huckabee, Newt Gingrich, Mitch Daniels, John Bolton, and, uh, Donald Trump.