Saoirse Ronan and John Crowley on the Immigrant Song of 'Brooklyn'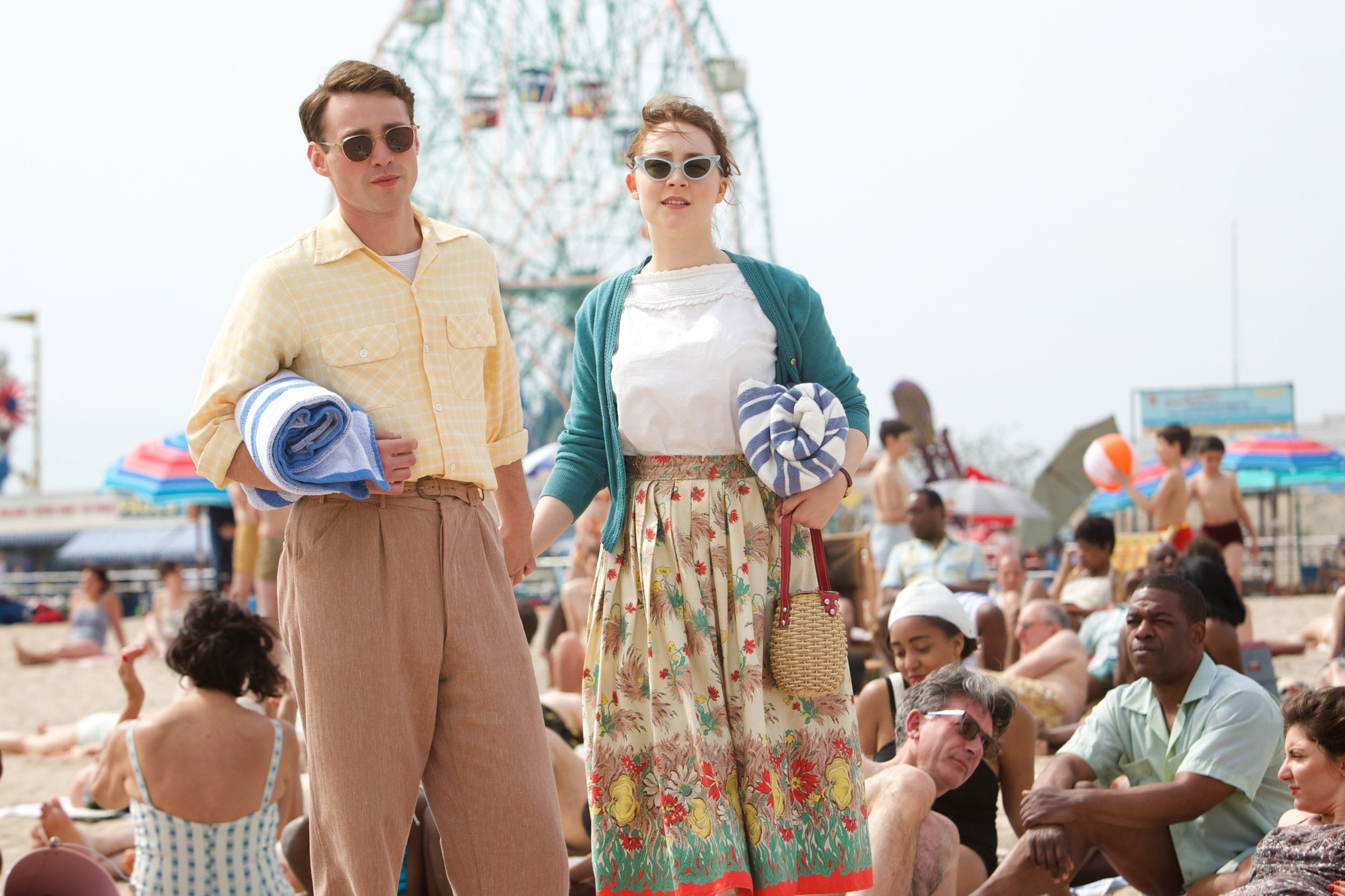 Just as jazz was the first truly American music genre, the immigrant narrative was the first American literature genre. Tales of industrious immigrants, arriving on the fair shores of the United States to create a life for themselves with nothing but a fistful of pennies and an indomitable work ethic, are the very cornerstone of American mythmaking.
Naturally, this narrative found its way to film, though the challenging studio pictures of the '70s subverted the classic tale, with films like The Godfather Part II exposing the American dream as just that—a fiction concocted to obscure a darker origin story. But the new immigrant-romance Brooklyn feels as if it was chrono-ported to 2015 from a simpler, more innocent time.
Nothing terrible happens to Eilis, the plucky lass, played by Saoirse Ronan, who comes to 1950s New York from Ireland. As of late, immigrant narratives have been defined by the hardships they heap upon their heroes; In last year's The Immigrant, hapless Marion Cotillard was pimped, abused, raped and nearly imprisoned. At the Toronto International Film Festival, Brooklyn screened opposite Dheepan, a bleak depiction of a Sri Lankan's relocation to ghettoized France.
That film ends with a bloodbath, but Brooklyn ends with declarations of love and swells of string music. While Eilis does grapple with a few bouts of serious homesickness, the actual experience of taking root in a strange land doesn't exactly put her through the wringer. Of course, she benefits from being white and a native English speaker and exceedingly lovely. But the world in which Brooklyn takes place has been carefully softened by director John Crowley, a classically minded filmmaker with a theater background. Strife is present—such as the scene in which worse-for-wear veterans gather for a Christmas dinner at a local church—but it's never the focus of Eilis's life. It's a deliberately old-fashioned film, designed to match its old-fashioned setting.
If the movie's depiction of the American dream might be a little rosy, it's still apropos. Between Ronan and Crowley, Brooklyn comes to the U.S. courtesy of a pair of international talents for whom America has been a warm and welcoming home. Both the film's director and star perfectly recall their first experiences with America when questioned about Brooklyn's personal resonance for them.
"It was just when I finished university," Crowley tells Newsweek. "I was given something called the Mary Robinson Scholarship—named after the first female president of Ireland. The city of Chicago set up a program where an [Irish] student could work at the Goodman Theatre for five weeks. It was life-changing. I adored it, I applied for a green card, and I was gonna move to America. "
During his time in the United States, Crowley would immerse himself in the writers that would ultimately shape his own work the most—Raymond Carver and John Cheever, Philip Roth and John Updike, George Saunders as of late—many of whom were, it bears mentioning, Americans. His affection for bygone eras is apparent both in the art he loves and the work he creates, never shying away from sentimentality for a place and time rich with possibility. Like many Irish expats, Crowley remains entranced by what he refers to as "the Kennedy/Camelot myth" and what it represents for immigrant peoples.
"The idea that you could have a family come over on a famine boat and, a few generations later, you're the president of the United States? That's very important," Crowley says. "The Irish have become quite powerful in America. It was more of a land of opportunity—not for everyone, but that's the way it's perceived. "
For Ronan, unlike both Crowley and her character Eilis, her first brush with America wasn't as a full-on immigrant. She was born in the Bronx and raised in Ireland from as early as she can remember, maintaining dual citizenship today. So while she does share young Eilis's split passions between her Irish heritage and her new American life, she went elsewhere to gain insight into the experience itself.
"It's my mom and dad's story," Ronan says. "They moved over there in the '80s and created a life for themselves out of nothing. I just asked my mam what it was like to leave, and the loneliness she felt. "
Still, Ronan connected directly to the emotional underpinnings of the material. "This was the most personal thing I've ever done," she says, "because in the time that I had signed on to the project to when we actually made it, which was a year later, I had moved away myself. It's a very different thing, moving away from home as compared to working away from home." So while Ronan may believe she was born too late to live Eilis's life in Brooklyn, she certainly sympathizes with what it symbolizes.
Ronan, 21, plans to move full time to New York in January—her first real residence back in America since infancy. Just as Eilis finds herself torn between a charming Italian-American lover (Emory Cohen) in Brooklyn and a sensitive, tradition-minded boy in Ireland (Domhnall Gleeson), Ronan's still working to find a way to reconcile her two identities. "I was so desperate to run out of Ireland when I was 19, which was only a couple years ago, and go to London," she says. "I needed to have anonymity, I needed to be my own person in a different place that wasn't home, where nobody knew me. Now that I've gone through that, I don't need it anymore. I have a life in Dublin that I love. I want to live between New York and Ireland. I want them both."
For dauntless Eilis, Brooklyn represents a coming-of-age on an international scale. But even as Ronan and Crowley tapped into universal themes of maturation and immigration, they wanted to maintain a sense of specificity regarding Ireland. All newcomers to America share some struggles, but Brooklyn wears its Irishness proudly and loudly. There are aspects of the Irish identity—a sense of tight-knit community, good-natured ribbing (referred to by Ronan as "slagging") and that persistent Catholic guilt—that make Eilis's journey distinct from Italian or Eastern European or Asian immigrants. Crowley takes specific note that the influence of the Catholic Church looms large over Irish men and women all throughout life.
"The image structure of Catholicism never leaves you," Crowley explains. "Eilis is trying to overcome shame, and the drama deals with someone trying to overcome shame. Catholicism is all about the notion of sin, and atoning for it in a dark box with a man who instructs you to scrub your soul clean. That's a powerful image. In a bigger sense than that, the idea of rebirth and resurrection is very potent—the idea of dying in one life and advancing to another. "
Brooklyn, in its heartwarmingly dated romanticism, never imposes life-and-death stakes on Eilis. She does still undergo a rebirth of her own, forging a second act for herself in the inviting sprawl of New York and escaping her suffocating hometown. It's an ideal that everyone who passed through Ellis Island was chasing, the freedom to make something from nothing, and to make something of worth and meaning at that. It mirrors—purposefully, it seems—the way young people attempt to forge themselves when they pass through adolescence to become young adults. More than anything, the process of coming into one's own drives Brooklyn—and Ronan sees both the inspirational aspect and the twinge of sadness.
"It's a simple story," she says, "about leaving home and making the journey you have to go through to set up your life on your own as an adult. It is quite a lonely time, because once you've left home you can never really go back. I think we relate our home to childhood—where we grew up, where we went to school as a kid. Home will never be the same once you've left it."
Saoirse Ronan and John Crowley on the Immigrant Song of 'Brooklyn' | Culture