'Saturday Night Live' Season 43 with Saoirse Ronan: Everything You Need to Know Before Show Airs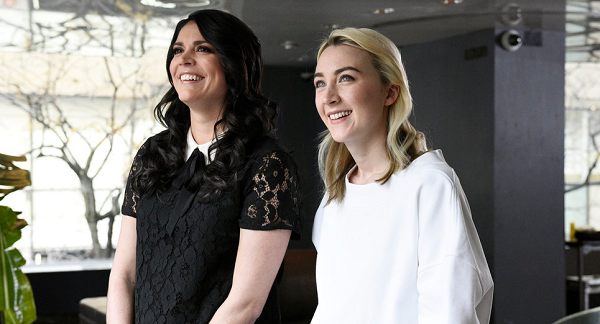 This is a good time for Saorise Ronan to make her Saturday Night Live hosting debut. The 23-year-old actress heads up this week's show just as her new film, Lady Bird, is taking off with audiences and awards voters. The coming-of-age film has received raves from critics and everyday moviegoers alike, becoming one of the best-reviewed movies in Rotten Tomatoes history. And last week, Ronan won the 2017 Gotham Award for Best Actress—an early indicator that she could be up for an Oscar come February.
But in Ronan's promo for her SNL hosting gig, she might be letting all the praise ad excitement got to her head. In the minute-long clip, she appears in front of a window at NBC's 30 Rock building where a crowd is gathering for the annual Christmas tree lighting ceremony at Rockefeller Center. Ronan, though, is under the impression that the swarm of spectators—who she refers to as elves based on their holiday-inspired outfits—are there to see her.
"You know, I actually heard that the elves are, like, massive fans of Lady Bird," Ronan says.
No word on how Santa's helpers feel about Ronan or the film—we have to believe they're fans of both—but she will surely win over everyone when she shows off her improv chops Saturday night.
Here's everything you need to know about this week's Ronan-hosted SNL.
Who's performing: Irish rock band U2 will perform on the SNL stage Saturday, hot off the release of their 14th studio album, Songs of Experience.
Where: The show will air live on NBC.
When: SNL will air at its regular 11:30 p.m. ET timeslot.
Can it be live streamed: No cable or TV? No worries. Viewers can still catch SNL's hilarious parodies and sketches via live stream on the NBC website. Those with access to Hulu can also stream the show from there. Shortly after the episode airs, fans will be able to check out clips and highlights on the show's YouTube channel. They can also tap into all the social media chatter surrounding the episode by following the hashtag #SNL on Saturday night.