Saquon Barkley To The Giants? Penn State Star Denies NFL Draft Report He Won't Play For Browns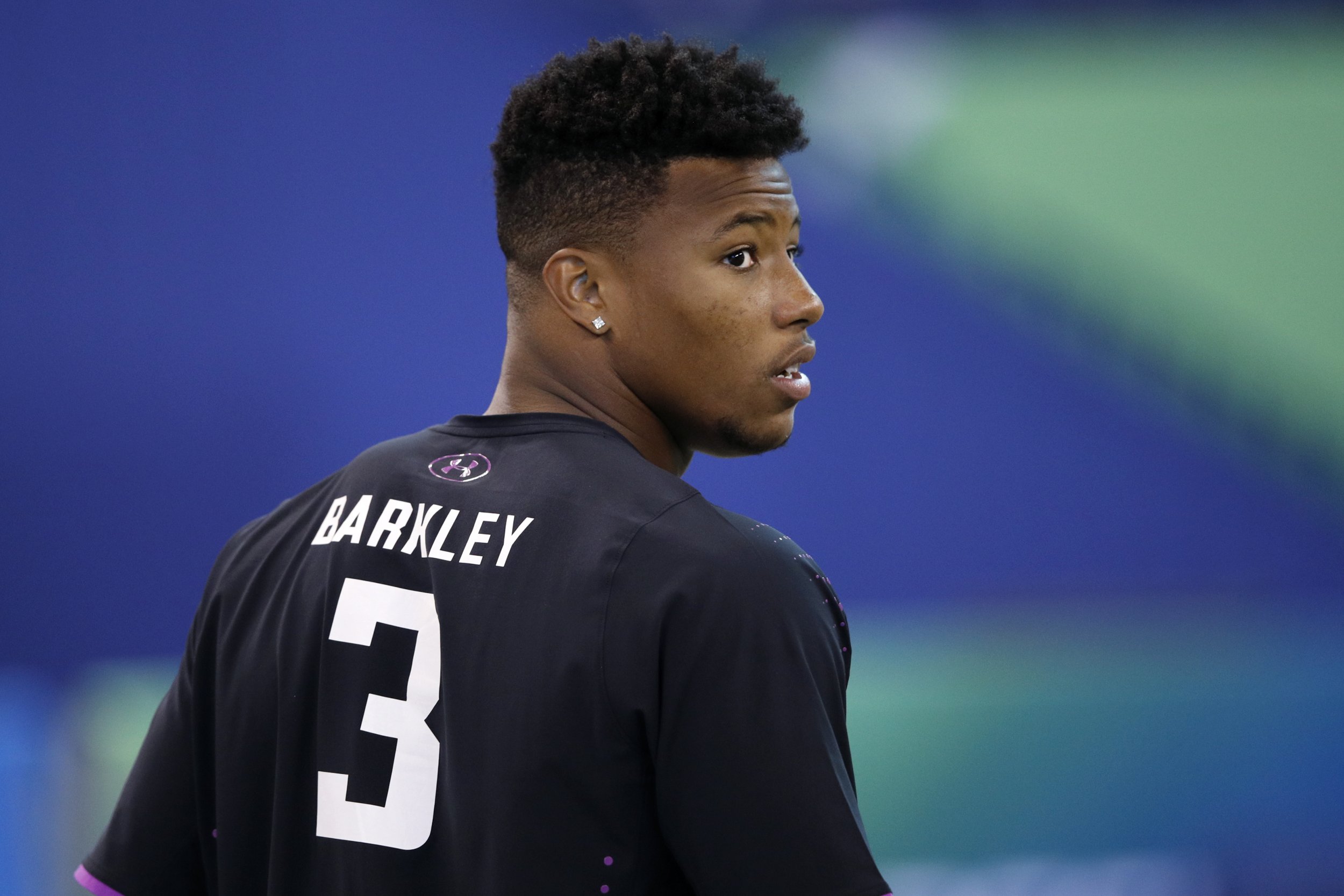 Saquon Barkley might be the hottest name leading into the 2018 NFL draft but his agents would reportedly rather not see him being the overall No. 1 pick.
That is not because his agent doesn't trust the Penn State running back's qualities, but because the Cleveland Browns hold the No. 1 pick.
In a wide-ranging profile on Barkley published on Sports Illustrated, there is a strong suggestion his agents would much prefer their client go second overall.
"His Roc Nation handlers, however, don't want him to be taken No. 1," the report reads. "They don't want him in Cleveland. They want him to go second to the Giants and play in the media capital of the world. That's where you can become the Face of the League."
The profile added that Barkley was even asked by his manager to follow Eli Manning's example and demand that the Browns not draft him, although the 21-year-old "never considered" the option.
Last year, the Browns became only the second team in NFL history to finish a season with a 0–16 record, sharing the unwanted feat with the 2008 Detroit Lions.
However, new general manager John Dorsey has been busy during the off-season, and the Browns have welcomed the arrival of quarterback Tyrod Taylor from the Buffalo Bills in exchange for a third-round draft pick, while safety Damarious Randall and offensive lineman Chris Hubbard arrived from the Green Bay Packers and the Pittsburgh Steelers, respectively.
Meanwhile, wide receiver Jarvis Landry and cornerback T.J. Carrier have joined from the Miami Dolphins and the Oakland Raiders.
The Browns have assembled more talent and added high draft picks in their quest to regain relevance. In theory, this scenario could see Barkley become for the Browns what LeBron James became for the Cavaliers but, according to Sports Illustrated, Roc Nation – the entertainment company founded by Jay-Z – would prefer to see Barkley in New York, rather than head to Ohio.
However, Kim Miale, one of Barkley's agents, quickly dismissed the report, indicating the Bronx native had never been advised to avoid Cleveland.
"As Saquon's [agent] I can say on behalf of our entire team that we would be thrilled for Saquon to go to whichever team drafts him," Kim Miale said, as reported by the Cleveland Plain Dealer.
"We know he will be a resounding success for any team fortunate enough to select him."
The Browns are also been heavily linked with former University of Southern California quarterback Sam Darnold.