Sara Gideon's Maine Senate Primary Win Brings Hope to Dems for Susan Collins' Seat
Sara Gideon will face off against Republican Senator Susan Collins of Maine in one of the most closely watched Senate races in the country this November after the state lawmaker was projected to clinch her Democratic primary Tuesday night.
Democrats are looking to Maine as a potential seat gain, as the party hopes to take back the upper chamber from Republicans.
Gideon, speaker of the Maine House of Representatives, secured her victory over progressive opponents Bre Kidman, a lawyer, and Betsy Sweet, a lobbyist, according to the preliminary results.
Gideon forces Collins to now defend her seat for a fifth term as public polling support for the incumbent Republican has waned in recent years. Much of the fatigue for Collins is attributed to her vote to confirm Brett Kavanaugh to the Supreme Court amid decades-old sexual assault allegations against the judge.
Collins was unopposed and easily secured the Republican nomination Tuesday night.
"As we watched over the last few weeks the Supreme Court decide cases that could affect millions of Americans, we remember that Senator Collins has been a key part of Mitch McConnell's effort to stack the federal bench with unqualified, far-right judges," Gideon said in a Facebook Live video. "And as President Trump continues to divide our country, we remember all of the times when Senator Collins enabled and excused his attacks on our democracy."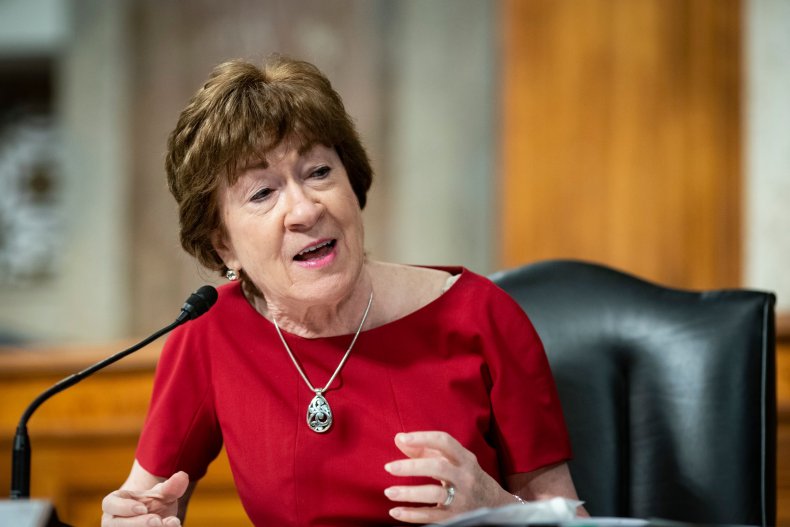 Gideon was backed early on by the national party while Sweet received the endorsements of progressive groups, including Justice Democrats, a group tied to Representative Alexandria Ocasio-Cortez (D-N.Y.).
Two factors give Democrats an optimistic outlook about flipping the seat that Collins secured in 2014 by 37 points: public opinion and money.
Collins' approval rating has been cut in half since President Donald Trump took office. The moderate Republican once enjoyed a 67 percent approval rating in 2017 with only 27 percent disapproval. But a poll released Monday showed Collins with 36 percent approval and 55 percent disapproval.
The same survey showed Gideon besting Collins by 46 percent to 42 percent in a hypothetical one-on-one matchup.
Gideon is also atop a campaign money machine that outpaces the incumbent she's attempting to unseat, a historically rare phenomenon that has become increasingly common in close Senate races this cycle.
In the second quarter, Gideon hauled in $9 million, bringing her total raised since she entered the race in June 2019 to nearly $24 million. As of June 24, her campaign had roughly $5.5 million on hand.
Collins, who's yet to reveal her second-quarter results ahead of Wednesday's filing deadline, was on pace to raise less than half of Gideon for the months of April, May and June. From April through June 24, Collins raised just over $3 million, with about $16.3 million raised this cycle and a little more than $5 million in the bank.
With a target now squarely on her back, Republicans immediately criticized Gideon's fundraising record and her time as Maine speaker of the House.
Collins' campaign put out a list of all the reasons why Gideon "didn't win her primary," attributing her nomination to receiving political and financial help from beyond Maine's borders.
"Sara Gideon has accepted more out-of-state money than any candidate has ever accepted in Maine history, and it has gone straight to her campaign's bank on K Street in Washington, DC.," the Collins campaign said. "It's that simple: DC Democrats picked Maine's Democratic nominee, not Mainers. And they did it by burying the state under an unprecedented tsunami of money."
Senate Republicans' campaign arm focused on Gideon's record as the top state lawmaker, including ethics violations for campaign contributions and allegedly failing to act over sexual assault accusations levied against one of her former state Democratic colleagues.
"Haunted by ethics violations and a failure to act on knowledge of an alleged sexual predator in her caucus, Democrat Sara Gideon enters the general election under a mountain of unanswered questions and a record of failed leadership," said National Republican Senatorial Committee spokesperson Nathan Brand. "Mainers know they can't risk gambling on Guilty Gideon and habit of putting her own interests ahead of the people she was elected to represent."