Benjamin Netanyahu's Wife Attempted to Enter Plane Cockpit After Pilot Failed to Welcome Her on Board—Report
The wife of Israeli Prime Minister Benjamin Netanyahu reportedly had to be restrained by security guards from entering the cockpit of an airborne flight after the pilot failed to mention her during his welcoming message.
Sara Netanyahu was traveling on Israel's national carrier, El Al, with her husband for a two-day visit to Ukraine.
But she was apparently annoyed that the pilot's welcome message excluded her. She demanded to be able to enter the cockpit to make her feelings known, according to Channel 12.
After discussions, the pilot mentioned her in a separate announcement, the channel added.
The Israeli prime minister's office did not deny that an incident took place, but said the report of her behavior was "distorted."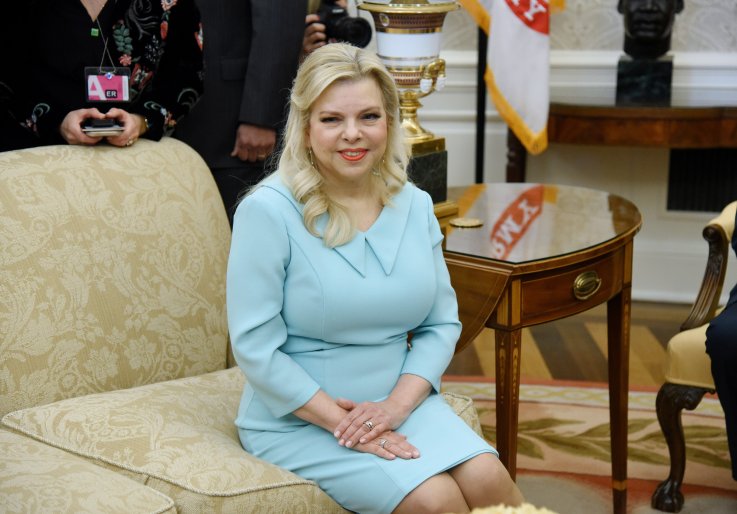 "There was a misunderstanding, which was immediately clarified, and the flight went according to plan," a spokesperson said, according to The Independent.
"The story about the security guards, as well, is a total lie. It is another attempt to divert attention from the important international visit that the prime minister carried out," the statement added.
El Al said in response to the news: "The prime minister's flight went according to plan. We were pleased to host the prime minister and Mrs. Netanyahu on our flight to Ukraine," (via The Jerusalem Post).
In June, the prime minister's wife was ordered to pay 55,000 shekels ($15,000) after she admitted using taxpayer money on hundreds of takeout meals.
She avoided jail following a plea deal with prosecutors to settle allegations that she fraudulently ordered £80,000 worth of restaurant food. Under the agreement, the fraud charge was dropped and she pleaded guilty to the lesser offense of misusing public funds.
After the verdict, she told the judge, "I have suffered enough", The Times of Israel reported.
Her husband's trip to Ukraine is the first by an Israeli prime minister since he went there during his first term in March 1999.
It is aimed at building support among Russian-speaking voters ahead of next month's elections, The Times of Israel reported.
Netanyahu is also the first foreign leader to visit Kiev since President Volodymyr Zelensky, a former actor with no previous political experience, was elected in April.
The couple was greeted on the tarmac on Sunday by the city's mayor, former world heavyweight boxing champion Vitali Klitschko.
Benjamin Netanyahu's Wife Attempted to Enter Plane Cockpit After Pilot Failed to Welcome Her on Board—Report | World