Sarah Cooper's Spot-on Don Jr. Impression Dominates TikTok
Sarah Cooper has a new muse: Donald Trump Jr. The comedian, known for her viral lip-synch videos of President Donald Trump, channeled his son in her latest TikTok, titled "How to Don jr."
"Hey guys, hope you're doing well," Cooper as Don Jr. opens the 15-second clip. "Just watching my algorithms get crushed. I guess I did something to piss off the Instagram gods, so, hopefully you're seeing this stuff anyway."
Cooper grows stressed, adding: "We'll do what we can." She concludes the clip, mouthing, "Talk to you soon!" while bringing the camera closer to her face.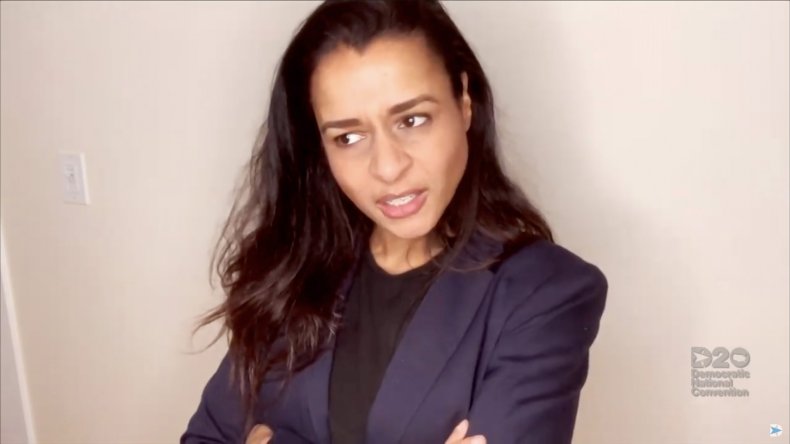 Twitter users were excited to see Cooper's Trump impression return, even in the form of Trump Jr. "This is the only way I can bear to hear their voices. Thank you for your service," one person wrote. "I've missed your videos. I am so glad that you are back. Thanks for adding joy to my day," another said.
"How to Don jr just sounds so wrong. Nevertheless, you nailed it," a third wrote, adding: "Now do Eric."
"As brilliant as Sarah Cooper is, we have finally reached the point where the truth is even more surreal than her satire," one user noted. "The perfect caricature of Trump Jr. is Trump Jr."
The TikTok was a response to Trump Jr.'s recent Instagram video, where he addresses why he doesn't think his social media posts are getting viewed by his followers. "In IG jail," he captioned the video of him talking to the camera and laying in bed. The Instagram post has received 185,000 likes as of writing. "Watching my post get about 20% of what they were getting last week so if you want turn on post notifications that way maybe you'll at least see my stuff."
Trump Jr. accused Twitter of messing with the algorithm because of his recent Tweets about former Vice President Joe Biden's son, Hunter.
"Twitter has been throttling my reach and I'm getting 1/3 the amount of RTs I would normally get. Instagram is doing the same & worse for the last few days," Trump Jr. claimed. "I guess they don't want the truth about the Biden crime family out there and they will cover for them at all costs."
Trump has previously accused Biden of spending millions of dollars to help Hunter avoid any trouble in Ukraine, which has been disproved. Biden denied any involvement in his son's business dealings. "We've always kept everything separate," he explained during the first presidential debate.