Where Is Sarah Haddon From 'Dating Around' Now? Update, Her Favorite Red Lipstick and That Nine-Minute Joke Revealed
Sarah Haddon from Netflix's Dating Around quickly became the villain of the series for some. Sarah is a 25-year-old analytic recruiter with a gorgeous curly bob and bright red lipstick. She's had some bad relationships and it's made her guarded. She also has a fun side. Sarah likes puns and sometimes talks too much. But there was something about her dates that made many people cringe.
More, a quick search into Twitter with "Sarah Dating Around" will yield hundreds of results, where people tweet about how much they loathe people like Sarah and wish they would stop moving to New York. So where is Sarah now?
Well, for one, Sarah is well aware that most people hate her. She's heard their complaints and she doesn't care. "I have become known as a strong feminist or an asshole based on the internet. I think that's fine though because neither of those seem to be mutually exclusive," she wrote back in a comment on Instagram. "I'd rather be an asshole than a doormat anytime. :)"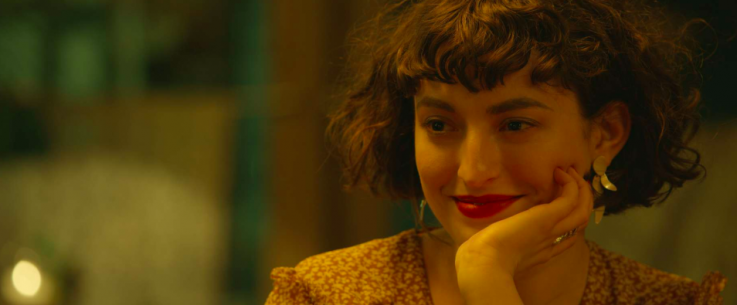 She's even changed her bio on Instagram. It now reads: "Trope. Sarah from Dating Around!"
The backlash hasn't been all bad. People have given Sarah credit for her awesome lipstick game. She's shared her lip regiment with some of her more forgiving followers. "I thought I would share my go to lip products with you guys!" she wrote Thursday. "On the show I actually originally had a liquid matte like Anastasia Beverly Hills in Sarafine with touch up of Ben Nye's 'Marilyn' or MAC's Ruby Woo every so often to keep my lips from drying out. Homeostick is my favorite lip balm too."
Some were also confused about why she chose Matt instead of Nick. During most of the date, Nick and Sarah were flirting and their date ended in a kiss. In the middle of it, as most viewers remember, Sarah interrupted the kiss to try to tell Nick a nine-minute joke about Greek mythology. He wasn't interested, but thanks to Instagram, Sarah has shared her joke and revealed why it's funny. At least, why it's funny to her. She's also made it shorter.
"Hey guys! I just wanted to let you know my nine-minute joke!" she wrote Tuesday. "I've had a significant amount of time to cut it to less than 60 secs. Cue *eye role*" See the joke explained here.
Dating Around is currently streaming on Netflix. You can find Sarah on episode 5.
Where Is Sarah Haddon From 'Dating Around' Now? Update, Her Favorite Red Lipstick and That Nine-Minute Joke Revealed | Culture