Sarah Huckabee Sanders Accused Of 'Spreading Lies' Over Donald Jr.'s Trump Tower Meeting
White House Press Secretary Sarah Huckabee Sanders has been accused of "lying" by CNN's New Day panel, following reports President Donald Trump dictated his son Donald Jr.'s statement on the Trump Tower meeting with a Russian lawyer last year.
The president's legal team said Trump had dictated the statement, explaining the incident in a 20-page letter to Special Counsel Robert Mueller that was obtained by The New York Times Saturday.
But the lawyers' description of what happened goes against a previous claim made by Huckabee Sanders that Trump "certainly didn't dictate" the statement, which said that the meeting with Russian lawyer Natalia Veselnitskaya was about Russia's adoption policy, The HuffPost reported.
Pressed about the contradiction, Huckabee Sanders sidestepped questions on the letter in a press briefing on Monday, prompting CNN's panel to question whether or not she would end up resigning over the matter.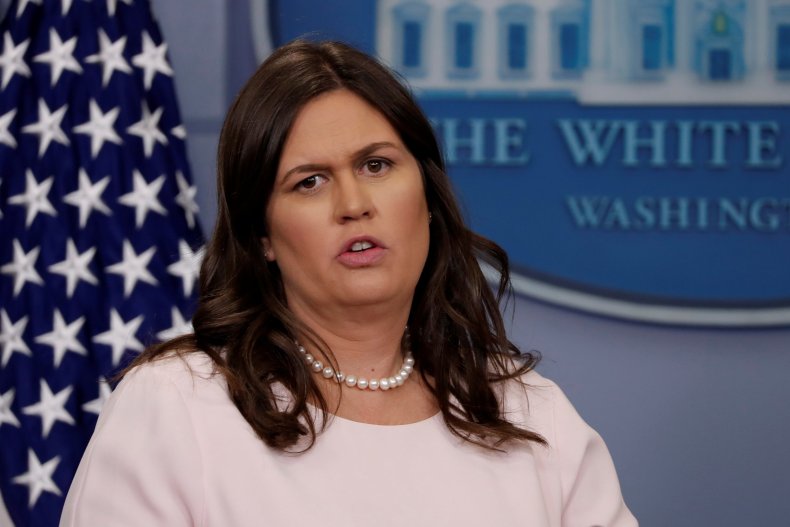 "This is from a letter from the outside counsel, and I'd direct you to them to answer that question," Sanders said in response to a question on the letter, The HuffPost reported.
Pressed once again on the new information that contradicted her previous statement on the issue by New York Times journalist Peter Baker, Huckabee Sanders once again refused to directly answer the question.
"Once again, this is a reference back to a letter from the outside counsel. I can't answer, and I would direct you to them," she said.
Her comments were widely panned on CNN'S New Day, with former press secretary for Bill Clinton, Joe Lockhart, commenting:"She doesn't have any usefulness now."
"She either can't trust the president and her colleagues, or she can't tell the truth. There's no way forward here for her," he added.
CNN's John Berman suggested: "Maybe she's ok with lying? There's no question that she spread lies at this point."