Sarah Huckabee Sanders Blasts 'Sad' Omarosa Book, Calls Former Trump Aide 'Disloyal'
White House press secretary Sarah Huckabee Sanders has hit hard on former colleague Omarosa Manigault Newman, labeling her as "sad" for the claims she made in her new tell-all book of her life inside the White House.
The book, titled Unhinged, which is set for release on Tuesday, includes claims by Manigault Newman that the president wa racist, uses the n-word in private, and ate a slip of paper after meeting with his then lawyer Michael Cohen.
Commenting on the book's claims to TMZ at Reagan International Airport, Sanders said: "I think it's sad. The person that gave her the greatest opportunity…she showed who she is and that's a totally disloyal individual. I think it's sad."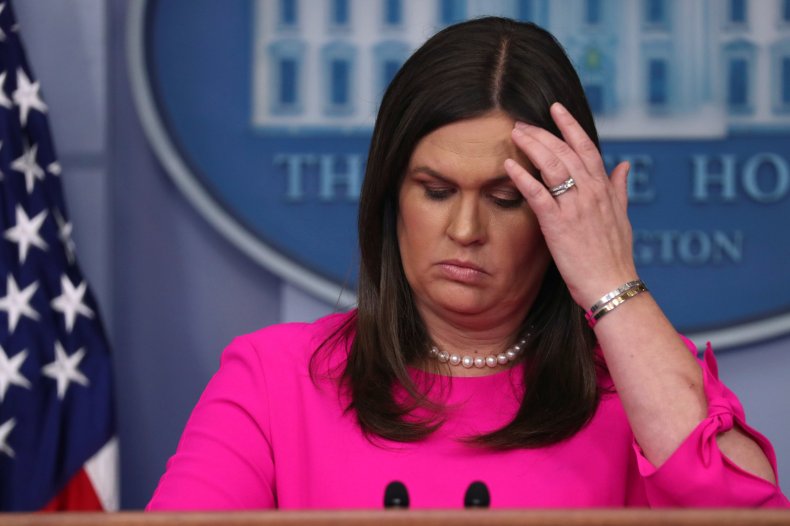 Sanders's comments followed a damming statement from the White House released several days earlier, which slammed the book as untrue.
"Instead of telling the truth about all the good President Trump and his administration are doing to make America safe and prosperous, this book is riddled with lies and false accusations," ABC News reported Sanders saying on Friday.
"It's sad that a disgruntled former White House employee is trying to profit off these false attacks, and even worse that the media would now give her a platform, after not taking her seriously when she had only positive things to say about the president during her time in the administration," she added.
For his part, the president has called Manigault Newman, who was fired from her role as director of communications for the White House's Office of Public Liaison, a "lowlife" over the revelations made in her book.
Manigault Newsman was also criticized by Sanders for making a recording of her firing by White House Chief of Staff John Kelly, who appeared to suggest Manigault Newman should exit her role without making a fuss.
"I think it's important to understand that if we can make this a friendly departure we can all be, you know, you can look at your time here in the White House as a year of service to the nation, and then you can go on without any type of difficulty in the future relative to your reputation," Kelly said in the recording, CNN reported.