Sarah Huckabee Sanders Called 'Chunky Soccer Mom' in Body-Shaming 'L.A. Times' Op-Ed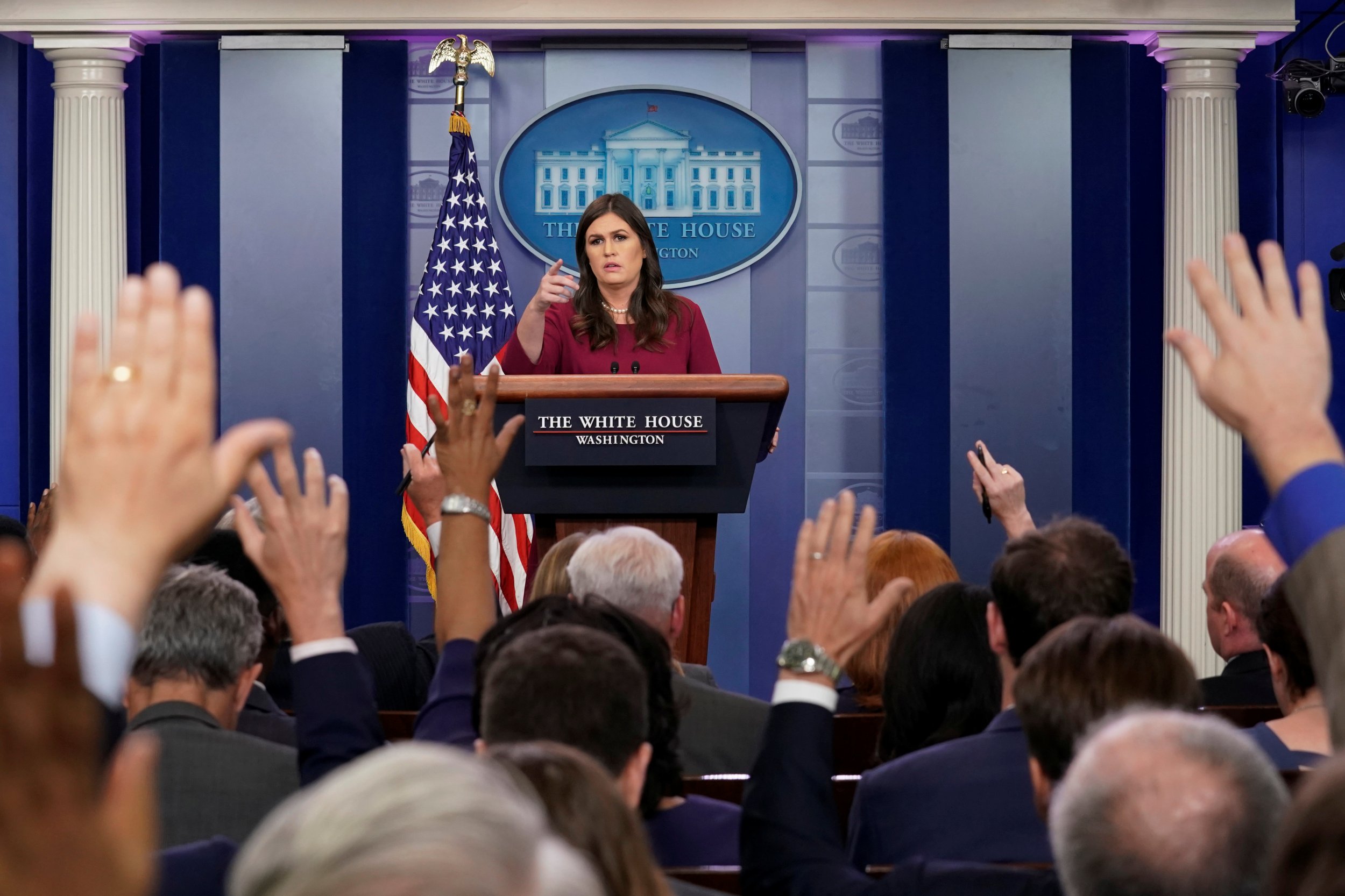 Updated | A Los Angeles Times columnist came under fire on Friday after calling White House press secretary Sarah Huckabee Sanders a "slightly chunky soccer mom."
In the op-ed published on Wednesday, David Horsey wrote that Sanders's appearance made her an unlikely candidate for the top White House position, being that President Donald Trump seems to prefer "sleek beauties with long legs and stiletto heels"—an aesthetic his daughter and wife embody to a T.
"By comparison, Sanders looks more like a slightly chunky soccer mom who organizes snacks for the kids' games," Horsey wrote. "Rather than the fake eyelashes and formal dresses she puts on for news briefings, Sanders seems as if she'd be more comfortable in sweats and running shoes."
Horsey went on to laud Sanders for being good at her job, pointing out that unlike her predecessor, she always manages to "keep her cool." But many Americans on the left and right weren't about to give Horsey a pass for his comments on Sanders's body.
"What editor published this shockingly sexist piece from David Horsey at the LA Times?" Brianna Wu, a Democrat who is running for Congress in Massachusetts, tweeted. "Critique her politics. Her looks have no bearing whatsoever. It just shows the bias of the author."
Other Twitter users, many of whom were writers themselves, chimed in to wonder why Horsey chose to fixate on Sanders's appearance.
"Why do men always feel the need to comment on how women look?" wrote Rebecca Nelson, a senior writer at Cosmopolitan. "This, on Sarah Huckabee Sanders, is truly vile."
"Genuinely confused as to how this column got past an editor," added Adam Serwer, a senior editor at The Atlantic.
Many pointed out that Sanders is by no means beyond reproach. The White House press secretary's complicity in Trump's agenda, for example, might be considered a rich area for critique. Her body type, however, shouldn't be.
"Things that are true at the same time: 1. Sarah Huckabee Sanders is an unabashed enemy of the truth," Teen Vogue contributor Lauren Duca wrote Friday. "2. This profile of her is sexist trash."
Bobby Lewis, a Media Matters researcher, similarly wrote: "Fun fact — you can completely trash Sarah Huckabee Sanders (and she deserves it!) without calling her a fat and unimportant soccer mom."
Newsweek has reached out to Horsey for comment and will update this article if he responds.
The story of men criticizing women's appearances is as old as time, especially for Sanders's boss. Trump's attacks on women's looks punctuated his entire presidential campaign, beginning with his feud with then–Fox News host Megyn Kelly, who pressed him on his history of referring to women as "fat pigs," "dogs," "slobs" and "disgusting animals" at the first GOP debate. Trump later lamented that model Heidi Klum was "no longer a 10" in August 2015, and, a month later, said of his opponent Carly Fiorina, "Look at that face! Would anyone vote for that?" The list goes on.
The president has continued these attacks unabated since taking office. In June, Trump accused Morning Joe co-host Mika Brzezinski of getting cosmetic surgery, saying he refused to meet up with her one New Year's Eve because she'd been "bleeding badly from a facelift."
At the time, Sanders herself told the media to move on from the story about Trump's insults toward Brzezinski, saying the president had only been "fighting fire with fire."