Sarah Huckabee Sanders: Ford's Testimony was 'Compelling' but False
White House Press Secretary Sarah Huckabee Sanders labeled Dr. Christine Blasey Ford's testimony both "compelling" but likely false, and defended that characterization on Sunday.
Huckabee Sanders appeared on "Fox News Sunday" to describe how the Trump administration is "not micro-managing" the Senate's Kavanaugh Supreme Court process. But host Chris Wallace questioned both she and President Donald Trump calling Ford's testimony "impactful" while also being described as a "sham." On Saturday, Trump tweeted that NBC News "incorrectly reported" he was "limiting" the FBI's investigation into the accusations of sexual assault against Judge Brett Kavanaugh.
Wallace played a clip showing President Trump, who had just been asked Thursday about Ford's testimony to the Senate Judiciary Committee. Trump remarked, "I thought her testimony was very compelling and she looks like like a very fine woman to me, very fine woman..certainly she was a very credible witness, she was very good in many respects."
Wallace asked Huckabee Sanders to describe, as both a woman and the White House Press Secretary, how did Ford's testimony effect her personally and "how do you explain it that she could be that compelling, that believable, and that you think she's that wrong?"
"Anybody who watched that can't ignore the fact that it evoked some emotion," Sanders responded. "But this isn't about emotion, it's about facts. And the facts are all on Brett Kavanaugh's side, certainly in all the information that came through that hearing. There was not corroboration."
"There was no fact-based information that supported the accusation," Sanders responded. "Equally compelling, if not more so was Brett Kavanaugh. And you point out I'm a woman, I'm also a mom. I have a daughter and I have two sons. And I think it's a very, very dangerous place and a very dangerous road for America to go down, to simply take an accusation and make it fact."
But Wallace continued to press her on the dichotomy, referencing Trump's Thursday tweet about the Kavanaugh hearings. "Democrats' search and destroy strategy is disgraceful and this process has been a total sham and effort to delay, obstruct, and resist."
"How does the president…explain that she could be so credible and so specific in putting Kavanaugh and one of his best friends, Mark Judge, in that room? And be wrong about it? You say you think something happened. Not necessarily with Kavanaugh. How does he explain it?"
"I don't think any one of us can know 100 percent," Sanders replied. "There's no doubt that her story is heartbreaking and it's heart wrenching to watch it. I've watched it a number of times."
Earlier in the interview, Sanders repeatedly described how Ford's accusations against Kavanaugh evoked great emotion, but still did not mean Kavanaugh was the attacker.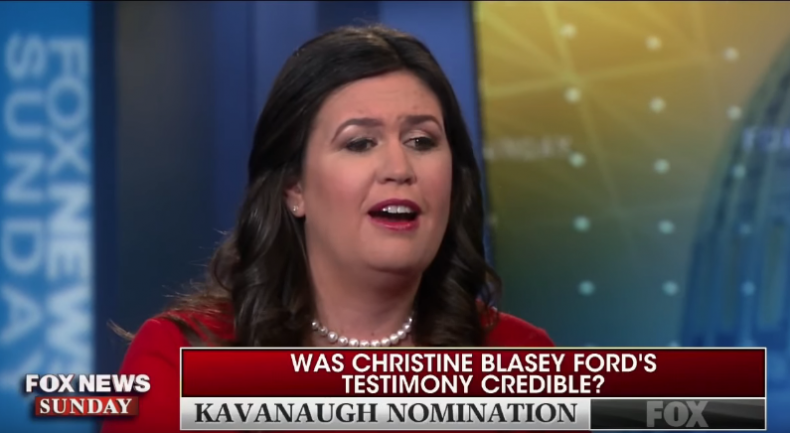 "But nobody could deny that her testimony wan't compelling, that it wasn't impactful," Sanders added. "And certainly it appears something happened to this woman. And I don't think there's anybody in America who would condone that or be okay with that. I do think the big question is, was that Brett Kavanaugh? And I think based on his testimony and the information he provided, you can easily come away and say it wasn't?"