Sarah Huckabee Sanders Cites El Chapo Conviction as Reason for Needing Border Wall, Even Though He Flew Drugs to U.S.: 'The Threat from Violent Drug Cartels Is Real'
White House press secretary Sarah Huckabee Sanders used the conviction of drug lord Joaquín "El Chapo" Guzmán to strengthen President Donald Trump's argument for enhanced border security, which for Trump, usually takes the form of a wall.
At the end of the lengthy trial of the highest-level drug lord ever extradited from Mexico to the U.S., Sanders tweeted: "El Chapo's reign of terror is over. He'll spend the rest of his life in a maximum security prison.
"The threat from violent drug cartels is real-we must secure our border," she added.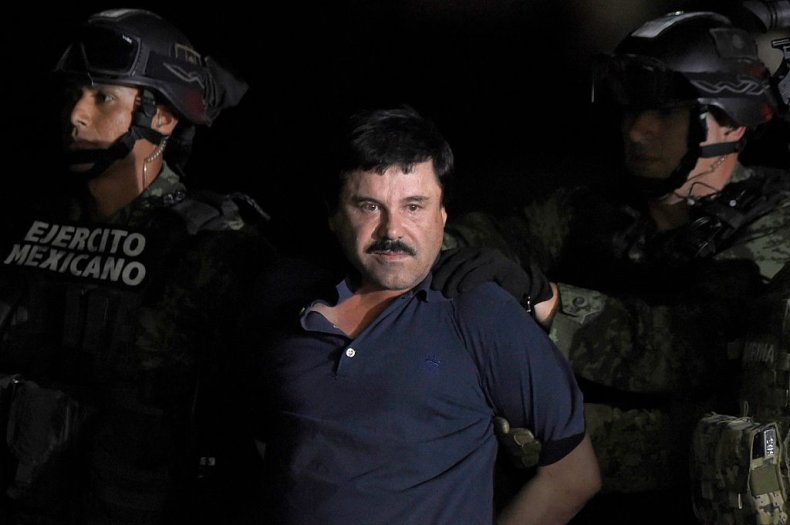 But many on Twitter were quick to point out that El Chapo was known for flying in drugs and using tunnels, questioning whether a wall would have stopped him.
Radio host David Pakman tweeted to his 76,000 followers: "He was arrested IN MEXICO and OUR LAW ENFORCEMENT brought him to the US. What would a wall have done?"
Kelly Magsamen tweeted: "You are a moron. He dug tunnels under walls and flew the drugs in."
Another person tweeted: "He dug under the border. With Tunnels. The Mexicans caught him in Mexico. And unless I missed something, he never crossed into the USA. But yeah, the border, the wall. Are you building a trench as well?"
Jay Brightman tweeted: "You do understand his drug transport was light years beyond walls...never mind."
Senator Ted Cruz of Texas also tried to use Guzman's conviction to bolster a case for the wall, proposing "The El Chapo Act," which would be aimed at tracking down the estimated $14 billion in proceeds and profits from Guzman that U.S government has sought.
The senator believed the money could be used to fund the wall, saying: "$14 billion will go a long way to secure our southern border, and hinder the illegal flow of drugs, weapons, and individuals.
"By leveraging any criminally forfeited assets of El Chapo and other murderous drug lords, we can offset the cost of securing our border and make meaningful progress toward delivering on the promises made to the American people," Cruz added.
The Hill reported that speculation in Washington suggested that Trump would accept a new border-wall funding deal grudgingly to avoid a second partial government shutdown but would now try to raise extra money for the wall in ways that do not require congressional approval.