Sarah Huckabee Sanders Claims God 'Wanted Donald Trump to Become President'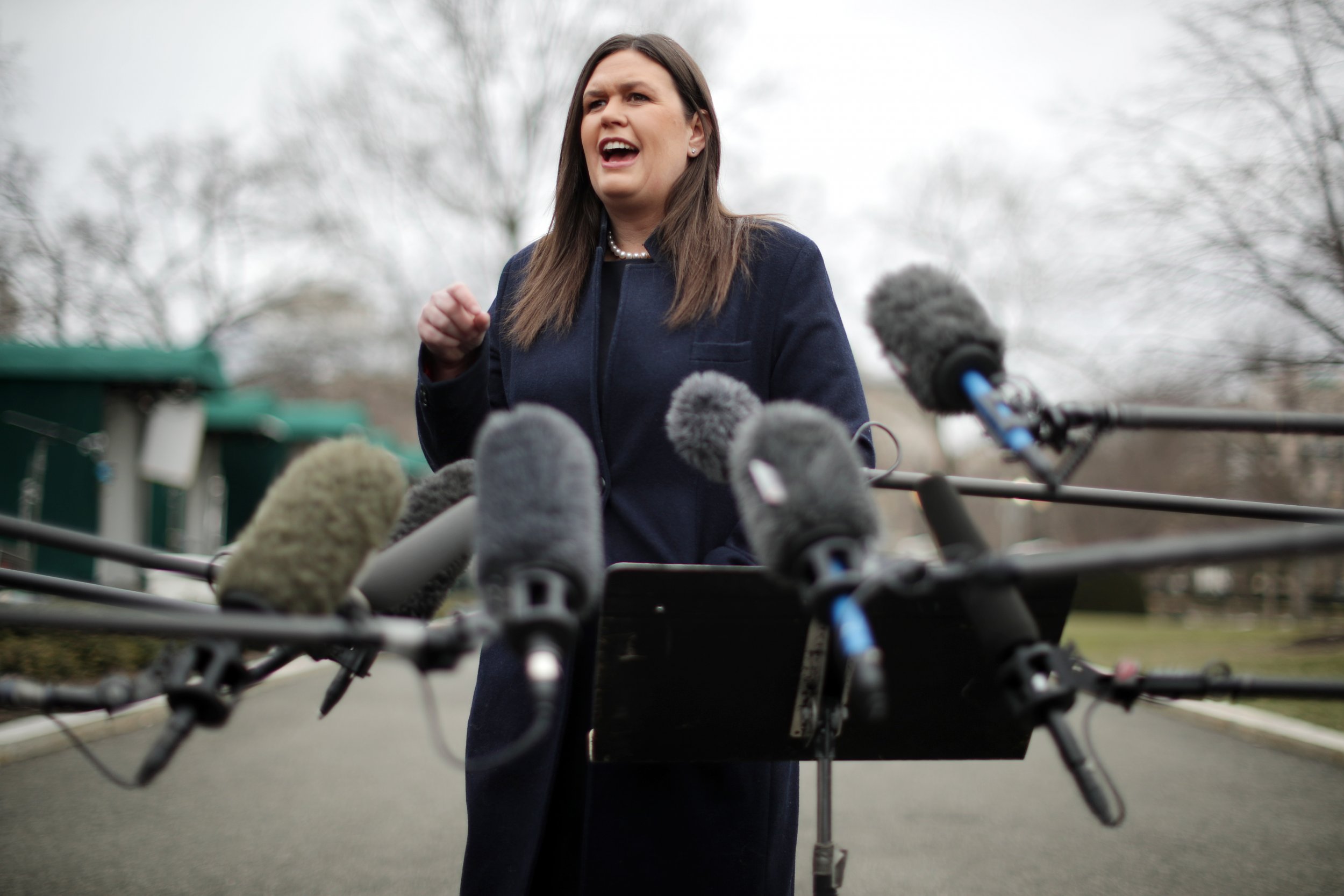 White House Press Secretary Sarah Huckabee Sanders on Wednesday claimed that God wanted Donald Trump to become President of the United States.
"I think God calls all of us to fill different roles at different times and I think that he wanted Donald Trump to become president, and that's why he's there," Sanders told Christian Broadcasting Network's chief political analyst David Brody. "I think he has done a tremendous job in supporting a lot of the things that people of faith really care about."
Brody confirmed in a tweet that multiple video clips of his talk with Sanders will be dropped soon. Also present at the interview was Christian Broadcasting Network's Jennifer Wishon.
Throughout his campaign and presidency, Trump has leaned on the support of evangelical leaders, many of whom have defended the president from criticisms despite his many scandals, including an alleged extramarital affair with adult porn star Stormy Daniels.
During her interview on Wednesday, Sanders discussed views put forth by Republicans that suggest progressive freshman Reps. Rashida Tlaib (D-Mich.) and Ilhan Omar (D-Minn.) support anti-Semitism as a result of their backing of the boycott, divestment and sanctions (BDS) movement that seeks to criticize Israel's conduct towards Palestinians.
House Democratic leaders on Tuesday defended Tlaib and Omar's comments against conservative ire and accusations of anti-Semitism. "Clearly, I condemn anti-Semitism," House Majority Leader Steny Hoyer (D-Md.) said at a press briefing in Washington D.C. "I don't know that I draw the conclusion, however, that those attacking those two members are correct that they [Tlaib and Omar] are anti-Semitic. I don't accept that premise."
Sanders referred to their remarks as "outrageous" and called out Democrats for not condemning them. The White House press secretary also discussed how Trump's decision to withdraw U.S. troops in Syria would affect Christians in the area.
"Look, the president's made clear that we support Christians, that we support the Kurds," the press secretary said. "He's made that clear to Turkey, he's made that clear publicly on a number of fronts, and just one of the reasons that the president has been tough on Iran is to make sure that people don't feel threatened.
Sanders added: "We're still going to have a presence in the region but as much as we can continue to totally and completely destroy ISIS, the president wants our troops out of Syria and he wants to be able to bring more of them back home."