Sarah Huckabee Sanders has said that the federal government's latest climate change report, which outlined how global warming will cost the United States hundreds of billions of dollars in damage, is "not based on facts."
"The president is certainly leading on what matters most in this process and that's on having clean air and clean water. In fact, the United States continues to be a leader on that front," Sanders told reporters at a press conference on Tuesday afternoon. The White House press secretary was responding to a question on the president's recent comments that he did not believe his own administration's climate report.
"Even Obama's undersecretary for science didn't believe the radical conclusions of the report that was released," she added. "You have to look at the fact that this report is based on the most extreme modeled scenario which contradicts long-established trends. Modeling the climate is an extremely complicated science that is never exact."
Sanders went on to say that the U.S. has to continue to focus on having the cleanest air and water in the world, adding that Trump has "certainly been leading on that front." She also claimed that the report was not "data-driven."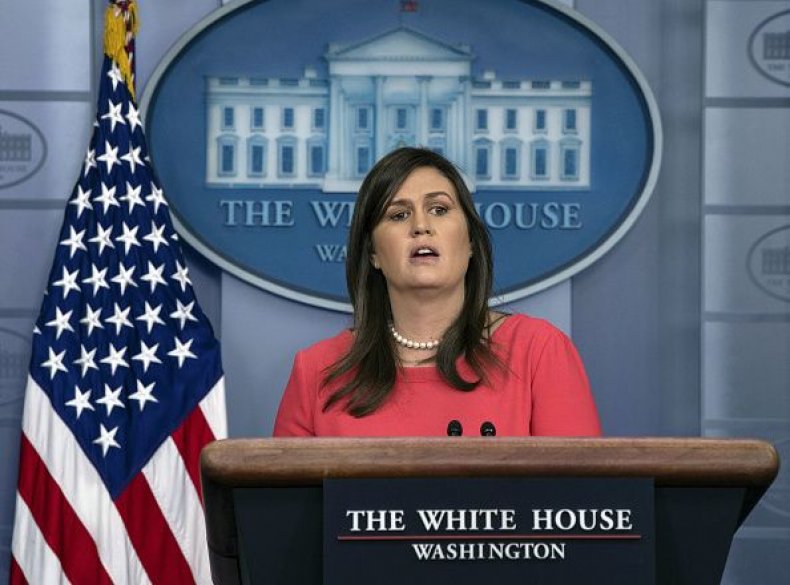 The 1,656-page National Climate Assessment, a report that is required by Congress, describes the effects of global warming on the economy, infrastructure and public health. The report predicts that "hundreds of billions of dollars" will be lost by the end of the century due to climate change destruction.
Trump has downplayed the report and told reporters on Monday that he doesn't believe his own government's findings.
"I've seen it, I've read some of it, and it's fine," he said outside the White House. "I don't believe it."
Former Secretary of State and Democratic presidential candidate Hillary Clinton slammed the White House for trying to hide the report by quietly releasing it the day after Thanksgiving. The administration's attack on the report comes as Trump directs the Environmental Protection Agency to weaken planet-warming pollution guidelines.
"The Trump administration tried to bury a federally-mandated climate change study by releasing it the Friday after Thanksgiving. Here's what they didn't want you to hear," Clinton tweeted along with a series of quotes from the report. She added that combating climate change is a "moral imperative" and that "our children and grandchildren deserve to live on a planet that can support their lives, liberty, and pursuit of happiness."
On Tuesday, a group of 25 senators signed a resolution put forward by Democrat Jeff Merkley backing the climate change report in a rebuke to Trump.
"The Trump Admin clearly wants to bury the findings of this new report, just like they want to bury their heads in the sand," Merkley wrote on Twitter. "But we won't let them. That's why we're standing up to say: We believe the science, and we will move boldly to #ActonClimate."
Update: This story has been updated to include details of a resolution signed by 25 senators.