Sarah Huckabee Sanders Blames Democrats for Donald Trump Serving McDonald's, Fast Food to Clemson Tigers
As President Donald Trump continues to slam Democrats for the longest ever government shutdown now in its 25th day, White House press secretary Sarah Huckabee Sanders blamed the Democrats for Trump's serving fast food to the Clemson Tigers football team.
Trump proudly served stacks of burgers from McDonald's, Wendy's and Burger King, fries, Domino's pizza, and some salads to the national champions and their coach on Monday when they visited the White House. (The Clemson Tigers beat the Alabama Crimson Tide 44-16 last week to capture the 2019 College Football Playoff National Championship.)
His menu drew some criticism, given it was not exactly healthy, and relatively cheap. Sanders offered a defense.
"Because the Democrats refuse to negotiate on border security, much of the residence staff at the White House is furloughed—so the president is personally paying for the event to be catered with some of everyone's favorite fast foods," Sanders said in a statement, reported The New York Times. The shutdown hinges on Trump's demand for $5.8 billion in funding for his long-pledged U.S. Mexico border wall.
Newsweek subscription offers >
Trump said he ordered "about 1,000 hamburgers." The White House did not immediately disclose how much the order cost.
Newsweek subscription offers >
The president said he "had a choice."
"Do we have no food for you?... Or do we give you some little quick salads that the first lady will make, along with the Second Lady—they'll make some salads," Trump tweeted. "I said, you guys aren't into salads."
The president characterized the fast food as "great American food." It is not a surprise, given his own love of McDonald's.
Trump's campaign-trail food diet was reportedly two Big Macs, two Filet-O-Fish sandwiches and a chocolate milkshake for dinner. He apparently loves fast food, in part because he considers it safe.
"He had a longtime fear of being poisoned, one reason why he liked to eat at McDonald's—nobody knew he was coming and the food was safely premade," journalist Michael Wolff wrote in his January 2018 book Fire and Fury: Inside the Trump White House.
Trump in 2016 told CNN's Anderson Cooper, "One bad hamburger, you can destroy McDonald's.
"I'm a very clean person. I like cleanliness, and I think you're better off going there than maybe someplace that you have no idea where the food's coming from," he said at the time. "It's a certain standard."
But after having a physical exam in early 2018 revealed he was one pound below "obese," Trump was placed on a diet that included less red meat and more salads, fish and soups.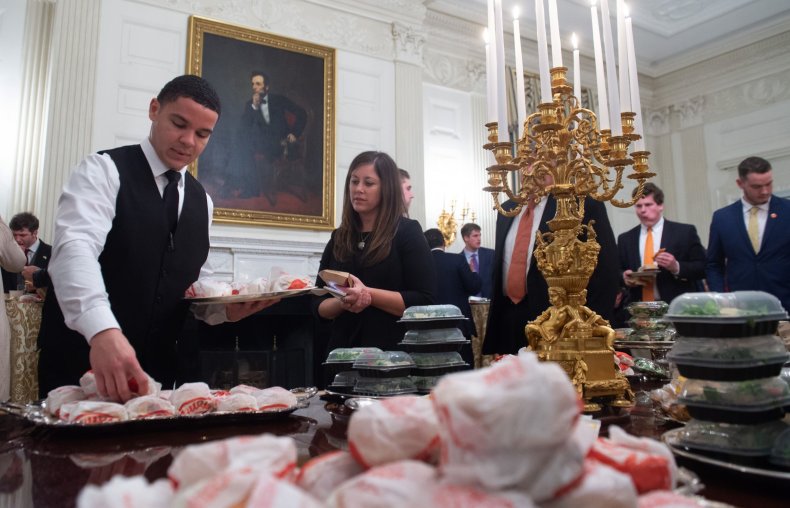 Sarah Huckabee Sanders Blames Democrats for Donald Trump Serving McDonald's, Fast Food to Clemson Tigers | U.S.