Sarah Huckabee Sanders Doesn't Like Her 'Liar Rap': 'It Certainly Bothers Me'
White House press secretary Sarah Huckabee Sanders said that she doesn't appreciate the narrative that pegs her as untruthful.
"It certainly bothers me," said Sanders to The New York Times Magazine about her "liar rap." "There's a difference between misspeaking or not knowing something than maliciously lying."
President Donald Trump and his administration have garnered a reputation for not being honest, and the president's proxies have faced criticism for it. Earlier this month, Sanders got into hot water after having to backtrack on the White House's evolving narratives regarding a hush payment Trump's personal lawyer made to adult film star Stephanie Clifford, better known as Stormy Daniels.
Trump and members of his team, including Sanders, denied that the president reimbursed his lawyer, Michael Cohen. Former mayor of New York City and fresh member of Trump's outside counsel Rudy Giuliani divulged on Fox News that Trump did pay his lawyer back, directly contradicting previous statements.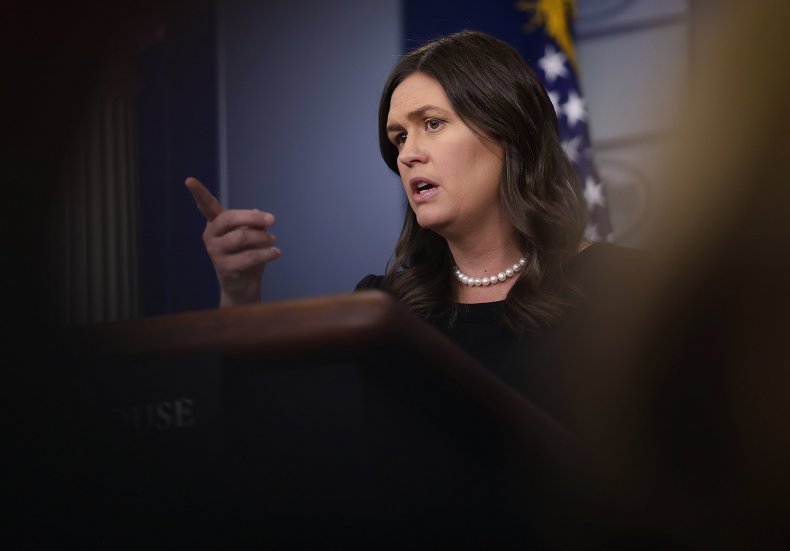 When asked about the credibility of the White House the next day at a press briefing, Sanders said: "We give the best information that we have at the time."
Sanders reiterated a version of the response to The New York Times Magazine.
"I will always do everything I can to give the best and most accurate information at the time that I can," she said.
Sanders also was called out for her alleged dishonesty during the White House Correspondents' Association Dinner by comedian Michelle Wolf last month.
"She burns facts and then she uses that ash to create a perfect smoky eye. Maybe she's born with it, maybe it's lies. It's probably lies," quipped Wolf.
News outlets have grappled with how to deal with an unconventional president and administration. As of May 1, The Washington Post reports that Trump has made 3,001 "false or misleading" claims in his presidency, averaging 6.5 per day. Marred by pointed stories, Trump disparaging mainstream media outlets and journalists has become pro forma. The president often uses his Twitter to call CNN "fake news" or The New York Times "failing."
At the Deadline Club Awards Dinner on Monday, veteran broadcast reporter Lesley Stahl shared an anecdote about Trump's media attacks from a conversation she had with him after the election at Trump Tower.
"He said: 'You know why I do it? I do it to discredit you all and demean you all so that when you write negative stories about me no one will believe you,'" said Stahl.