Sarah Huckabee Sanders 'Doing the Best She Can' Says Anthony Scaramucci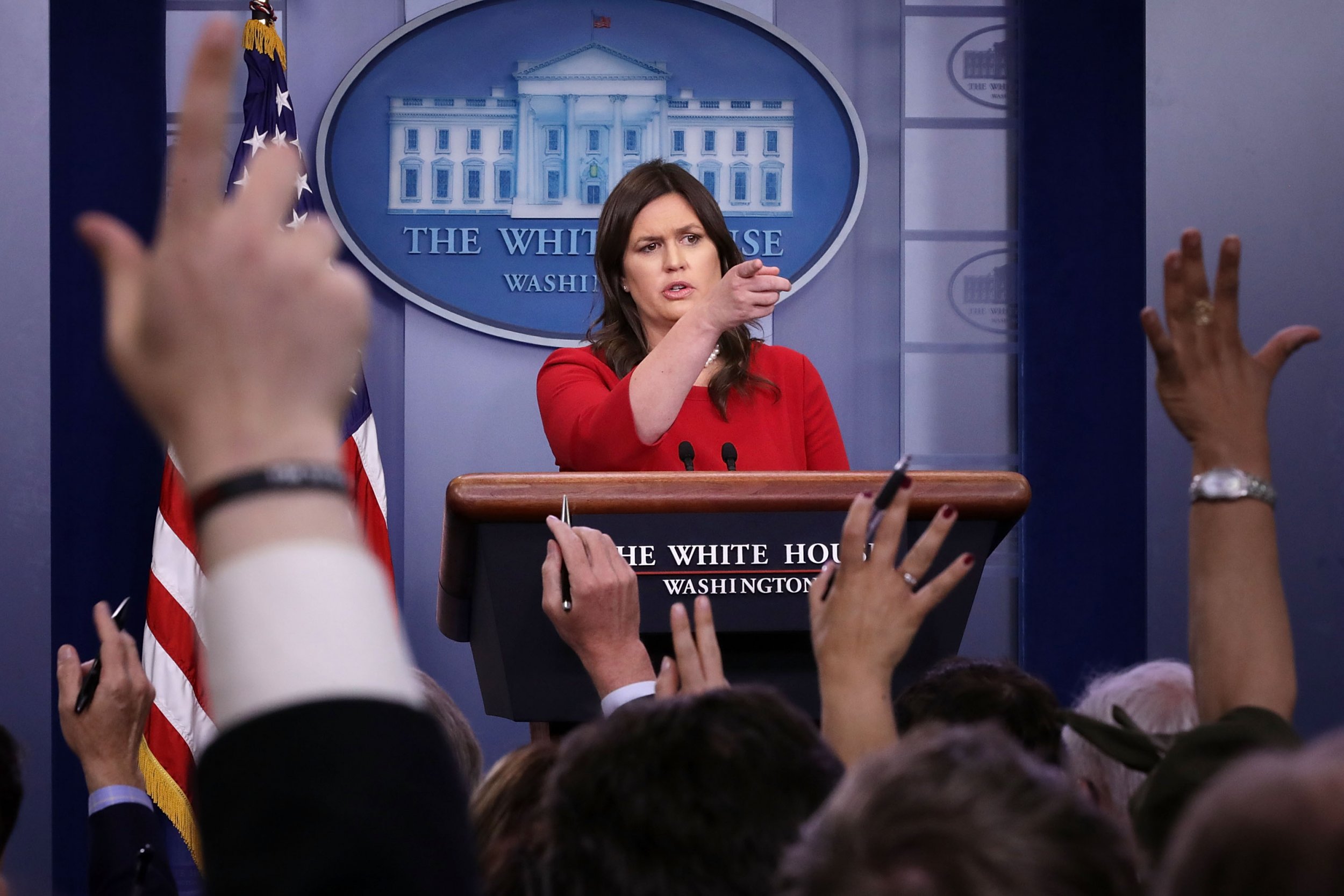 Shortly tenured former White House communications director Anthony Scaramucci defended press secretary Sarah Huckabee Sanders in light of shifting narratives surrounding a hush payment made to an adult film star who alleges she had an affair with President Donald Trump.
Sanders faced tough questions from reporters Thursday after Trump's personal lawyer, Rudy Giuliani, revealed that Trump both knew about and reimbursed lawyer Michael Cohen for a $130,000 payment he made to adult film star Stephanie Clifford—also known as Stormy Daniels—in a nondisclosure agreement.
Cohen, long a member of Trump's orbit, worked for his businesses prior to Trump becoming president. The revelation was in contradiction to statements made by Sanders, Cohen and Trump in the past. At various points, it was alleged that Trump didn't know about the payment and that Cohen had paid for it out of pocket.
Scaramucci came to her defense on CNN's New Day Friday.
"I think she's doing the best she can given the information that she has," said Scaramucci. "When we talk about the president lying and not lying and all this other stuff I think there's another component to this that people are missing…the president is not like the other presidents. He's got a very unique operating style. He's had a very unique career."
Giuliani's revelation reversed statements Sanders had previously made on behalf of Trump, causing one reporter, CNN's Jim Acosta, to ask her Thursday if she was "lying to us at the time or were you in the dark?"
To which Sanders responded she was disseminating the "the best information that I had at the time."
The payment has taken on a larger significance since complaints have been filed with the Federal Elections Commission that it violated campaign finance law as an undeclared in-kind contribution. Giuliani, the former mayor of New York, argued across two Fox News shows that it didn't violate the law arguing Trump "through a law firm" paid Cohen back, making it a personal expenditure. The payment to Daniels happened shortly before the 2016 election. On one show, Fox & Friends, however, Giuliani appeared to step on his own argument that the non-disclosure agreement was unrelated to the campaign.
"Imagine if [news about the alleged affair] came out on October 15, 2016 in the middle of the last debate with Hillary Clinton," Giuliani said Thursday. "Cohen didn't even ask. Cohen made it go away. He didn't even ask."
Trump insisted he hadn't lied and defended Giuliani saying he will eventually "get his facts straight" to reporters Friday.
"When Rudy made the statements, Rudy is great, but Rudy had just started, and he wasn't totally familiar with everything," said Trump. "We're not changing any stories. All I'm telling you that this country is right now running so smooth and to be bringing up that kind of crap, and bringing up witch hunts all the time, that's all you want to talk about."
The White House did not immediately respond to Newsweek's request for comment.